There's no doubt that dancing is one of the best physical activities you can do to get in shape and burn calories. And while there are many different dance styles you can choose from, Latin dancing is one of the easiest and  most accessible styles to learn and add to your exercise routine.
Before we dive into the 7 Latin dances you should explore, let's look at the reasons why learning to Latin dance can make for a great work out.
7 Reasons why you'll love Exercising with Latin Dancing:

1. Burns a lot of calories – According to Latin dance pro, a 125 pound person can burn up to 330 calories in an hour.
2. Killer cardio – Many of the Latin songs for the dances listed below use higher than 90 Beats per minute tempos which is great for cardio training.
3. Great music – Marc Anthony anybody? Latin music has lively, energetic rhythms from Africa and the Caribbean with the most fundamental form of the beat known as "Clave". Great music makes exercising more fun.
4. Use what you learn – Not only will you be working out to fun music but you'll also be learning actual dance steps that you can use in Latin night clubs and parties.
5. Learn it anywhere – Learning how to dance is so accessible. Nowadays you can learn to Latin dance at a local dance studio or with online videos.
6. No partner needed – One of the best things about all 7 dances listed below is that you can do them by yourself or with a partner. Many gyms now offer solo Latin dance cardio classes where you can show up and get a great work out.
7. Easy to learn – Latin dance basics can be picked up quickly without needing any prior dance experience. Your teachers will break everything down so all you have to do is follow them.
7 Latin Dances that will help you get in shape:
The following Latin dances both raise your heart rate and tone your muscles at the same time.
1. Cha Cha 
The Cha Cha is a Latin dance that uses fast rhythms with syncopated steps. Learning how to Cha Cha will tone you core and legs because of the quick movements and changes of direction. Cha Cha music tends to be on the faster spectrum so it's also perfect for cardio.
2. Salsa
Salsa is one of the most popular Latin dances and is used all over the world in clubs and cruises. Salsa steps use a strong foot and leg pressure into the floor, as well as a hip action to emphasize the timing of the music. This dance will give you a great lower body work out. In addition, at 180-300 beats per minute, Salsa can make for a great cardio exercise.
3. Samba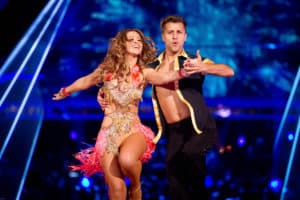 Samba originated from Brazil and this dance incorporates lots of "bouncing" type of movements with bending and straightening the knees. From a cardio perspective it's one of the most challenging dances because you're constantly squatting up and down. This dance will help you develop Gluteal and Quadriceps strength.
4. Rumba
The Rumba is one of the most used Latin dances because it fits so many songs. Rumba dance steps include "Crossover Breaks", as well as "Side to Side Hip Rocks" which use lots of arm and hip movements. This dance will tone your arms and increase your hip mobility. Lastly, this dance has a "quick, quick, slow" rhythm that allows you to work out hard and build endurance at the same time.
5. Merengue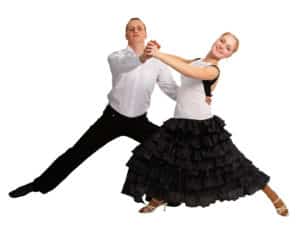 The Merengue is one of the easiest Latin dance to learn because it is based on a "marching step" where you literally switch weight from one foot to the other as if you're marching in place. Shifting weight from foot to foot to fast merengue beats will work your legs, thighs, and hips.
6. Bachata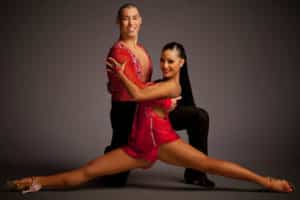 The Bachata is a very nice Latin dance where both partners travel from side to side (mirroring each other). While doing the basic steps you will want to isolate your ribcage and hips in order to look more fluid and natural. This dance will work out your abs and calves as you push from foot to foot.
7. Argentine Tango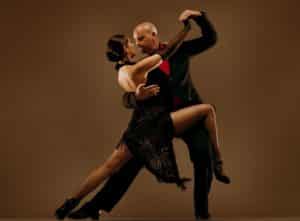 While the Argentine Tango is slower than some of the dances above, it is definitely not any less physically demanding. Slow and controlled movements will challenge your body in new ways. This dance incorporates lots of walks, lunges and swivels, making it great for exercising the legs, core and back.
About Your frame and shoulders, When you start learning any of the Latin dances above you will soon notice that in order for you to perform the steps with efficiency, you will need to keep your upper body/shoulders still.
If you're dancing by yourself make sure that your movements mainly happen below the shoulders. If you're dancing with a partner, your arms are connected to one another but there should still be minimal movement at the top part of the body, with lots of movement at the bottom half of the body. This idea of a "still top" and an "activate lower body", makes you work even harder with your legs, back and core muscles.
In conclusion,  The 7 Latin dances above make for a great work out to exercise your legs, butt, core and arm muscles. Also, because of the speed of the music they raise your heart rate quickly, making it perfect for cardio.
After a while your workout routine may get boring so learning new Latin dances can spice things up for you. My recommendation is to try these dances out and see which ones you like best – then double down on those.
The best thing about dancing is that often times you're so focused on learning the steps and being on time with the music, that you don't even notice you're exercising!