Compression shorts are designed to make you work comfortably, stay dry, feel active and supported during your workouts and running. Compression shorts should be selected based on the purpose of your active lifestyle i.e. whether it's your usual gym-time, long-run, intense workouts, glutes, quads, and hamstrings. When it comes to compressions shorts for running, it needs a little boost than the normal ones. Let's make one thing clear. Compression shorts are not proven to improve athletic performances but they do an excellent job of giving you proper support for better performance from you.
You May Also Like
6 Tips To Choosing The Perfect Running Shoe For Your Morning Run
The Comfort Of Compression Shorts For Running
Running is one of the best workouts and an active lifestyle regime to keep you strong physically and mentally. It's a very natural way to stay fit and healthy and you don't need any gym or workout routines for fitness than a good run. That's why it needs to be done well. An intense workout in the gym varies from the active and physically boosting long-run which needs more stamina. good compression shorts for your running will greatly support you during the long-run, enhances your performance, reduces chaffing, keeps your muscles supportive for the speed and will not hinder your performance in any way.
You need to physically do more in putting your body to work in a run and which is why your compression shorts for the long-distance run must have the following special features.
They are:
 Flat-Lock Stitch Compression Shorts
If you are a long-distance runner, then you'll be prone to more sweating, heat, friction between your thighs and the chaffing becomes a major issue. Choosing compression shorts with flat-lock stitching is effective in reducing chafing and friction against the skin. It gives you more comfort while running. You can even see brands that promote their shorts with anti-chafing which mainly is a flat-lock stitch short. Flat-lock stitch compression short is the best and optimum choice for running. 
Sweat-Wicking / Wet-Wicking Fabric Compression Shorts
Sweat or Wet wicking fabric will pull the moisture away from the body to the exterior of the body so that it can evaporate quickly and easily. The wet-wicking feature will keep you cool and free from sweat and greasiness-feel during a continuous run. Wet-wicking fabric shorts will usually be breathable so you don't have to worry about tight and UN-breathable stuffiness due to sweat during your run.
 Good Elastic-Waist Band
A good snug-fit elastic-waist band is important for good compression shorts. It holds the shorts in place and helps with the proper four-way stretching of the shorts. If there's no proper elastic-waist band then the running shorts will not sit properly on your waist and cause you to discomfort i.e. a 'not-confident kind of feel upon wearing. Elastic-waist band of your running shorts should be of premium quality and not some sub-par elastic that quickly goes out of shape upon frequent stretching and pulling. Don't compromise on the cost of good compression shorts for your run.
 Compression Shorts Fabric
Do not buy latex-based fabric for your running shorts. If you have sensitive skin then latex-based compression shorts will be a bad choice. It will increase friction and chafing leading to more skin irritation. Good compression short fabrics should allow your skin to breathe, wick away moisture, reduce the heat and support your performance. Preferable fabrics include cotton, nylon, spandex, and polyester (90% polyester & 10% elastane). Keep cotton fabric as your last option as sometimes they are not the very optimum fabric to support running since they keep absorbing the moisture instead of quick absorb and release of the moisture.
 Compression Shorts Size & Fit
Compression shorts are like your second skin. They are hugging your skin which means that proper size and the fit is very essential. The size and fit of your running shorts should be based on your waist size. Like clothing fit, compression shorts come is small, medium, large, X-fit and XX-fit. The size and fit can vary with each brand so read the label before choosing your fit.
 Outwear Compression Shorts For Running
If you're a long-distance runner you knew how important outwear-compression shorts are. Outwear compression shorts for running will help you with your performance and brings more comfort level. Avoid wearing underwear/undergarment shorts for your run as they give you discomfort.Given below are some of the best compression shorts for running. You can get these online or offline at the compression clothing store.
List Of 5 Best Compression Shorts For Running
1. Champion Power Flex™ Men's  9-Inch Compression Shorts
The Champion Power Flex™ compression shorts are perfect for your running. It's been topping all the lists of best pair of compression shorts for running due to so many pros. The Champion Vapor Technology quickly wicks the moisture/sweat and dries faster. The exposed logo on the waist-band and C-logo on the corner of the shorts adds a stylish look. The elastic waist-band flexes wonderfully and resists binding. Targeted mesh ventilation adds cooling airflow to legs and gusset. Overall, it's the best pick for running shorts.
Compression Shorts Fabric: 84% polyester and 16% spandex, the insert is 92% polyester and 8% spandex.
2.2XU MCS (Muscle Containment Stamping) RUN Compression Shorts
The 2XU MCS RUN compression shorts are designed and developed based on the impact of running. The anatomically mapped muscle-support supports greater performance and recovery after a long-distance run. Drawstring elastic-band, reflective logos, three pockets on waist area adds style quotient. If you're on the lookout for perfect compression shorts for running, don't forget the 2XU MCS RUN.
 Compression Shorts Fabric: Light-weight PWX (Power Woven) fabric.
3.Jordan Men's Stay Cool 6 Inch Compression Shorts Black
Jordan Men's Stay Cool compression shorts are designed for total comfort and support. The Dri-FIT fabric wicks the sweat away and keeps you dry. The Power Woven fabric with 4-way stretch enhances the mobility while the front and back mesh panels for ventilation are a big plus. Perforated elastic waist-band and reinforced iridescent film with color-shifting effect add premium style.
 Compression Shorts Fabric: Body- 82% Nylon and 18% spandex. The Mesh Dri-FIT® is of 77% Polyester and 23% Spandex.
4.Nike Pro Men's 6″ Training Shorts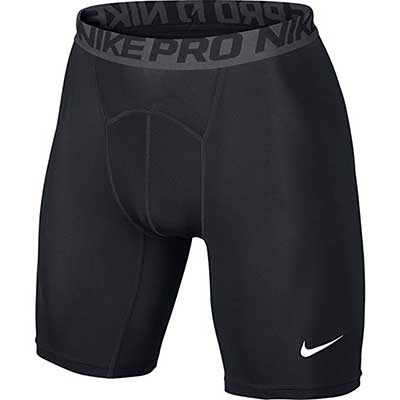 Nike Pro Men's training shorts are designed with sweat-wicking durable fabric to keep you cool comfy and supported. The mesh panels provide targeted ventilation to give cool air. The snug elastic band holds the shorts in place and with the Nike Logo it brings out a style element to the shorts. It's got all the essentials to assist your long-run.
 Compression Shorts Fabric: 90% Polyester and 10% Spandex. Mesh Panels/Gusset Lining is  89% Polyester and 11% Spandex.
5.Brooks Men's Greenlight 9″ Running Shorts
The Brooks Men's Greenlight 9″ is sleek, supportive, comfortable, built for speed and designed to assist your running. The Flat-Lock seams prevent you from chafing and a DriLayer® Horsepower fabrication provides a contour ergonomic fit that moves with your body as you run. A zipper back pocket is available to store your small running essentials. A reflective logo gives good visibility in low-light. Overall, Brooks Men's Greenlight is a definite choice for best compression shorts for running.
 Compression Shorts Fabric: Body – 81%Polyester and 19% Spandex.
With keeping in mind the body and muscles while running along with comfortable features, breathable fabrics, and proper fits to assist you and make you feel supported, the above list of best compression shorts for running has all the pros you've been looking for. Go ahead and pick one!