Bursitis is a painful condition that gets worse as it progresses. It is caused by repetitive movements of any sort (using hands or legs or head) and the more you try to work-out the worse the pain gets. Bursitis is the result of severe inflammation when the bursa or fluid-filled sacs contained in the body are used repeatedly and give in to the strain and get inflamed.
These fluid-filled sacs are meant to buffer the joints as and when they move, however straining them too much results in Bursitis. Often, the affected joint tends to become stiff, and aches and the pain becomes worse when pressure is put on the point.
Causes & Symptoms

Causes: Repetitive motions or positions, lifting heavy weights, leaning heavily on the elbows, kneeling down for a long time etc.
Symptoms: Ache and stiffness in the affected joints, pain caused by movement, swelling and redness.
While Bursitis is not a very debilitating condition it can be very painful and irritating. There are several quick and easy home remedies for Bursitis, and here are the list,
Best Home Remedies For Bursitis
10. Castor Oil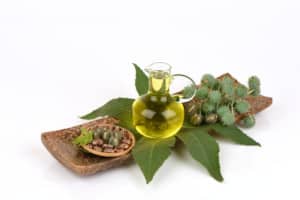 Heat 2 tablespoons of castor oil mildly in a small pan and apply on the painful areas.
Gently massage the affected areas with castor oil for 10 minutes.
Apply some more castor oil and bandage with a gauze. Let it sit for a couple of hours.
Wash with warm water and mild detergent. Repeat the process twice or thrice daily for a week.
Castor oil has excellent pain relieving qualities due to its anti-inflammatory property. It has been used in traditional as well as folk medicine for ages for curing muscle pain and chronic stomach aches successfully. Giving heat fomentation over the gauze covered painful areas tends to give immense relief from the pain caused by Bursitis in the affected joints. Avoid unnecessary strain to the affected areas for a few days. Castor oil is one of the best home remedies for Bursitis.
Castor oil does not cause any known side effects when applied topically on the skin. However, unrefined castor oil has a strong odor which can be repelling to others.
9. Cayenne Pepper + Apple Cider Vinegar Heat Foment
Take 3-4 tablespoons of Apple cider vinegar

Take a teaspoon of Cayenne Pepper Powder

Add both to a liter of water and heat the mixture

Take a small towel and dip and give fomentation

Continue the process 2 to 3 times daily for a week
Apple cider vinegar and Cayenne pepper have some amazing medicinal properties. Apple cider vinegar is an excellent anti-inflammatory agent and also has antioxidant properties that help boost the immune system and helps get relief from the swelling and pain caused by Bursitis. Cayenne pepper has been used for getting pain relief as it blocks the nerves that carry the pain sensing messages to the brain and help in getting relief from the pain. Apple cider vinegar and Cayenne pepper together make an excellent home remedy for Bursitis.
Apple cider vinegar does not cause any known side effects when applied topically or used for heat compress. Cayenne pepper also does not cause any side effects.
8. Potatoes
Take a large raw potato

Wash and grate the potato

Take a glass of water in a bowl and soak the grated potato overnight
Strain the water next morning and drink it on an empty stomach

Alternatively, boil a couple of potatoes

Mash the boiled potatoes and apply as a poultice

Continue the process for a week or 10 days
Potatoes are known to have excellent anti-inflammatory properties and help get relief from the ache in the joints caused by Bursitis. Applying steamed, mashed potatoes as a hot poultice has a soothing effect on the painful areas and offers relief. Apply gauze on the poultice and let it sit for a couple of hours. The treatment may be repeated a couple of times daily over a period of one week or 10 days. Potatoes make a great remedy for Bursitis and offer great relief from the pain.
Consuming the water soaked in grated potato or using steamed potato mash as a hot poultice do not cause any known side effects and are quite safe.
7. Ginger Tea
Take a couple of fingers of fresh ginger

Wash, peel and grate the ginger

Boil 2 glasses of water in a bowl

Add the grated ginger and allow it to steep for 10 minutes

Strain and add a teaspoon of honey and drink

Continue the process twice daily for a week or 10 days
Ginger is a herb that has some amazing medicinal properties. It is an excellent natural antiseptic and anti-inflammatory agent that helps reduce the swelling and gives relief from the pain. Ginger tea enhances the blood circulation and ensures fresh blood flows through the affected areas. Ginger also helps boost the immune system and helps fight fatigue and pain. Ginger is an excellent natural home treatment for Bursitis.

Ginger does not cause any known side effects and is quite safe to use. However, people with peptic ulcer may find that ginger causes irritation and a burning sensation.

-->