9. Paste of Quassia Indica Leaves
If you happen to reside in an Amazon based zone, there is a high possibility that you would have used Quassia indica. This herb is widely used for treating malaria in Amazon regions. It can be rectally or orally consumed for treating diarrhea, fever, and intestinal parasites whereas topically applied for measles. In fact, ancients used this plant as natural insecticides and anthelmintics. Quassia has antileukemic, antifungal, antibacterial, antitumor, antifertility, and insecticidal properties. Due to its ability to kill bacteria and fungi that cause a skin infection, their leaves are well known for treating pimples as well. To try a remedy using this herb, follow the steps given below:
Step 1: Take some fresh Quassia indica leaves.
Step 2: Clean them properly.
Step 3: Grind them in a mixer with a few drops of water.
Step 4: Apply the paste on your pimples and leave it for 30 minutes.
Step 5: Wash off with warm water. Do this for a few days until your pimple heals.
How Does This Work?
Quassia indica is a well-known herb in Ayurveda. It is used for treating multiple diseases. The leaves of Quassia indica plant have essential phytochemical contents and antibacterial properties to fight the infection that causes pimples. Hence, when applied topically on the skin infection, it heals faster.
The Remedy Is Not Good, If:

You are allergic to it.
You are consuming it. The remedy is only meant for topical application.
8. Garlic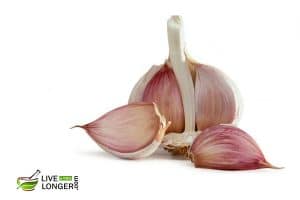 It is well known that for generations, people have been using garlic for its rich medicinal values. But, did you know that it holds a vital place in traditions too? Well, yes! Traditionally, people have rubbed their entire bodies with garlic, buried a few pieces with them, worn them on their necks, and even worshipped it. However, time has changed now. It is the modern era and people no longer follow such things. This doesn't stop garlic from being one of the best superfoods. In fact, health experts name it as the "Wonder Drug." Despite being small, it can cure different ailments.  It has been medicinally used for many ages for treating tumors, bites, snake bites, ulcers, headaches, wounds, cancer, heart diseases, measles, pimples, and lots more. Due to its antifungal, antiviral, and antibacterial properties, it prevents infections like cough and common cold. To treat your pimple with garlic, follow these steps:
Step 1: Take two or three garlic cloves, a cotton ball (or cotton swab) and a small glass of water.
Step 2: Crush the garlic cloves a bowl and extract the juice.
Step 3: Add the juice to the water and stir well.
Step 4: Wash your face and pat dry.
Step 5: Use cotton to apply on the affected areas.
Step 6: Let the mixture dry for 10 minutes before washing off with warm water.
How Does This Work?
The major chemical component in garlic is allicin, and it is well known for its antibacterial and antifungal properties. It also contains selenium that is a major contributor to the positive abilities of antioxidants. Similar to selenium, garlic also contains copper, Vitamins C, B6, and zinc. It also acts as a facilitator for smooth flow of blood, giving the skin a shiny look.
Garlic Is Not Good, If:
You have sensitive skin. Without dilution, the garlic mixture can give a sting. The sensation will reduce within three days of applying the mixture continuously.