3. Paste of Sesbania Grandiflora Leaves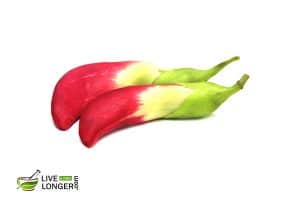 Very few know that Sesbania grandiflora leaves (scientific name: Agati grandiflora) are highly effective in the treatment of pimples of acne. Whether you are applying topically, or consuming it in your daily diet, these leaves can do wonders. It is one of the fastest growing trees, which bloom red and white flowers based on its species. Apart from treating pimple problems, it also cures headache, nightblindness, rhinitis, fever, etc. Even its flowers are used for cooking in certain parts of Thailand and India. To treat your pimples with this herb, follow the steps given below:
Step 1: Take some fresh Sesbania grandiflora leaves and clean then thoroughly.
Step 2: Grind them in a mixer to form a smooth paste.
Step 3: Apply this on your pimples and leave it for 30 minutes.
Step 4: Wash off with warm water.
How Does This Work?
The leaves of Sesbania grandiflora plant work amazingly pimples is due to their antibacterial properties and presence of secondary metabolites such as flavonoids, alkaloids, phytosterols, tannins, etc.
Sesbania Grandiflora Leaves Are Not Good, If:
No possible side effects have been documented on the application of this herb topically.
2. Lemon Juice + Green Gram

The tangy flavor of lemons adds a great taste to any dish. But, did you know that they can do wonders to your skin too? Well, yes! In fact, many women use lemons regularly in their beauty regimen. It acts as a natural exfoliant by removing all the dead skin cells and prevents further breakouts. Apart from treating the skin problem, it also lightens the blemishes, evens the skin tones, adds a natural glow, tones the oily skin, and fights wrinkles.
Green gram, on the other hand, is an amazing beauty ingredient and blending with fresh lemon juice gives out better results. It fights off dry skin and nourishes from within. It helps in brightening the skin texture and makes sure that there are no dead skin cells. When it is applied topically, its invigorating enzymes and vitamins help in retaining the lost moisture. Also, it adds shine and softens your skin. Hence, to try a remedy using these two ingredients, follow the steps given below:
Step 1: Take two tablespoons of green gram powder.
Step 2: Mix sufficient amounts of fresh lemon juice to it. Make a paste.
Step 3: Apply the mixture on your face like a pack while concentrating more on your pimples.
Step 4: Leave it for 45 minutes.
Step 5: Wash off with warm water. Repeat this process thrice in a week for best results.
How Does This Work?
Lemons are a good source of citric acid, potassium, magnesium, antioxidants, minerals, and vitamin C, which not only treat the pimples but also lighten and brighten the infected dark skin region. Vitamin C acts as a natural antioxidant here. It neutralizes the free radicals and boosts collagen production. Hence, it helps in lightening dark spots, age spots, and tan as well.
Green gram contains natural bleaching and antiseptic properties, which help in treating the pimples much faster. Also, your skin needs good amounts of carbohydrates to keep itself healthy. You will be happy to read that green gram constitutes about 56% carbohydrates.
The Remedy is Not Good, If:
You are consuming it. The pack is meant only for external application.
You are using only lemon juice. It can make your skin drier. This is why we have substituted with green gram.