It doesn't matter if you're dealing with small living spaces. What matters is that you can get more creative and come up with wonderful ideas to cater your small spaces and rooms. All you have to do is just focus on maximum utilization of your small space, what you need the most and what you can cut. Bunk beds, Bunk beds for Two, Bunk/Loft beds with storage can be your wonderful problem solvers. Sometimes the kids at home might feel little cranky and can have issues dealing with their rooms being small and where to put their stuffs. If that's the case, bring in creative, something cool yet functional bunk beds with stairs or ladders and sure they'll warm up to them.
Bunks Beds With Workstations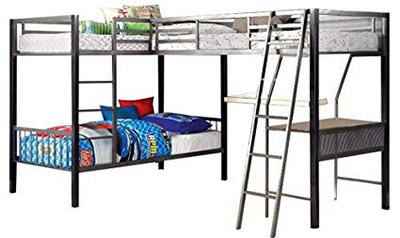 It's a good idea for both adults and the kids. Bunk beds with workstations below have gone into a whole new level of functionality yet no compromise in awesome designs. If it's for the kids you have options like more gaps below for storage areas and bookshelves while spacious top bunk is to sleep. Down below our kid can set up his/her study. It saves lot of space and perfect for small living space.
Bunk Beds With Stairs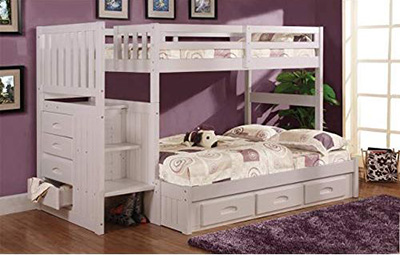 It's something common which we come across but you can make it interesting for your kids with designed stairs cases, storage stair cases, stairs cases with convenient pull-outs and cup-boards options. Instead of a ladder which the kids might get scared of sometimes to climb, go for bunk beds with cool functional stairs.
Bunk Beds With Ladders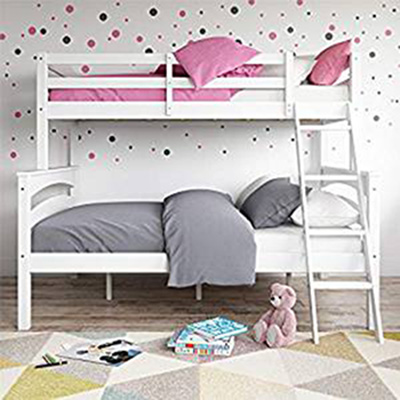 If the kids are old enough then there won't be an issue of climbing the ladder as they'll become aware of heights and they can deal with it. Bunk beds with ladders are great for adult rooms too. You can go for wooden ladders, metal ladders with metal bunk beds so the choice is yours. You can fix the ladder wherever you want around the bed area or sometimes if you feel ladder is taking up space, you can customize it to be removable and attachable.
Bunk Beds With Storage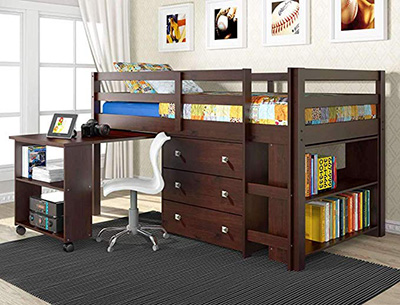 You can find more creative designs of storage with bunk beds. We can have storage area for each bunk where your kids can keep their stuffs and special treasures of their own. You can include bookshelves, toy storage boxes, some small vanity cum storage place for your little princess, drawers, small chests and compartmented-storages. Bunk-beds with storage can come handy for a single kid too.
Functional Bunk-Beds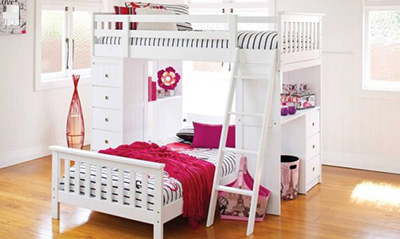 Remember, the day starts from bed and ends with bed which fits for both big ones and little ones. Choose bunk beds wisely that they should have enough head-room i.e. when you sit straight you should have enough space above so that you don't get the feeling of something's pressing from above. It goes without saying for your kids too. Bunk beds can become their chill-place so make sure that it stays that way. You need enough leg-room to stretch your legs and stretch your arms because relaxed stretching can help you get rid of sore muscles after sleeping upon waking up. Like normal beds, bunk beds too should make you feel cozy at night, should help you relax and feel free despite small space. Keep your design ideas second and functionality first with bunk-beds especially for kids. Check for length, width and height that suit your kids. We might not have the big space and royal beds right now but still we can make our bunk beds as good as them. It's so cool of you to get themed or cool contemporary bunk beds for your kids but make sure that your kid finds it comfy, can sleep well in it and finds it convenient. When it comes to themed or designer bunk-beds we hope that we don't need to remain you about 'safety-first' for your kids.
Theme Based Ideas For Bunk Beds Arrangement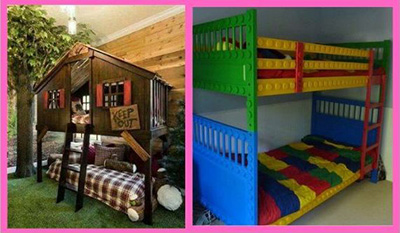 Cottage-Themed Bunk-Beds
It's perfect for your little princess. You can pick European-countryside style bunk-beds, frozen themed bunk beds (perfect for sisters who thinks themselves as Anna & Elsa) or if none impresses you then Disney themed bunk-beds will come in handy as kids and Disney are like twins.
Lego Styled Bunk-Beds For Kids
Kids will love it. You can also design and paint the whole room in Lego-style matching the Lego bunk-bed.
2-in-1 Combo-Bunk-Bed Idea (You and The Expecting Baby)

You got a new addition to your family or if you're expecting one soon, then no worries as we have an idea of 2-in-1 style bunk beds. It'll be a perfect choice to accommodate your kid and toddler. Customize the bunk-bed in such a way that let the top-bunk be for your first miracle and in the down-space you can design a crib. It's well and good if the space between top bunk and below crib is more so that your toddler/baby can get more air and light. If you have little more space, then design something for storage like pull-outs, small draw chests, bookshelves and give them stairs (it's even good if it has small storage units for your kid's treasures) instead of ladders. Just make it convenient according to your needs but the base idea is a loft-bed/crib combo.
Nature-Themed, Earth-Themed Bunk-Bed Idea
You got yourself a nature-loving kid or you like to show your kids a way to see the environment then customize and design their room based on nature, space, five-elements accordingly. Wood styled, tent-themed, boat-styled, planet-styled, space-styled, tree styled bunk-bed ideas are good. You can also customize their already plain bunk-beds with more tress, birds, ocean surfaces, stars etc.
Bunk-Bed Ideas For Three Or More Kids
It's good to have lots of kids around but to make them feel comfortable with available space can get tricky especially with the Bunk-Bed option. Though we have bunk-beds available to meet three or more kids accommodation, the best way is to customize them according to your kids needs and convenience. Each kid will have their own needs and ideas so hear them out and customize them but also keep in mind to minimize the bulk (like more storage units or any extras) as much as possible since we have more persons sharing a single room. Keep it simple yet functional for three or more kids.
Some Cool Bunk-Bed Ideas For Your Kids
You can go for some cool ideas based on your kid's favorites like: their favorite book themed bunk-bed, Superheroes, famous quotes by their hero figures, based on their ambition, their bucket-lists, favorite TV shows, and favorite holiday-destination/place.
So got an idea on arranging your kids room with bunk beds stairs ? What you choose ? Write to us.