"Nature has provided us generously with everything to remain in good health." – Sebastian Kneipp.
Peppermint is a crossbreed of spearmint and watermint.It is a fragrant herb that can be grown in home gardens. It contains high levels of menthol which lends it a refreshing, tantalizing aroma to rejuvenate our senses. It is a blessing from Mother Earth to keep us physically and spiritually balanced.This naturally occurring herb is useful for many regular functions of the human body.
There are numerous health benefits of drinking peppermint tea every day, and the effects are holistic. A cup of peppermint is ago-to cure for nausea and fatigue. It has been used for centuries in Ayurveda science to cure various kind of ailments.
Peppermint tea is an infusion of peppermint's leaves,and it can be the perfect start to your morning. Some people prefer to drink in the night to have a relaxing and calming good night's sleep.Peppermint tea is rich in minerals and antioxidants, gifting a surplus of health benefits.
Nutritional Aspects Of Peppermint Tea
One cup of peppermint tea containing 2 tablespoons of fresh peppermint herb has roughly 3 calories. The carbs and dietary fiber are minimal, respectively 0.4 g and 0.2 g. It has the right amount of Vitamin A, C,and folate. They constitute 127 IU, 1 mg and 3.4 mcg respectively. Omega-3 and omega-6 are essential dietary fatty acids that play a significant role in preventing heart disorder risks, bone injury, fatty liver, asthma, dementia, inflammation. They also boost immunity and brain development. One serving of herbal peppermint tea contains 13 mg of omega-3 and 2.1mg of omega-6 fatty acids. It is also abundant in minerals like iron, calcium,magnesium,and phosphorus.
How To Make A Perfect Cup of Herbal Peppermint Tea
Whether you fancy a hot cup of tea or a perfect chilled iced tea, there's an easy recipe for both of them.
Conventional Peppermint Tea
Iced Peppermint Tea
Conventional Peppermint Tea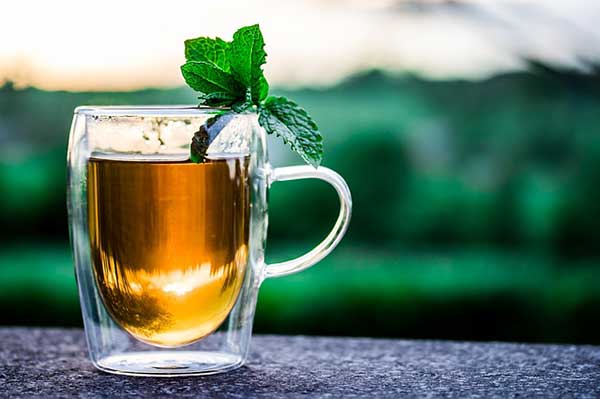 Ingredients
½ cup fresh peppermint leaves
Half-sliced lemon
1 cup water
Sweetener (optional)
Process
Roughly ground the fresh leaves to release their entire flavor.
Bring the water to boil. Subsequently,let it cool down for 1-2 minutes.
Squeeze the lemon and add the sweetener of your choice. If you want to keep the drink organic, prefer adding honey or agave.
Add the peppermint leaves and cover with the lid to maximize the aroma and flavor. It usually takes ten minutes to release its effects. The longer it sits, the stronger it grows. Lovely, the tea is ready!
Iced Peppermint Tea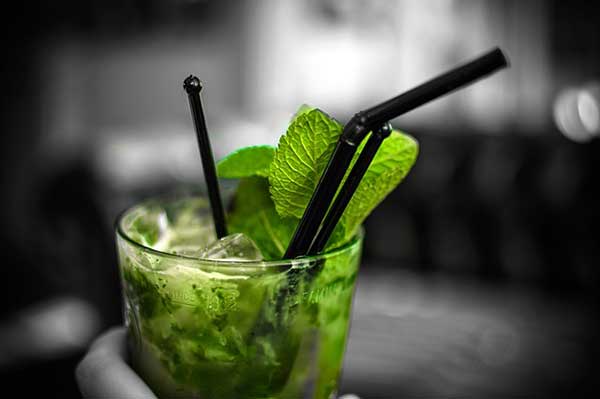 Ingredients
1 cup of peppermint leaves
1 lemon
2 cups of water
1-2 tbsp honey
Ice cubes
Process
Follow the entire instructions as same as the conventional hot cup of peppermint tea. After the tea cools down to room temperature, refrigerate it for 3-4 hours. Serve it chilled with some ice cubes.
Now let's see the peppermint herbal tea health benefits one by one.
Health Benefits Of Peppermint Tea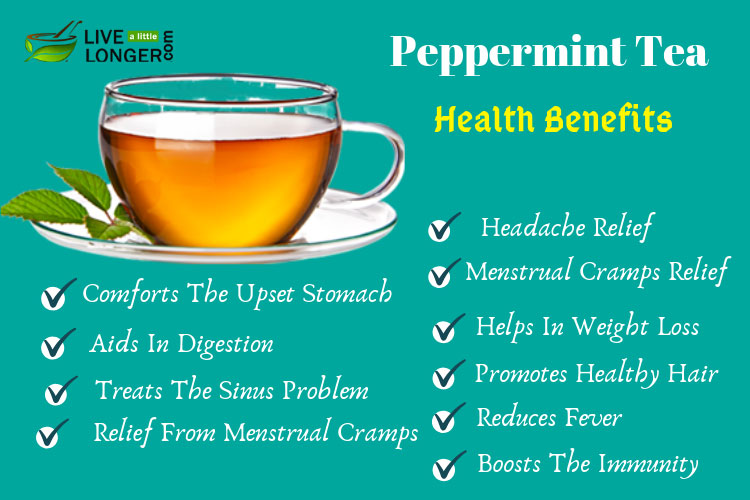 1.Headache Relief
Headaches and migraines are caused by constricted blood vessels. The aroma of peppermint tea helps to calm down the stressed muscles and normalize the blood flow. The menthol provides a soothing effect overall, thus reducing the head pain and anxiety.
2.Comforts The Upset Stomach
Menthol in peppermint is a strong antispasmodic agent that relaxes any stomach or intestinal cramps. It lessens the gas, increases the production of bile and comforts the pain. The tea can be used to cure heartburn, indigestion, gastric pain, vomiting,and irritable bowel movements.
3.Aids In Digestion
When food sensitive individuals consume something acidic or heavy, their stomach is not able to digest the meal properly. Hence it causes bloating and acidic burps. Consumption of peppermint tea after the meal helps with comfortable bowel movements and release of stuck gas in the intestines.
4.Treats The Sinus Problem
Menthol,a natural decongestant is found in peppermint, and it reduces the thick layer of mucus stored. The aroma of peppermint tea proves effective in reducing congestion and other symptoms related to sinus like throat pain, nasal blockage, headaches, etc.
5.Fight Against The Cold And Flu
Antiviral and antibacterial properties of peppermint boost the immunity system. Hence, it's a powerful curative for flu and cold. The antioxidants present in menthol helps the circulation of white blood cells, which eliminate harmful bacteria or viruses present in the body. It can even reduce severe colds like bronchitis.
6.Relief From Menstrual Cramps
Females suffer constriction of uterus muscles during the periods, which causes pain and mood swings. The antispasmodic effects of menthol can help to ease the stressed muscles and uplift mood during PMS.
7.Helps In Weight Loss
Health benefits of drinking peppermint tea does a good job in weight loss too. It helps to control our appetite and frequent urges for snacks, especially midnight cravings. A cup of peppermint tea whenever we think of cheating on our meals, is are markable way to keep the weight under check.
8.Skin Care Benefits
Peppermint tea softens and tones our skin. It also has anti-inflammatory properties. It's a blessing for someone who is prone to acne, pimples,and boils. Due to its antiseptic and antimicrobial characteristics, it helps in easy repair of dead skin cells, cuts,and blisters. It cleans the entire layer of clogged pores underneath, hence making the skin glow.
9.Promotes Healthy Hair
Peppermint tea increases blood circulation, which helps in the growth of healthy and new hair. It also controls hair damage and loss. Peppermint leaves or dried leaves' tea bags can be induced in lukewarm water, to prepare herbal rinses. The cooling and refreshing effect of menthol calms down the itchy scalp conditions and gradually reduces the dandruff issues.
10.Reduces Fever
Consumption of peppermint tea makes the body sweat, which naturally helps in cooling down and detoxification of harmful fluids. Menthol due to its antiviral properties helps in decreasing body temperature. It eases all types of aches or minor symptoms in the body.
11.Boosts The Immunity
Menthol has antimicrobial, antibacterial qualities that keep off any harmful agents from entering the immune system. As a result, the person rarely suffers from a cough, cold, flu, throat infections, nausea, anxiety, etc. The antioxidants, vitamins, potassium,and calcium promote more natural absorption of essential nutrients.
12.Helps To Sleep Better
A cup of peppermint tea before bed relaxes all our muscles and relieves us from head pain. This gives us a more tranquil and undisturbed sleep pattern. The rejuvenation also aids in seeing vivid dreams.
13.Controls Diabetes
Drinking peppermint tea on a regular basis lowers the blood glucose levels to a safe limit, thus reducing the chances of diabetes. However, it should be avoided if already on medication, as the blood sugar levels can reduce dangerously, causing hypoglycemia.
Though peppermint tea has lots of benefits, it has some side effects too. So before taking this tea check your health condition. If it clash with the following conditions, better to avoid taking this tea.
Side Effects Of Peppermint Tea
There are many peppermint herbal tea health benefits which can keep us fit, health`, mentally focused and energized but an overdose of anything can be detrimental.
People who suffer from acid reflux disease or GERD should avoid drinking peppermint tea. Menthol relaxes the belly muscles thereby reducing the stomach acid and bile flow into the esophagus. The heart burns and indigestion can become more severe.
Also, women should reduce tea intake during pregnancy. There are higher chances of miscarriage if consumed in overdose. Also, the peppermint juice secreted in the mammary glands can cause breathing issues for infants while breastfeeding.
From headache relief to boosting immunity, health benefits of pepper tea is tremendous. Let's make it at home and enjoy a cup of tea while consuming all these benefits.