7. Horseradish
Horseradish (scientific name: Cochlearia Armoracia) can be effectively used for chest congestion, bronchitis, cold, and allergies. Believe it or not, horseradish is highly helpful in clearing the mucus and sinus infections from the respiratory passages. Whether you are consuming horseradish as an herbal remedy or using it with your favorite dish, its natural antibiotics clear the sinuses, remove excess mucus from the upper respiratory tracts, and increase facial circulation. This perennial plant belongs to the family of Brassicaceae (also includes wasabi, mustard, cabbage, and broccoli). To treat your chest congestion using horseradish, follow the steps given below:
Step 1: Take a fresh radish and wash the vegetable.
Step 2: Chop it finely.  You can put the pieces in a blender.
Step 3: Drink the juice daily.
Step 4: You can also apply the oil on the chest to reduce the mucus.
How Does This Work?
It can be used as an expectorant. The component, glucosinolates responsible for the characteristic taste of horseradish, acts as an antioxidant against simple infections such as chest congestions.
Horseradish Is Not Good, If:
You have a problem with the thyroid gland. Other side effects include blood vomiting, diarrhea, and upset stomach.
You are administering it to a child less than four years. The child can suffer from digestion problems.
6. Vinegar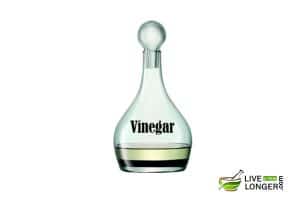 Whether the congestion is in the chest, throat or nose, vinegar is one of the best ways to get rid of them. Everybody knows that vinegar assists in eliminating the bacteria that cause harmful reactions in the chest. Yes, it tastes awful but is highly effective. The use of vinegar dates back to 10,000 years. Vinegar is prepared by fermenting the natural sugars of alcohol. Today, vinegar comes in different types. To name a few, you have balsamic, rice wine, rice, pineapple, raspberry, apple, etc. Vinegar is a rich source of beta-carotene, magnesium, iron, calcium, copper, potassium, proto-vitamin, vitamin C, vitamin E, vitamin A, vitamin B1, vitamin B2, and vitamin B6.
Step 1: Add three teaspoons of vinegar (raw and unfiltered) to cups of warm water.
Step 2: You can also add raw honey.
Step 3: Drink the solution two or three times a week every day.
How Does This Work?
By the consumption of apple cider vinegar, the mucus in the chest is thinned and makes you breathe easily. It also promotes the entire immunity of the body. Since the fermentation process is long, the bioactive components such as gallic acid, acetic acid, caffeic acid, epicatechin have antimicrobial, antioxidant and other properties. There are also polyphenols such as chlorogenic acid that can prevent cardiovascular diseases. 
Vinegar Is Not Good, If:
You have a tooth problem. The acetic acid in vinegar can erode the enamel if used to gargle or to have a drink.
You have sensitive skin. In the case of topical application, you can mix with honey, water, juice or a pinch of baking soda.
You are over consuming it. The stomach will get upset.
-->