3. Bay Leaf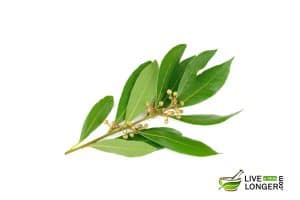 The use of bay leaves dates back to ancient times when Greeks and Romans used them for making crowns (for crowning kings, Olympians, and war heroes). Scientifically known as, Laurus Nobil, Bay leaves are one of the natural herbs that can help in the treatment of chest congestion. It has immense benefits and medicinal properties to treat simple ailments like cold, cough, stomach ache, liver, and kidney problems. Though it is native to the Asia Minor, you can find this tree even in the Mediterranean regions. They grow in warm climates with a maximum height of 12 meters. However, the rate of growth is too slow. A matured bay leaf is about 10 cm in length and 5 cm in width.
Step 1: Take five fresh bay leaves.
Step 2: Boil them in a cup of water.
Step 3: Allow the leaves to soak in the mixture and then strain the tea.
Step 4: Strain the tea.
Step 5: Dip a white cloth in the water and then wring it. The cloth has to be applied to the chest to clear the mucus.
How Does This Work?
There are many oils such as myrcene, linalool, eugenol, chavicol, geranyl acetate, etc. These compounds are all believed to have digestive, anti-oxidant and antiseptic properties. There are also other compounds such as caffeic acid, rutin, salicylates, and phytonutrients, which are known to enhance the better functioning of the heart. 
Bay Leaves Are Not Good, If:
You are taking medications for blood sugar.
You are diabetic. It can interfere with the blood sugar levels.
You have undergone surgery recently or going to have one.
2. Betel Leaves
Betel leaves are used to aid digestion, and that is why in India, men and women both chew on betel leaves after their meals or sometimes even to pass the time. Betel leaves when mixed with certain spices and condiments for some, may even turn into an addiction. They are native to India, Sri Lanka, and Malaysia but can also be seen in Madagascar and Africa. It is claimed that this herb was used in the Harappan Civilization and how far is this true, is still unknown. To try a remedy using betel leaves, follow the steps given below:
Step 1: Take five fresh betel leaves.
Step 2: Clean and boil them with 2 to 3 cups of water.
Step 3: Drink this mixture 2-3 times a day to keep the body warm and healthy
How Does This Work?
The leaves contain amino and aspartic acid, which warms the body and thus helps, treat chest congestion. Betel Leaves are bitter to taste in its original form and so in case you are not able to drink it; you may add honey.
Betel Leaves Are Not Good, If:
You are suffering from stomach ulcers, migraines, tuberculosis, acidity or epilepsy; it is good to avoid this remedy.
People who are addicted to chewing betel leaves must be aware of oral cancer.
You are using old betel leaves. Use only fresh Betel leaves which have medicinal properties.
-->