1. Gymnema Sylvestre Leaves and Honey
Gymnema Sylvestre: Gymnema Sylvestre is a woody shrub, which is native to Africa and India. The leaves of this plant are used for making medicines. It is a bitter-tasting plant, which is also known as a miracle fruit. It has high medicinal properties and is the native fruit of the tropical forests in India and Sri Lanka. The entire plant can also be used, both its leaves and roots are consumable and good, as medicines. It is known to treat asthma, bronchitis, metabolic syndrome, diabetes, cough, weight loss, and is super effective for malaria. Also, it used as an antidote for snake bites.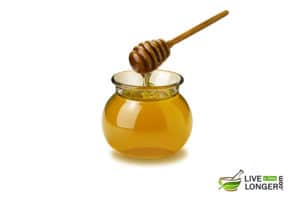 Honey: This is nature's wonder not just because it tastes good but also because of its super medicinal powers. Honey has been mentioned since ancient times in all kinds of medicinal procedures including Ayurveda, Unani and even today it is used in allopathic medicine. Honey provides an excellent base to prepare cough syrup and that too without any side effects. Honey if preserved well can last for more than a thousand years. To try a remedy using these two amazing ingredients, follow the steps given below:
Step 1: Make a fresh juice of Gymnema Sylvestre leaves (1/2 or 1 glass).
Step 2: Add a few drops of organic honey to it, as per your taste.
Step 3: Drink the mixture. Repeat on alternate days for a week to relive chest congestion.
How Does This Work?
The leaves contain Alkaloids, Amino Acids, and Carbohydrates. It also contains various acids like Butyric Acid, Formic Acid, and Tartaric Acid. These elements help treat chest congestion.
Honey is a mixture of sugar and other compounds. It is rich in carbohydrates, mainly fructose, sucrose, and glucose. It also had tartaric acid, formic acid, and butyric acid. Honey makes this juice drinkable, which would otherwise be bitter.
The Remedy Is Not Good, If:
You are pregnant or breastfeeding.
You consume on an empty stomach. It may cause gastrointestinal disorders.
You are allergic to pollen grains. Avoid consuming honey.
You are using adulterated honey. It is easily available in the market, and one should be careful of them.
How To Prevent Chest Congestion?
These preventive measures go a long way, and we all know that you can be better safe than sorry.
Stay Hydrated: Drink lots of water and have a bath twice in a day to keep your airways moist. You may use hot water if you fear that you might catch a cold.
Inhale Steam: Slight irritation in the throat can also be an indication of future chest congestion, for this, you can inhale steam with a mist vaporizer to loosen the dried mucus. A bowl of hot soup can also give you some congestion relief.
Modifications in the Lifestyle: If you are affected by cold or flu, it is vital that you have to have a diet rich in vegetables and fruits. The immune system will get a boost, and the harmful pathogens can hardly get into the respiratory system. Dehydration should be avoided at all costs.
Avoid Cough Suppressants: If you are affected with a minor cough, refrain from taking a cough suppressant. If a cough is suppressed, the body will be unable to expel the mucus, and then the result will be congestion. Opt for an expectorant as you can get a productive cough.
Keep Away From Toxic Chemicals: If you are allergic to some plants and have asthma, it is better to avoid similar kind of places. Also to be included are toxic chemicals that can make the body produce mucus. The best way will be to perform consistently any exercise that can strengthen the breathing muscles and promote immunity. However, if you are one with heart problems or undergone surgery, a kind request from our side to seek the guidance of your personal doctor.
When To See A Doctor?
In the case of a chronic cough, you need to go to a doctor.
If you are consistently coughing for a week or more, then you should test your mucus for a Tuberculosis test. The right reason for a large amount of mucus to be generated needs to be analyzed before reaching any conclusions.
Since there are many factors that can lead to chest congestion, it is important to conduct certain tests at a hospital if the home remedies for chest congestion mentioned above fail to work.
Natural Remedy vs. Pharmacy
Guaifenesin, CurcuminX4000™, Mucinex 600 and Vicks Vapo Rub are some of the over-the-counter medicines prescribed for chest congestion.

-->