7. Castor Oil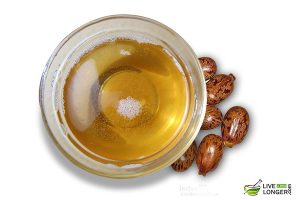 Castor oil is one of the best ways to relieve constipation. It is prevalent in almost all South Indian households. It is yellowish in color and has great laxative properties. Castor oil is the fastest constipation reliever and works almost immediately. For this reason, castor oil should be administered carefully. Hence, it is highly advised not to take it during bedtime. A downside of castor oil is that it does not taste so good. Therefore, it should be chilled and then mixed with a sweetener like orange juice or that sort. To try a remedy using natural castor oil, follow the steps given below:
Step 1: Take a tablespoon of castor oil.
Step 2: Mix it with orange juice, ginger juice, prune juice, or cranberry juice to eliminate its bitter taste.
Step 3: Don't take this continuously for more than three days.
Recommended dose:
One tablespoon for adults
One teaspoon for children 
How Does This Work?
Castor oil is 80% a component called ricinoleic acids. It's fatty acid binds to the receptors located on the smooth cells in the intestines. Upon interactions with the receptors, ricinoleic acid causes powerful contractions. This explains the laxative property of castor oil.  Apart from these factors, Castor oil prevents fluid absorption from the small intestines. Hence, the bowl can hold back more moisture for easier passage of stools out of the anus. Therefore, castor oil also acts as a lubricant for fecal matter.
The Remedy Is Not Good, If:
As Castor oil is a powerful laxative, you must be careful with its consumption. You must have close availability of toilets since castor oil causes explosive bouts of diarrhea.
You are pregnant. It is recommended to use castor oil strictly under the use of a medical practitioner.
You have stomach pain, gall bladder problems, bile ducts or blocked intestine.
You are taking diuretic drugs. Potassium in the body will be reduced below the required levels causing side effects.
6. Fennel Seeds
Fennel originated from the Mediterranean, where they used these seeds for making natural medicines and for culinary purposes. It is also one of the main components in alcohol absinthe, as it does not have any hallucinogenic properties. In the case of constipation, fennel seeds are used for instant relief. It loosens the stool making it easier to pass through. Fennel seeds work well only if they are taken right after the meals. It comes with a bonus too — it removes bad breath from the mouth. There are various ways to use fennel seeds to treat constipation. They include:
Method 1: Drinking Fennel Seed Water
Using fennel seed powder is more effective. Take a cup of fennel powder and roast them. Store them in an airtight jar. Later, take a glass of lukewarm water. Mix a spoon of fennel powder. Drink it before going to bed. 
How Does This Work?
Taking fennel water before bed is more effective. Fennel contains a good amount of fiber, while the lukewarm water activates the digestive system. Fiber is very important for proper functioning of the stomach.
Method 2: Fennel Tea
Fennel makes a wonderful medicinal tea. To make this, follow the instructions given below:
Step 1: Take one teaspoon of fennel seeds and bruise them with a pair of mortar and pestle.
Step 2: The action of bruising activates the oils and active compounds. Later, pour freshly boiled water over the fennel seeds.
Step 3: Let it steep for ten to fifteen minutes. Filter and drink it.
How Does This Work?
One of the many acids found in fennel is aspartic acid, known popularly as an antiflatulent. Other medicinal compounds are anetol & cineole having antibacterial and disinfectant properties. In the case of amino acids found in fennel seeds, histidine assists in digestion and proper maintenance of the digestive tract. 100 gms of fennel seeds offer 40 gms of dietary fiber, and the phytonutrients that exhibit excellent antioxidant properties are the flavonoids known as quercetin and rutin. They are known for reducing inflammation and prevention of cancer.
Fennel Is Not Good, If:
Fennel is usually considered safe for consumption. However, taking too much of everything is no good. Too much of fennel can cause difficulty in breathing, palpitations, various neural problems, and irregular heartbeats.