5. Aloe Vera Juice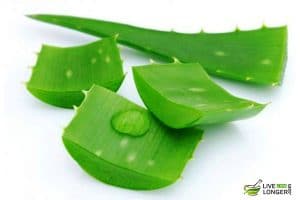 Many claim Aloe Vera plant as a miracle plant. It has numerous curative and healing properties, which is the main reason for many cosmetics and pharmaceutical brands use them. Also, the plant's juice has wonderful laxative properties that make it an amazing remedy for constipation. To try this remedy, follow the steps given below. Drink about two to three ounces of aloe juice daily. Drinking aloe juice on an empty stomach is considered the best method. Also, if you wish to, you can mix about two tablespoons of any fruit juice with it to make it taste better. 
Step 1: Rinse the plant with cold water and cut off the thorny part of the plant.
Step 2: Extract the transparent gel part of the plant and put it into a blender.
Step 3: The gel should be processed almost immediately after extraction because it hardens upon contact with air.
Step 4: The preparation must be refrigerated to keep the medicinal properties intact at least for a week.
Note: Aloe Vera has strong laxative effects on the body. Therefore, it should be taken sparingly.
How Does This Work?
Aloe Vera has a substance called chloride. It increases the water level in the stool hence easing the bowel movements. The laxative effect of the aloe vera plant is derived from the inner skin of the plant that gives out a sticky yellow liquid called Aloin. Aloin, when dry becomes powdery. This is used to make laxatives. Aloe Vera also contains compounds called anthraquinones, aloe-emodin, barbaloin and aloectic acid. Research has shown that the chemical combination of anthraquinone compounds provides relief for constipation.

Aloe Vera Is Not Good, If:
You are pregnant. Aloe Vera has been associated with miscarriage.
Children lesser than 12 years of age should not be given Aloe Vera.
You have a history of heart disease or suffer from electrolyte abnormalities.
You have intestinal conditions such as ulcerative colitis or Crohn's disease. It might worsen the situation.
You have kidney problems. High doses may result in failure of kidneys and other disastrous consequences.
4. Flaxseed Oil
Most people will have a laxative to treat their constipation. Though this works (for some) within 1 to 2 days, the problem is that what they are taking is not natural. You can alleviate the problem of constipation in healthy foods like prunes, bran products, and bananas. If you include them in your daily diet, it is not likely that you will suffer from constipation often. Now, talking about one such natural food to treat constipation is flaxseed oil. Over the years, much research has been done on flaxseed to derive their benefits and capabilities to curb constipation. You can include flax seeds as powder and sprinkle it on cereals or consume it with yogurt. You can also add them to sauce recipes or add to smoothies. No matter how you consume, it helps cure constipation naturally.
How Does This Work?
Also known as linseed, it is full of soluble fiber, which creates your stools to be bulkier, and it eases the movement of stool out of the bowel.  Flaxseed is a wonderful source of all the important Omega-3 fatty acids which helps with fluid retention within the bowel and helps with overall digestive health. When the oil is mixed with water, it helps to loosen stubborn stools and makes the process go easier. Like every other natural remedy again, the oil has to be taken in moderation, and certainly never overdose yourself than what is recommended on the packaging.
It contains another important component, known by the name 'mucilage.' The structure of mucilage is slim, and it possesses gum like composition that provides a temporary protective and soothing coating for the entire digestive part. This property of the mucilage not only helps in constipation but also for intestinal and stomach inflammation.
Flaxseed Oil Is Not Good, If:
You are using flax seeds in raw or unripe forms. They are dangerous.
You are pregnant. The components act similar to the hormone estrogen and doctors advise that this property can lead to miscarriage.
You suffer from diverticulosis (explained earlier in the article)
You suffer from a narrow esophagus or a bowel obstruction.