9. Raw Papaya
Papaya is a fruit that contains medicinal properties. It is not only delicious but also one of the best home remedies for corns on feet and toes. It eases the pain and discomfort. It has natural and powerful to eliminate all the hard and dead skin cells on the foot's surface. Simultaneously, it speeds or enhances the recovery process. But make sure that you use only raw papaya because they have more vital compounds than the ripe ones to treat corn. To try the remedy, follow the steps given below:
Step 1: Slice a papaya. Take some pieces and make a juice by using a blender.
Step 2: Use a cotton ball to apply the juice on the corn-affected area.
Step 3: Secure the ball with the juice by tape. Leave it overnight and go to bed.
Step 4: A pumice stone can be used to act as an exfoliator.
Step 5: Repeat the process until you get rid of corns on your feet and toes.
How Does This Work?
The enzymes in this fruit can peel off the dead and hard skin. You can get the maximum results if you use raw papaya. The medicinal components are lutein, beta-carotene, B vitamins (folate and pantothenic acid), calcium, vitamin K, potassium, and lycopene. One of the super enzymes, known as papain and chymopapain, can break down proteins in the skin leading to softening of the corn. You can also experience a reduction in pain that is associated with corns. Once the process is given a duration of three days, you can remove the corn with a pumice stone. 
Raw Papaya Is Not Good, If:
You can suffer from skin rashes. Papaya can worsen it.
You are allergic to latex. Refrain from using this method.
8. Castor Oil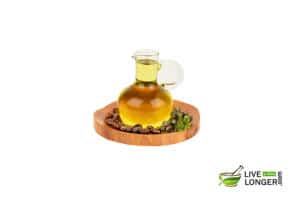 Another natural ingredient for foot corn treatment is none other than Castor Oil. It helps in moisturizing rough and dry skin. Hence, it is highly effective for softening the corns. The pale liquid derived from castor seeds (Ricinus Communis) is known as castor oil. It is an ancient remedy for this simple ailment. You can directly apply this oil on the discomfort area at least three times a day so that the hardened skin can get smooth enough to be taken off with a pumice stone. To try the remedy, follow the steps given below:
Step 1: Opt for non-medicated round shaped pads from the drug store.
Step 2: Apply castor oil on the corns and stick adhesive tape over the area.
Step 3: Use cotton socks to prevent staining on the feet. 
How Does This work?
An easily available remedy found in stores and pharmacies — castor oil can effectively cure corns. If you apply this oil having high concentrations of fatty acids to the skin, they penetrate the skin easily and promote the production of elastin and collagen. The process moisturizes as well hydrate the skin. You can take off the corn by filing with a pumice stone. The hard layers of corn may be reduced in two to three days. The biochemical in castor oil known as undecylenic acid assists in preventing fungal growth.
Castor oil also enhances the number of T-11 cells (one type of white blood cells). This process also stimulates the lymphocytes in the blood. Therefore, you have more immunity fighting organisms to eliminate fungi, cancer cells, viruses, and bacteria. Ricinoleic acid in castor oil wards off the acne causing bacteria. 
Castor Oil Is Not Good, If:
There are no side effects of applying castor oil externally on your skin. But just be careful while using, as it is sticky, you might want to wrap a cloth around the area to prevent small spills.