8. Green Chiretta Herbal Tea

According to a research paper, Green chiretta (or Andrographis paniculata) demonstrated the maximum antiviral inhibitory effects on DENV-1 (Dengue Virus). This erect, medicinal herb belongs to the family of Acanthaceae and is native to Sri Lanka and India. Widely cultivated by the Southeastern and Southern Asians, Andrographis is also popularly known as the "rulers of bitters." To make an herbal tea using paniculata for dengue fever, you need few other herbs as well. Just follow the instructions given below:
Herbs Required:
Green chiretta (or Andrographis paniculata)
Chrysopogon zizanioides
Coleus vettiveroides roots (or Plectranthus vettiveroides)
Licorice (or Glycyrrhiza glabra)
Snake gourd (or Trichosanthes cucumerina)
Nut grass (or Cyperus rotundus)
Dried ginger
Black pepper (or Piper nigrum)
Indian sandalwood (Santalum album)
Method of Preparation:
Step 1: Take ½ teaspoon of each herb.
Step 2: Add 2 to 3 cups of water to it.
Step 3: Boil it for 10 minutes.
Step 4: Once warm, drink a cup of it.
Step 5: Repeat the process two times in a day.
How Does This Work?
Andrographis paniculata contains a lot of medicinal components like diterpenoids, flavonoids, diterpene glycosides, flavonoid glycosides, and lactones. Also, it has methanolic extracts in large proportions, which is proven highly effective against dengue virus.
Chrysopogon zizanioides or vetiver (derived from the Tamil language: vettiver) is a perennial grass, which is commercially used for extracting fragrance oils. However, it holds a lot of medicinal values. Once consumed, it exhibits diaphoretic, febrifuge, cooling, stomachic, emmenagogue, and stimulant actions. Since it is refrigerant by nature, it can cure fever, swelling, shivering, and body pain.
Coleus vettiveroides (or vilamichu ver in Tamil) is another medicinal herb to bring the temperature down. These strong aromatic roots look much similar to Cuscus grass. According to this research paper, the compounds from its leaves have cytotoxic, antioxidant, and antimicrobial properties. Also, they had 16 different compounds representing 94.5% of oil, even including thymol (68.5%), beta-selinene (4.7%), terpinolene (5.3%), arcurcumene (1.7%), Delta-cadinol (2.1%), and beta-caryophyllene (4%).
Traditionally used for GI (Gastrointestinal) problems, licorice is used as a savoring agent in candy and tobacco industries. The compounds triterpenoids, polysaccharides (mannose, sucrose, and starches), and polyphenols have many antiviral properties, which is why it is effective in the treatment of dengue fever.
Trichosanthes cucumerina or snake gourd is a natural blood purifier. Also, it is germicidal, hepatoprotective, laxative, and an appetizer. Its bioactive compounds (bryononic acid, chondrillasteryl glucoside, dihydro cucurbitacin B, bryonolic acid, and cucurbitacin B) exhibit antiviral and antimalarial properties.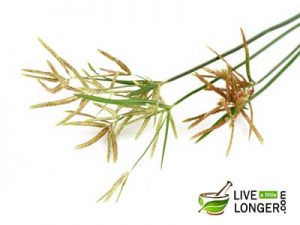 Cyperus rotundus or nut grass is found in almost all temperate, tropical, and subtropical regions. In India, it is popularly known as Nagarmotha, which is claimed to contain essential oils, terpenoids, flavonoids, cyprotene, sesquiterpenes, aselinene, cyperene, valencene, rotundene, gurjunene, cyperol, cadalene, trans-calamenene, mustakone, cyperotundone, acyperone, isocyperol, etc. According to various studies, this medicinal herb possesses a variety of pharmacological properties like diuretic, emmenagogue, carminative, analgesic, anti-inflammatory, anthelmintic, antirheumatic, and antidysenteric.
Dried ginger is analgesic, anti-inflammatory, and antibacterial. Apart from helping the body temperature to drop down, it helps relieve migraine, diabetes, phlegm and intestinal worms.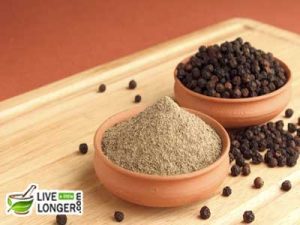 Pepper is a bioavailability and carminative enhancer. This traditional herb has been widely used for fever, indigestion, dyspepsia, and flatulence. However, if you are expecting a baby, avoid this herb, as it can cause miscarriages and other serious complications.
Sandalwood, on the other hand, has antiviral, anti-inflammatory, antibacterial, antifebrile, hypotensive, antibacterial, and cooling properties. It has been traditionally used to treat fever. Despite this, it also cures low immunity, urinary tract infections, liver disorders, gallbladder problems, and inflammation.
This Remedy Is Not Good, If:
You are pregnant or breastfeeding.
You have high blood pressure or hypertension.
You have stomach and mouth ulcers.
You have liver disorders.
You have swollen lymph glands.
You are suffering from fatigue.
You have acne.
You have low potassium levels.
You have bleeding disorders.