6. Bitter Gourd Juice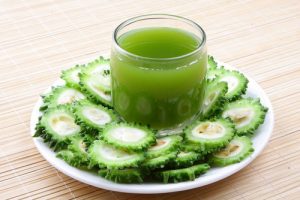 Also known as bitter melon, it can assist in the regulation of diabetes as it has glucose lowering properties in the blood. Additional benefits are that it influences the metabolism of glucose in the entire body rather than a tissue or particular organ.
It assists in increasing the secretion of pancreatic insulin and successfully thwarts the resistance of cells regarding insulin. This vegetable-fruit is beneficial for type 1 and 2 (diabetes). However, it has to be used only as a supplement for treatment of diabetes and not as an entire remedy.
Step 1: You can remove the seeds of three to four bitter gourds.
Step 2: Slice them into tiny pieces and use a juicer to extract the juice.
Step 3: You can add the required quantity of water and drink the juice.
Note: The first activity in the morning for two months every day is to drink the juice.
Alternatively, you can also have a dish made of this vegetable in the diet.
How Does This Work?
The main medicinal anti-diabetes properties are found in three components, namely charantin, vicine, and polypeptide-p. These chemicals can work individually (or combine) to assist in reducing the blood sugar levels. Another important compound is momordicin, the main compound that decreases the blood sugar levels. The other beneficial compounds in bitter gourd are phenolics, polypeptides, p-insulin, and sterols.
Bitter Gourd Is Not Good, If:
You are This vegetable is unsafe to be used in pregnancy as it can cause menstrual bleeding and can lead to abortion.
You are already on the medication for diabetes such as glimepiride (Amaryl), chlorpropamide (Diabinese), tolbutamide (Orinase), glipizide (Glucotrol) and rosiglitazone (Avandia). Interactions can happen, and the level of blood glucose in the blood might decrease.
5. Black Plum or Indian Black Berry (Jambul)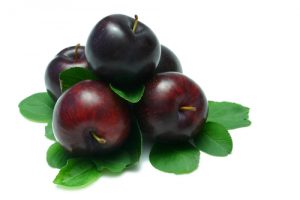 This plant when used along with other herbs like Eugenia cumin, Syzygium cumini, and Eugenia jambolana  can treat diabetes drastically. In fact, it has been used in Ayurveda since centuries. It helps in the prevention of hyperglycaemia. You will be surprised to read that it is one of the oldest anti-diabetic medicines employed across Europe even before insulin was discovered.
Jambul is also known as Black plum or Jamun. It has been known for its effectiveness in the regulation of blood sugar levels. One of the major benefits of the black plum plant is that individuals suffering from diabetes can use every part (including its seeds, fruit as well as the leaves).
Step 1: You can powder the dried seeds and have half a spoon twice a day.
Step 2: Alternate Remedy: Take 12 ripe black plums and soak them in half a liter of water.
Step 3: Boil the water and cover the vessel with lids. You can crush the plums entirely after a gap of thirty minutes.
Step 4: Kindly divide the remaining portion (powdered plums and water) into three and have one portion thrice a day.
How Does This Work?
The seeds of jamun have medicinal components such as glycoside jamboline, ellagic acid, gallic acid, beneficial in the treatment of many diseases. Jamboline, when combined with alkaloids, can give good hypoglycemic effects and can decrease thirty percent of blood sugar.
This fruit is very beneficial for the pancreas. You can also have the powder of dried seeds of this fruit. It has low glycemic index and decreases the diabetes symptoms such as excess urination, thus making it an amazing home remedy for diabetes.
Black Plum Is Not Good, If:
You are pregnant and breast-feeding a baby.
You are opting for surgery. It is better not to include this fruit or supplements in the diet as it can lower blood sugar levels.
You are on fast. You should not have this fruit on an empty stomach. Milk should not be consumed after having jamun.
Including excess jamun in the diet can lead to fever and body aches.