10. Eat Raw Papaya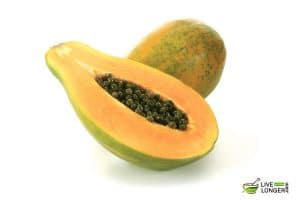 Refreshingly sweet, a papaya is a bright, exotic, pear-shaped fruit, which can be easily seen in the market. Enclosed with many round, black, soft, gelatinous seeds, papaya's edible flesh is nutritious and offers multiple health benefits (while the one being diarrhea). Though papaya is the most argued fruit for diarrhea, according to studies, eating papaya can help you overcome this ailment. Papaya, when used raw, can effectively treat loose motions. It also reduces pain in the stomach and relieves stomach cramps. To try this remedy, follow the steps listed below:
Step 1: You can grate a papaya and add the pieces to a bowl containing three cups of water.
Step 2: This mixture should be boiled for ten minutes.
Step 3: You can strain the mixture and consume. But first, allow it to cool.
Step 4: Have the mixture two to three times a day till you get relief.
How Does This Work?
The two enzymes making the mark are papain and chymopapain. Both help in the digestion of proteins in the body. The other vitamins such as beta carotene are also good at reducing inflammation.
Papaya Is Not Good, If:
You are pregnant. It can cause a miscarriage.
You are allergic to latex. You can suffer from allergic reactions.
You are on taking medications for blood thinning.
You consume in excess. It can cause skin discoloration or carotenemia.
You have respiratory disorders.
You have kidney stones.
9. Fenugreek Seeds + Yogurt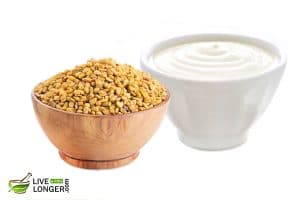 Though diarrhea isn't a life threatening ailment, it causes disruption in our day-to-day lives. You will be surprised in reading the fact that about 1.7 – 5 billion humans suffer from diarrhea at least once in every year. Hence, the hunt for herbs and natural remedies are always on-the-go. So, considering this, Fenugreek Seeds have been known to cure bout problems. In fact, they are widely suggested in the natural treatment of diarrhea. The reason is their organic mucilage (offers strong antidiarrheal effects) content. They assist in solidifying the stools and ease the pain or discomfort that comes along with diarrhea. Hence, to try this remedy, follow the steps given below:
Step 1: Take one tablespoon of fenugreek seeds and a tablespoon of yogurt.
Step 2: You can combine the mixture and chew them three to four times a day.
How Does This Work?
The mixture is highly recommended as they have high mucilage content. They can provide an anti-diarrheal effect and yogurt can assist the healing process.
This Remedy Is Not Good, If:
You are suffering from diabetes. These seeds can lower blood sugar (hypoglycemia) if you have a similar condition.
You are pregnant. The seeds can cause contractions (early).
-->