6. Marigold Leaves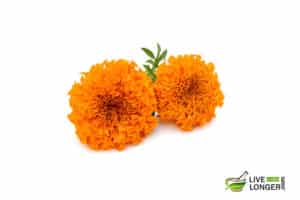 Both marigold flower and its leaves are used for treating various ailments. Traditionally, they have been used for curing conjunctivitis, eczema, gastritis warts, blepharitis, sunburns, and other minor injuries like wounds and sprains. Besides these, marigold also treats coughs, snakebites, and cramps. Botanically known as, Calendula officinalis, Marigold is fortified with flavonoids and antioxidants, which protects the cells from any damage (this usually happens during the process of oxidation). You will be surprised to know that oxidation creates natural chemicals and oxygen-free radicals that might suppress the immune function. Talking about an earache, marigold has its key role. It has natural antiseptic properties and antibacterial liquids to effectively overcome ear pain.
Step 1: Crush about 7 to 9 leaves of this flower and then make a paste.
Step 2: Take a bowl of boiling water and add the paste.
Step 3: Boil the mixture for 15 minutes.
Step 4: Strain and drink this mixture.
How Does This Work?
All the above processes are meant for external purposes. The marigold option is for strengthening the immunity of the internal organs to prevent and eliminate the infection. This flowering plant contains abundant, powerful flavonoids known for their antioxidant properties. It also contains Vitamin C that enhances the immunity of the body. Some of the known antioxidants are zeaxanthin, lycopene, and lutein.
Marigold Is Not Good, If:
You are allergic to ragweed and associated plants.
5. Basil Leaves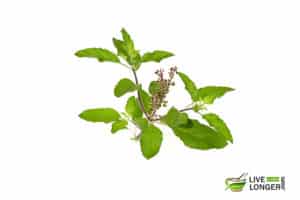 Basil leaves are the best bacteria-combating herb to prevent an ear infection. According to Ayurveda, basil leaves are one of the most powerful herbs for curing many ailments. To name a few, it heals earaches, cold, flu, stress, anxiety, tension, etc. It has antioxidants to compete against free radicals. If you are someone who is very health conscious, then you should switch to basil tea rather than sipping a cup of tea or coffee. Also, a cup of freshly prepared basil leaves (Tulsi) tea is great for the respiratory system, better eye vision, healthy immune system, building stamina, and maintaining normal blood sugar levels. To try this remedy for your ear problem, follow the steps given below.
Step 1: Crush and extract the juice from a handful of basil leaves
Step 2: Drop a few juice extracts into the ear channel to get relief.
Step 3: Repeat the process in succession until you recover.
How Does This Work?
The basil herb leaves contain rich amount of polyphenolic flavonoids (orientin & vicenin). The main health beneficial oils in this herb are eugenol, linalool, terpineol, limonene and citral (all these compounds are well known for their anti-bacterial and anti-inflammatory properties). In the case of an infection, the bacteria & viruses are killed; and the inflammation will be reduced.
Basil Leaves Are Not Good, If:
You are pregnant, basil and its supplements should be avoided.
You are consuming in oil form. It can prove carcinogenic in some individuals. In its natural form, basil is considered a natural herb.