4. Ginger, Long Pepper, Black Pepper, Asafetida, Sesame Oil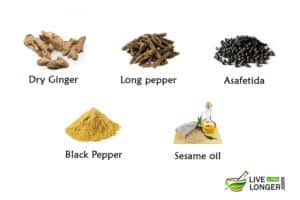 Ginger: Although dry, dry ginger keeps its nutrient value intact and can be stored for a longer period without being spoilt.  A well dried ginger powder can be recognized by the strong aroma, in spite of being packed in a tight pouch.
Long Pepper: Long Pepper is also known as Indian long pepper closely resembles black pepper when it comes to the taste but is in an elongated form. Its medicinal values have been discussed not just in Indian ancient medicinal books but have also been appreciated by the Greek and Romans.
Black pepper: Round black dried up seeds of pepper are a medicinal marvel if you know just the right way to use them. It is pungent to taste and is widely used in Indian cuisines.
Asafoetida: Asafoetida is the gum of the root of a herb. It is a brown lump, which needs to be crushed into a powder form to be used. As mentioned above, Asafoetida has great medicinal values.
Sesame Oil: Sesame oil, made from sesame seeds works great magic on your skin. You can even use it as massage oil. It is used as a flavor enhancer in many international cuisines. Being a drought tolerant crop, it can be found in places where other crops usually fail.
To treat your ear pain with all these ingredients, follow the steps given below:
Step 1: Crush dry ginger, long pepper, black pepper and asafoetida into a powdered form.
Step 2: Then take a half teaspoon of all the above mentioned ingredients.
Step 3: Then boil these ingredients with sesame oil in asafetida.
Step 4: Once this mixture cools down to just warm enough, you can use it as ear drops.
How Does This Work?
Ginger acts as a natural painkiller and has anti-bacterial properties, which can fight the infection causing germs in your ear. Long pepper and black pepper contain piperine, which fights infections. Asafoetida and sesame oil add to the medicinal powers of these herbs and make the concoction even stronger.
The Remedy Is Not Good, If:
You have sensitive skin. All the above ingredients are pungent and strong enough. Hence, these ingredients can affect your sensitive skin.
3. Paste Of Calotropis Gigantean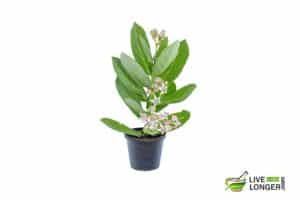 Calotropis gigantean: Also commonly known as a crown flower, it is a wild plant, which can be easily found as a weed along the roadside in India, Pakistan, Nepal, and many Asian countries.
The flowers are white or lavender in color and come in clusters. The stem excretes milk when broken, which is considered toxic and can cause blindness if it comes in contact with your eyes. To use Calotropis gigantean for your ear pain, follow the instructions written below:
Step 1: Take some fresh calotropis gigantean leaves.
Step 2: Grind them into a fine paste with a few drops of water.
Step 3: Apply this paste on the external section around your ears.
Step 4: Let it be until the paste has dried up.
Note: Take the advice of an expert or herbalist before using this herb.
How Does This Work?
The flowers are known for their anti-inflammatory and anti-bacterial properties. Thus, this remedy works the best in case your earache is due to infections.
The Remedy Is Not Good, If:
You are not sure of how to use them. You might end up doing it all wrong.
You are using the milk from the stems. It is believed to be extremely toxic. Remedy 2:  Solanum Trilobatum leaves
2. Solanum Trilobatum
It is a creeper plant and full of thorns. It bears bluish flowers. The entire plant has medicinal powers, and the leaves can be stored for a longer period by drying them up. Even upon drying, they do not lose their medicinal value. The entire plant, that is its flowers, leaves, stems, and fruits is edible. In fact, it can be used as a medicine for treating various health ailments. Whether you are cooking and consuming this herb with dishes or taking it as medicine, it is extremely beneficial. According to studies, this herbal plant contains natural steroids. However, to treat your earache, use this herb in the following way:
Step 1: Boil the Solanum Trilobatum leaves with some water.
Step 2: Strain the mixture and drink a cup of it.
How Does This Remedy Work?
The leaves of this plant are said to cure dullness in hearing and help in ear pain relief hearing because of its anti-bacterial properties which are the best in the case of earaches caused by infections.
The Remedy Is Not Good If:
You are pregnant or breastfeeding. It is better to avoid these leaves.
You are consuming in high doses. It may cause diarrhea and vomiting too.