4. Dry Skin: Honey, Oats, Apple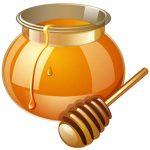 Honey is a natural moisturizer and an anti-aging agent. For dry skin, it is the perfect ingredient to add in your beauty pack. It exhibits antimicrobial and antioxidant properties. Honey protects the skin from UV rays and rejuvenates deeply. Also, it absorbs and retains moisture, which in turn assists the skin to remain hydrated, supple, and fresh. According to researchers, ancient women made use of milk and honey to maintain their skin's youthfulness, radiance and smoothness.
Oats play a vital role when it comes to skincare. The use of oats dates back to 2000 BC when ancient Arabs and Egyptians added them in their regime to beautify their skin.
Also, ancient Romans and Greeks used to have oat baths to heal various skin ailments. Oats are highly effective in treating dry, dull, and flaky skin. It moisturizes deeply and lightens the skin tone naturally.
Apples are a rich source of vitamin C, which is important in maintaining the skin's collagen. When the production of collagen is low, it directly affects the skin, causing itchiness, re-opening of former wounds, and tearing of the skin. Since apples have this nutrient naturally, it helps your skin to gain what has been lost.
A combination of these natural ingredients is one of the best home remedies for glowing skin. Follow the steps given below:
Peel a fresh apple and mash it nicely. You can even use a mixer for this.
Add few drops of honey. Mix it.
Add oats powder (grind oats in a mixer separately).
Mix all the above properly.
Apply on your face and massage.
Leave it for ten minutes.
Wash off with cold water.
How Does The Remedy Work?
Honey has natural bleaching properties to lighten the skin tone. Its antibacterial and anti-inflammatory properties decrease the appearance of scars and dark spots. It leaves the skin 100% nourished and healthy.
Oats have polysaccharides that become gelatinous as soon as they are immersed in water. These polysaccharides help fight flaky and dry skin. The anti-inflammatory properties of oats are highly effective for itchy skin. The beta-glucan in them forms an excellent protective shield when applied on the skin.
Apples are a rich source of vitamin A and vitamin C; both are very much required for marinating a healthy skin. While vitamin C takes care of the collagen production, vitamin A deals with the skin tissues.
The Remedy Is Not Good, If:
You have oily skin. The remedy is meant for individuals with dry skin.
You are consuming it. The beauty pack is only meant for external application.
You have serious skin allergies. Consult a doctor before applying.
3. Normal Skin: Neem Leaves, Turmeric, Poppy Seeds
Like flowers, even neem leaves are highly beneficial for skin. They act as a natural skin toner and help in reducing fine lines and wrinkles. In Ayurveda, neem holds a special place and has been long known to cure various medical ailments. Besides skin, neem is known to cure dandruff, leprosy, fever, eye disorders, ulcers, diabetes, gingivitis, heart problems etc. Also, these evergreen leaves are used for abortions.
Apart from being widely used in Asian cuisines, turmeric is one of the excellent exfoliating agents for your beauty too. It helps in defeating the multiple aging signs and leaves a healthy, young looking skin. Besides being used as a beauty product and spice, turmeric can even be employed as a natural dye. In fact, some individuals utilize it as a self-tanner. Its natural antiseptic, anti-inflammatory, anti-fungal, and antibacterial properties is something that makes them unique.
Poppy seeds are widely used in flavored cakes, bread, cookies, and rolls. They are often sprinkled over dishes for garnishing. They have been grown for more than 3000 years. However, they can do a lot to make your skin glow. They act as a great moisturizer and scrub for the skin. To try a combination of these, follow the steps listed below.
Grind few fresh neem leaves, 1 teaspoon poppy seeds, and ½ teaspoon turmeric powder with few drops of water.
Apply the paste on your face.
Leave it for 10 minutes.
Wash off with cold water.
How Does The Remedy Work?
Neem has anti-parasitic, antibacterial, anti-inflammatory, analgesic and anti-fungal properties to help you get rid of skin problems. The Vitamin C in them eliminates pigmentation, blackheads, aging, and dullness, leaving your skin with a perfect glow.
The antioxidants and active compounds like curcumin in turmeric are the primary reason to leave your skin bright and tight. It lightens the dark spots, prevents pimples, and gives a clear glow.
The reason why poppy seeds are one of the best natural remedies for glowing skin is due to the presence of zinc in them. This nutrient assists in protein synthesis and the development of fresh cells. Besides this, it acts as a natural moisturizer too.
The Remedy Is Not Good, If:
You have sensitive skin.
You are consuming it. The beauty pack is only meant for external application.
You have skin allergies. Consult your doctor before applying.
-->