11. Horse Gram & Pomegranate Seeds Soup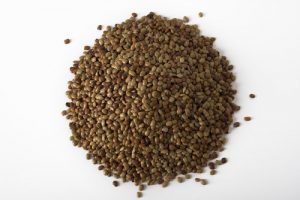 It is one of the best home remedies that you can use to help reduce the pain and to get relief. Since horse gram is enriched with polyphenols and iron, it naturally helps in dissolving kidney stones.
Apart from treating this ailment, horse gram can also cure common cold, fever, throat infection, piles, urinary diseases, jaundice, etc. According to various studies and researches, adding this legume in your daily diet gives anti-calcifying effects on the kidney stones. Fortified with iron, calcium, and proteins, this legume is consumed in India.
If someone told you that pomegranate seeds cause kidney stones, then they are completely wrong. Drinking its fresh juice can help eliminate the toxins from the body.
Also, it reduces the acidity level in urine. Thereby, preventing the formation of stones in the kidney. Thus, a blend of these two natural ingredients can do great wonders in treating this disease. Besides treating kidney stones, it treats high cholesterol and hypertension. To try this remedy, just follow the steps written below:
Step 1: In a half-liter of water, add one cup of horse gram.
Step 2: Allow the water to steep till it is about 1/5 of the original quantity.
Step 3: Strain and collect the horse gram soup. Add pomegranate seeds to it and stir well.
Note: Have the soup once a day until you feel relieved from pain.
How Does This Work?
Pomegranates help in the reduction of the urine acidity level, which is an important factor for the formation of stones. Horse gram is well known for its diuretic & astringent properties, and a combination along with pomegranate can work wonders. The mixture will be useful in making the toxins flow through the body in the urine.
Pomegranate is rich in iron and polyphenols that have a high antioxidant activity. Soak one cup of horse gram in one liter of water overnight.
This remedy Is Not Good, If:
You have a history of low blood pressure. The blood pressure will drop even more.
You are planning for surgery. The blood pressure will be affected, and it is advisable to restrict pomegranates two weeks prior two weeks to a surgery.
You are on medications. Pomegranate will interfere with common medications such as the ones taken for cholesterol. Check with your physician.
You are suffering from asthma. People with asthma should be careful, and the symptoms are vomiting, nausea, hives, and breathing difficulties.
10. Basil Leaves and Honey
Did you know that people in India worship holy basil? In fact, it plays an important role in the Indian tradition. Besides used for spiritual purpose in India, basil leaves have amazing healing power. Originally grown in Middle East and Asia, basil is known to be cultivated and used since 5000 years.
It has anti-inflammatory properties and contains similar compounds that are found in medical marijuana and oregano. Many naturopathic experts prescribe basil leaves in the treatment of respiratory disorders, diabetes, allergies, infertility, and impotence. This is because they contain cinnamanic acid, a substance that is known to improve blood circulation, control diabetes, and enhance breathing in people with respiratory diseases.
When we say honey, the one question you will have is – can I consume honey for kidney disorders? Well, the answer is "yes". Honey has multiple benefits when it comes to kidney problems.
For instance, it can enhance the ingredients in blood, which in turn improves a patient's cardiovascular functions.
Apart from this, honey also helps in expending the artery; thus, reducing blood pressure. Now, this particular function is extremely crucial for people, who have renal disorders. Both these ingredients can easily cure your kidney stones, and the best thing is that they are easily available in your kitchen.
Step 1: Crush 10 -15 basil leaves and squeeze the juice out of it.
Step 2: Add one teaspoon of honey to leaf residue and stir well till they have mixed sufficiently. Have the mix once a day for better results.
 How Does This Work?
Basil leaves were used as detoxifiers and a diuretic since the good old days. Since one of the components of these leaves is acetic acid, the kidney stones will be easily broken, and the uric acid levels in the blood will come to normal.
This Remedy Is Not Good, If:
You have a history of bleeding It will decrease clotting of blood and cease to stop the bleeding.
You have renal failure. Excess consumption might worsen the problem.
9. Watermelon Juice
Watermelon contains the highest amount of water content (92%) than any other natural fruit. They are diuretic, which means that they assist in increasing the urine flow. This is extremely important when there is a risk of kidney stones.
They are rich in potassium as well (about 170 mg for a cup). Potassium is also a form of salt, which helps the body to dissolve kidney stones. Besides this, potassium also lowers blood pressure. Not only the fruit but also its seeds support in maintaining your kidney's overall health; those little black seeds cleanse your bladder and help pass the stones out via urine. Hence, watermelon juice is one of the best and effective natural remedies for kidney stones.
Step 1: Take half a watermelon and add some water.
Step 2: Add the mixture to a blender. After blending for five minutes, your juice is ready for consumption.
How Does This Work?
The main components of kidney stones are carbonates, calcium and magnesium phosphates. Potassium (an ingredient of watermelon) is a vital ingredient for healthy kidneys, as it assists in the regulation and maintenance of the acid level in urine. Since major constituent of the watermelon is water, the stones are flushed out quickly.
Watermelon Is Not Good, If:
You are a senior citizen. Kindly refrain from taking large quantities of watermelon because it can give rise to indigestion, bloating, and diarrhea.
You have a kidney problem. Watermelons have high quantities of potassium, and the kidney may face challenges in eliminating the excess potassium.
You are allergic to latex, cucumber or carrots. You will also be allergic to watermelon and may suffer from swelling of the face or mild rashes to severe ones.
You are pregnant. It will increase blood sugar in the blood that might lead to gestational diabetes.
You are allergic to sorbitol (a type of sugar). Intolerance to sorbitol will give rise to symptoms such as loose stools and gas.