8. Kidney Beans
One of the world's healthiest foods — kidney beans are fortified with copper, dietary fiber, proteins, vitamin B1, manganese, and iron. True to the name, they are in the shape of your kidney and are highly beneficial for your health.
Since they are rich in fiber, kidney beans can be effective in the treatment of any kidney or bladder problem, including kidney stones. Apart from treating stones in the kidney, these beans assists in lowering cholesterol and prevents sugar level from rising rapidly right after a patient has his or her meal. Hence, they make a good diet choice for people, who suffer from diabetes, hypoglycemia or insulin resistance. Follow the below steps to try this remedy:
Step 1: Take twenty beans and put them in hot water.
Step 2: Let the beans boil until they become tender. The liquid should be strained to differentiate the residue and juice. Allow the juice to cool and have it five times a day.
Note: Do not store the liquid after a day, as its therapeutic properties will be lost.
How Does This Work?
Kidney stones have rich quantities of flavonoids and it helps in dissolving the stones and eliminate them out of the body. They are also rich in diuretic properties.
 Kidney Beans Are Not Good, If:
Your diet is laced with raw Red Kidney beans. These contain phytohaemagglutinin, the toxin that causes poisoning. Symptoms are nausea, dizziness, diarrhea, and dizziness.
Kidney stones possess fibers (insoluble) known as alpha-galactosides that can lead to flatulence and diarrhea in few people.
7. Lemon Juice
Naturally acidic, fresh lemon juice is demonstrated to increase the levels of citrate in urine, a factor which discourages the kidney stones from forming. The fruit is well admired to contain a considerable proportion of Vitamin C (or ascorbic acid) & Vitamin C. No matter what type of kidney stone you have, fresh lemon juice will always help. According to various studies, citric acid can assist in reducing the acidity in urine; thereby decreasing the formation of kidney stones. To try a remedy using lemon, follow the steps given below:
Step 1: Take two fresh lemons.
Step 2: Extract the juice and add to one liter of water.
Step 3: You can drink the juice thrice a day (once in the morning, evening and if possible – afternoon).
Alternate method: You can also use the juice of lemon in normal food such as meat, fish or other types of food.
How Does This Work?
Citric acid reduces the formation of kidney stones. They have in them a chemical called as citrate that can prevent formation of calcium stones. It also can break small stones that might become harmful to the body when they become big. Since the acidity of urine is reduced, the formation of stones due to uric acid and calcium oxalate is reduced.
Lemon Juice Is Not Good, If:
You have a sensitive stomach. You can suffer from acidity.
You have a problem of GERD or gastroesophageal reflux disorder. You can suffer from nausea, vomiting, and heartburn.
You suffer from stomach ulcers. The acid content in lemon juice can make the situation worse.
6. Wheatgrass Juice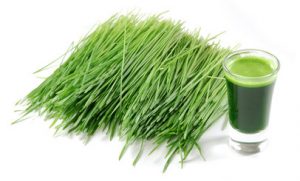 The juice of wheat grass is regarded very effective in the treatment of kidney stones (by natural methods). The juice can be consumed as a single ingredient or it can also be mixed with lemon juice and basil leaf juice (one teaspoon).
You can partake the juice two to three times every day. Kindly note, that this grass is an excellent source of iron, magnesium, potassium, B Vitamins, Chlorophyll, and amino acids. Here is what you need to do to help dissolve your kidney stones with organic wheatgrass:
Step 1: You need to have 50grams of wheat grass (fresh), pestle, mortar, and filter cloth.
Step 2: You can place the grass in mortar; add ten drops of water and then using the pestle grind into a fine mixture.
Step 3: The mixture you get will be dark green. You can make use of the cloth filter to separate the wheat grass from the juice.
Step 4: You can put the grass in the motor and then do the same procedure of grinding.
Step 5: Use the straining method once again. The juice is ready.
Step 6: Consume the mixture within thirty minutes.
How Does This Work?
Most of the patients having a kidney disorder have a problem in the endocrine glands. They also suffer from reduced red blood cells. Wheat grass can provide assistance in the form of enhancing the hemoglobin in the blood as well as blood content. This leads to increase of blood and oxygen supply in the kidneys.
Chlorophyll in wheatgrass contains Vitamins A, C, B and also minerals such as calcium, magnesium, sulfur, zinc, etc. The toxins in the body are neutralized, and you get relief from kidney stones. Chlorophyll also promotes good functioning of the lung and heart.
Wheatgrass Is Not Good, If:
You have a heart problem. Since a large amount of potassium is present, the heart can skip a beat and cause danger to life.
You can experience nausea or dizziness as the toxins get neutralized.  This will be only in the beginning stages and you will soon get over it.
You consume a large amount of this grass. Indigestion can happen due to excess chlorophyll. So it is essential to introduce in small amounts.
You are allergic to wheat and if you have celiac disease. You can suffer from allergic symptoms and in the case of celiac disease, the situations may worsen.