5. Nettle Leaf Tea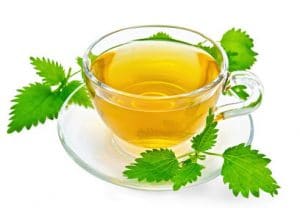 A plant from the British, Nettle Leaves are loaded with vital minerals and vitamins. Popularly known as stinging nettle, they have been medicinally used since 3 B.C. During medieval years, these leaves were widely used for treating joint pain.
These green leaves exhibit diuretic properties; hence, even today they assist in maintaining kidney health. Their roots are employed in the treatment of urinary disorders that are linked with an enlarged prostate (or prostatic hyperplasia),  hay fever, and urinary infections. They are grown and harvested because of their multiple benefits. You can drink two to three cups of the tea every day to attain maximum benefits.
Step 1: Collect some nettle leaves (three teaspoons).
Step 2: Take six cups of water and low it to boil.
Step 3: Add the leaves to the boiling water and let it simmer for fifteen minutes.
Step 4: Let the mixture remain for ten minutes.
Step 5: Strain and drink it.
How Does This Work?
It has powerful diuretic as well as antibacterial properties. The excess minerals, as well as toxins, will be flushed out of the body, put a stop to the formation of new stones and the growth of existing ones will be stopped. The active components are said to be polysaccharides, as well as lectins that play an important role. The production of inflammatory substances known as prostaglandins is stopped. The kidney stones are washed away via the urinary tract. The immune system also gets a boost.
Nettle Leaf Tea Is Not Good, If:
You are pregnant. Uterine contractions will occur and you might suffer a miscarriage. Also, avoid this herb if you are breast-feeding.
You have a history of low blood pressure. The numbers might become too low. It is better to consult a naturopathy doctor before partaking the juice.
4. Organic Celery Leaves
Originated from  North African regions and Mediterranean parts, celery was found inside the King Tut's tomb. It belongs to the family of Apiaceae and is widely consumed as a vegetable. In fact, it is a healthy ingredient used in almost all cuisines of Ireland, America, Australia, and Japan.
Apart from its culinary use, it is loaded with multiple health benefits. It is fortified with vitamin C, which helps in lowering your cholesterol, assists in preventing cancer, prevents obesity, manages the pain that comes from arthritis, detoxifies the entire body, and lowers high blood pressure. It has been noticed that consistent use of celery seed as a tea or as a spice can prevent the formation of kidney stones. Hence, to try the remedy, follow the steps given here:
Step 1: Choose straight celery stalks with green leaves. They should not be yellow or wilted in appearance.
Step 2: They have to be cleaned properly so that soil is removed. The tip and the tail of the stalks have to be removed.
Step 3: The stalks have to be cut to pieces that can fit your blender. Add sufficient amount of water.
Step 4: Run the blender and the juice will be the output.
Step 5: Strain the mixture and you can drink only the pure juice.
How Does This Work?
The sodium and potassium present in celery juice can assist in regulation of fluids in the body as well stimulate production of urine, which will eliminate the excess fluid. Since the toxins are eliminated, the formation of kidney stones also comes to an end, and you can have relief. The regulation of fluids in the body is achieved through minerals such as sodium, potassium, etc.
Celery Is Not Good, If:
You are pregnant. It might cause a uterus contraction and lead to miscarriage.
You are allergic to birch, dandelion, mugwort and wild carrot. You will experience allergic reactions.
You have bleeding disorder. You might face the risk of bleeding.
You have a history of low blood pressure. The number will become low on account of using celery.
3. Dandelion Root
Dandelion is often said to be a very pesky weed, which loves to take over all your gardens and lawns. They overwhelm soccer fields, golf courses, and meadows. In fact, they pop up at those cracked pavements and sidewalks.
Dandelion is pervasive and invasive. However, they are one of the best herbs with multiple medicinal values. In fact, they are used for decades in the treatment of kidney stones.
The root functions by cleaning the urinary tract. It can also be taken in combination with other herbs. To try the remedy, here is what you need to do:
Step 1: Take two teaspoons of dried dandelion root.
Step 2: Have a bowl of hot water ready.
Step 3: Mix the two together and let it remain for fifteen minutes.
Step 4: Steep the mixture and consume the drink while warm.
How Does This Work?
When you have a good amount of mineral in the body such as potassium, the blood circulation is increased in the kidneys. Having strong oxidants helps in curing infection of the kidneys. The antioxidants in high quantity are luteolin (and apigenin – both are flavonoid glycosides) and Vitamin C. It is also high in concentration of kynurenic acid that can assist in a proper digestive system.
Dandelion Roots Are Not Good, If:
You are allergic to ragweed, daisies, marigolds, and chrysanthemums. You will suffer the same allergic reaction.
You are taking antibiotics. The effectiveness will be reduced.