5. Chamomile Tea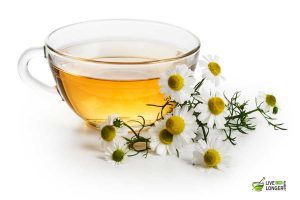 Chamomile is one of the most well-known herbs for its anti–inflammatory, anti–irritant, and anti–microbial properties. Apart from treating conjunctivitis, it also cures puffy eyes and dark circles.
Chamomile tea is highly effective for natural conjunctivitis treatment or red eye problems and is being used since years. It is something you can easily find at a health & food shop, a supermarket or a chemist store.
To treat Pink eye with Chamomile, follow the steps given below:
Step 1: Boil 1 ½ cup of filtered water and add one heaped spoon of chamomile tea or a chamomile tea bag to it.
Step 2: Let it brew for about five minutes.
Step 3: Strain it or remove the tea bag and allow it to cool down.
Step 4: Directly apply the tea bag onto your eyelids and repeat it for a few times a day.
Step 5: You can even use a cotton pad to wipe your eyes with it. Do this once in every 1 – 2 hours in a day.
Step 6: Usually the infection will go away within 24 to 36 hours.
Step 7: You can also sleep with a cotton pad "eye patch" to get rid of the infection.
How Does This Work?
Chamomile contains several types of flavonoids and medicinal properties such as astringent, anti-bacterial and anti-inflammatory. These properties help reduce the swelling and irritation by decreasing the production of chemicals called histamines, prostaglandins, and leukotrienes. These are the chemicals released by your body to create a swelling response in the affected area.
Chamomile Is Not Good, If:
You are pregnant or breastfeeding (consult your doctor beforehand).
You are allergic to ragweed or other such pollens.
You are going to have surgery in next two weeks.
You have hormone-sensitive ailments such as ovarian cancer, uterine cancer, breast cancer, uterine fibroids, or endometriosis.
You are taking any birth control or contraceptive medications.
You are taking any sedative medications.
4. Castor Oil
Castor oil is derived from castor seeds (found in the fruits of castor plant, Ricinus Communis). Castor oil is used for treating various types of ailments such as rheumatism, constipation, menstrual disorders, lactation, gastrointestinal problems, anti-inflammatory, labor stimulant, anti-disinfectant, asthma, skincare, and hair care. It even has industrial usages, like lubricating machines, etc.
On the other hand, a powerful toxin called ricin is also made from certain protein seen in the castor seeds, which is used for chemical warfare. The anti-inflammatory properties of castor oil make it an effective treatment for conjunctivitis.
To treat Pink eye with Castor Oil, follow the steps given below:
Step 1: Apply a few drops of castor oil to the infected eyes directly.
Step 2: It helps sooth the irritation as well as removes the infection.
Step 3: You can also apply castor oil generously over the upper and lower eyelids.
Step 4: Rest and let it get into your eye by itself and do its job of curing the infection.
Note: Applying castor oil to eyes might temporarily fog your vision, so it is suggested to do it before sleep. It is also advised to use this method as soon as the early signs of pink eye appear.
How Does This Work?
Castor Oil has several disinfectant properties, which helps you fight against the microbes that cause pink eye. It also has a biochemical called undecylenic acid, which helps prevent further growth of the microbes.
Castor Oil Is Not Good, If:
You have any symptoms of appendicitis.
You are pregnant or breastfeeding (consult your doctor beforehand).
You have allergic reactions to castor oil.
-->