5. Neem Leaves (or Indian Lilac)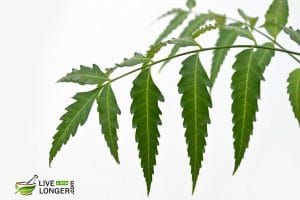 These bitter tasting leaves are famous for treating various skin diseases. Hence, ringworms isn't an exception. Neem has traditionally been one of the effective treatments for fungal infections. Neem leaves are well known for their antifungal, antiviral, and antibacterial properties; hence, they are effective when it comes to skin problems. They assist in soothing the irritation and reducing the inflammation without making the skin dry. In fact, various studies claim that, the fungus behind the ringworms can be easily controlled with the help of Neem extracts. Apart from treating ringworms, neem is one of the excellent agents to prevent fine lines and wrinkles. To try this remedy, follow the steps given below:
Step 1: Make a paste of half tablespoon neem powder and water.
Step 2: Apply the mix on the ringworm patch five times a day and you will see the fungi receding.
How Does This Work?
Neem or commonly called the Indian lilac leaves are famous for their antimicrobial, antiseptic properties and can treat various infections such as scabies, ringworms, etc. The major important compounds in neem oil for ringworm infection are Gedunin and Nimbidol. They are classified as anti-fungal agents that can easily provide relief against fungi and yeast infections.
Neem Is Not Good, If:
You have children at home. Accidental ingestion by children can have serious side effects such as blood disorders, coma, vomiting, diarrhea, seizures and loss of consciousness.
You are pregnant. Neem products can cause a miscarriage.
You had an organ transplant. Refrain from using neem as medicines can lose their effectivity.
You are planning a baby. Neem oil has been used since ancient ages for birth control.
4. Tea Tree Oil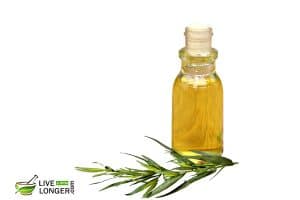 Have you ever wondered how tea tree oil is extracted? Well, it is from the green leaves of a tree named Melaleuca alternifolia. This tree is native to the New South Wales, Australia. This tree has an interesting too. Aborigines chewed their leaves for treating colds and other sicknesses. It is a strong natural germicide, which is why it is often used a home remedy for treating multiple ailments. It is a yellowish, clear liquid, which is strongly aromatic and has a scent similar to eucalyptus. This oil is considered effective for treating external cuts, wounds, and infections. Hence, ringworm is no exception. To try this remedy, follow the steps given below:
Step 1: Take three teaspoons of tea tree oil with equal amount of water in a bowl.
Step 2: Apply on the affected areas using a cotton ball.
How Does This Work?
This remedy is useful if you have been affected by ringworms on the feet. The components exhibit anti-fungal as well as antiseptic agents and can treat various types of skin diseases. The medicinal properties are believed to be caused due to the presence of terpenes. The main antimicrobial component is believed to be terpinen-4-ol which can give you relief from symptoms of ringworm infection.
Tea Tree Oil Is Not Good, If:
Your skin is sensitive. It is better to test on an uninfected area before applying on the infected spots.
You should avoid getting tea tree oil into the eyes.
Always remember, tea tree oil is for external uses only.