1. Lavender Oil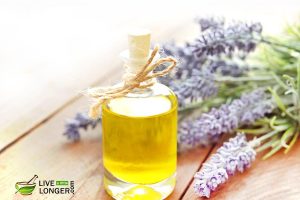 Did you know that lavender oil assists in inhibiting the bacteria that causes the infection? Well, yes. In fact, it also regulates the excess excretion of sebum and lessens the scarring signs once the infection has started to heal. Lavender oil is extracted from the flowers of lavender plant via steam distillation. Traditionally, this essential oil has been used for making perfumes and potpourri. It helps in relieving pain and nervous tensions. Also, it treats respiratory disorders and enhances blood flow. Though an important ingredient in aromatherapy, this oil can also heal various skin diseases like ringworms, athlete's foot, and other fungal skin diseases. To try this remedy, follow the instructions given below:
Step 1: Take five drops of lavender oil in a bowl.
Step 2: Dip a cotton ball and apply on the affected areas.
How Does This Work?
The components of the lavender oil are camphor, linalyl acetate, linalool, and terpinen-4-ol. These oils as well as other components such as lavandulyl acetate, cis-ocimene and 1,8-cineole account for the healing properties.
Lavender Oil Is Not Good, If:
You have sun sensitivity. Don't apply and step out. The condition may worsen.
You are allergic to lavender oil.
You have headache. The smell might worsen it.
How To Prevent Ringworm?
Ensure that the fabrics you wear are dry and clean.
Avoid wearing friction–inducing clothes. It can irritate the skin when the skin rubs against each other.
Use disinfecting detergents to wash the clothes you have been wearing during the ringworm episode.
Your feet and skin must remain dry during the humid conditions.
After haircuts, shampoo the hair to prevent acquiring stray scabs from the infected member.
Prevent sharing your personal healthcare and toiletries with others.
When you use a towel, always clean them thoroughly and dry them before use.
Do not walk barefoot; always protect the feet by wearing perfectly fitting shoes and sandals.
Do not fraternize with pets on bald spots; else you could acquire the symptoms too.
When To See A Doctor?
Not always can you prevent ringworm manifestations with natural remedies. Under extreme conditions of the infection, you must consult or seek medical attention to prevent the infection from spreading to more members. Look for signs like swelling, skin color (skin will turn red when the infection is intense), pus, fever, and red streaking.
Also, if the infection does not recede beyond 4 weeks at a stretch despite the self-care consult a doctor. If you are a diabetic and have weaker immune system, do not refrain from consulting a doctor.
Natural Remedy vs. Pharmacy
The most popular medicine for ringworm infection are griseofulvin (pills), creams such as Lotrisone and Micatin (for skin). In case of ringworm infection on the scalp and beard, ketoconazole shampoo and azole pills can be prescribed for effective treatment.