12. Rest In Hot Bath Tub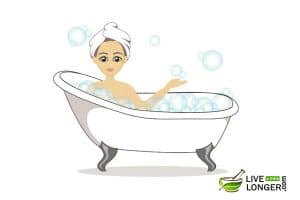 If your stomach is upset due to anxiety or stress, do things that you find it extremely relaxing. Say, for example, a massage, listening to pleasant music, taking a small nap, exercising, or soaking yourself in a nice hot tub. The best option is to rest in a bathtub with warm water for fifteen to twenty minutes. NCI says that it is one of the effective ways to reduce the symptoms of an upset stomach. You can even stand or sit straight after your meals for easy digestion. Also, taking a slow walk can encourage quick digestion and keeps you away from bloating. However, exercising intensely can make the stomach upset to a great extent.
How Does This Work?
Hot water can increase the blood circulation, which in turn relaxes the muscles. You will feel less pain in the stomach.
Resting In Hot Water Tub Is Not Good, If:
You are resting in the tub within one hour of your lunch, breakfast or dinner. Kindly remember, a hot bath must be taken three hours after a meal.
You are preparing to take food. Kindly note that any meals have to be taken half an hour after the hot bath.
11. Cumin Seeds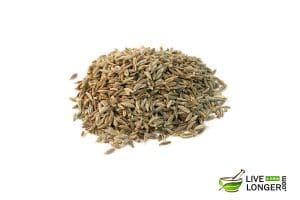 Long been used for digestion, this spice is also used for gastritis. You can easily get relief from abdominal pain. Ancients used these seeds for treating digestion related issues. The amazing smell of cumin is due to its organic compound known as Cumin aldehyde (which is also one of the main components if it's essential oil has to be extracted). However, Cumin aldehyde activates your mouth's salivary glands to facilitate digestion. Another compound named thymol secretes acids and other enzymes to stimulate the glands. Cumin is Carminative, meaning that it assists in relieving gas troubles. Also, the sodium and magnesium content in cumin promotes quick digestion and gives instant relief from stomach ache when consumed with hot or warm water.
Step 1: Take two tablespoons of cumin seeds and three cups of water.
Step 2: Mix them together.
Step 3: Boil this mixture for fifteen minutes.
Step 4: Let the mixture calm down.
Step 5: Strain the mixture and consume it. You will get relief.
How Does This Work?
The aroma of cumin comes from the compound (cumin aldehyde) which triggers the salivary glands facilitating primary digestion of food. The second compound is thymol, which can activate the glands responsible for secretion of acids, enzymes, and bile. Since it contains sodium and magnesium content, these seeds promote digestion.
Cumin Seeds Are Not Good, If:
You are pregnant or breastfeeding.
You are suffering from bleeding disorders. Cumin seeds can make it worse.
You are diabetic. It can lower your blood sugar levels.
You have undergone surgery or going to have one.
-->