8. Healthy Rice Soup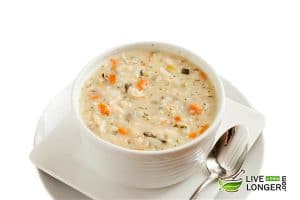 Rice soup originated from China. However, Thais love to have them for their breakfast and even in some southern parts of India; this is a wonderful remedy to treat an upset stomach. Also, it is a great way to overcome your hangover. It helps the stomach to settle down naturally. Besides this, it puts an end to stomach pain, diarrhea, and vomiting. Just after you cook some rice in a pot, do not throw away the water. Drink the water when you are having tummy pain. It acts as an anti-inflammatory agent while soothing the surface of the stomach lining. It certainly brings relief and alleviates the symptoms of stomach pain. To prepare a healthy rice soup, follow the instructions written below:
Step 1: Take half a cup of long grain white rice and top it with more than normal level of water and cook it.
Step 2: Let the rice become tender in a medium-low heat setting and remove it from the stove.
Step 3: Allow it to soak for 3 minutes and then drain the fluid. Drink the watery extracts directly or you can add honey.
Note: The rice can be consumed separately as a bland meal.
How Does This Work?
The soup can easily soothe the internal organs if you are suffering from fermentation, indigestion, extreme fatigue and weak stomachs. It can promote healthy factors such as providing quick energy, can stabilize levels of blood sugar and vitamin B1 to the human body. It can increase appetite, decrease digestive problems, elimination of toxins from the human body.
Rice Soup Is Not Good, If:
You consume white rice on a daily basis. Prefer brown rice instead. You can risk the development of type 2 diabetes and cause obesity. It can contain massive consumption of the chemical arsenic, and it may lead to cancer.
You are diabetic. Eating too much of rice can affect the production of insulin and metabolism of glucose in the body.
7. Ginger Root Tea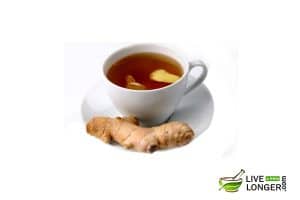 Ginger has used for centuries for treating many health issues. Hence, an upset stomach or a stomach ache is not an exception. A healthy, warm ginger tea can treat the tummy pain (or something miserable that is felt between your groin and chest). Stomach pain is the result of gas problems and acute indigestion. However, the tea is known for getting patients relieved from nausea and other symptoms of a stomach ache. It has anti-inflammatory properties to lessen the inflammation and pain. It acts as a natural stimulant to promote blood flow and better digestion. Its two active antioxidants – shogaols and gingerols decrease the production of free radicals and relax the intestinal muscles. To prepare this tea, follow the steps given below:
Step 1: Take one ginger root, one sharp knife, two cups of water.
Step 2: Grate the ginger root to pieces and boil the mixture in water.
Step 3: Remove the mixture, strain it and add honey for taste.
How Does This Work?
The chemicals present in ginger are called as shogaols and gingerols. They can assist in relaxation of stomach muscles in the intestinal track. It is recommended to have raw ginger instead of ginger ale as there might be artificial added.
Ginger Tea Is Not Good, If:
You are pregnant or breastfeeding. Though proper evidence has not been documented, many say that it can affect the fetal sex hormones.
You are suffering from bleeding disorders. Ginger can worsen it.
You have heart problems. Taking ginger in high doses can worsen the heart condition.
-->