3. Basil Leaves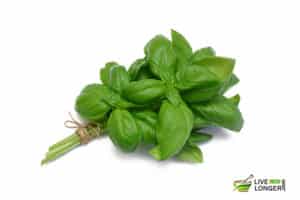 Holy Basil belongs to the Labiatae family and holds a rich history. It is native to Asia, however, is widely seen in many tropical regions around the world. According to experts, this herb is known to have been used by ancient Indians since 3000 years. This herb has the power to heal many health ailments. Hence, stress is no exception. It treats cold, cough, ringworms, malaria, hepatitis, fever, flu, diabetes, stomachache, tuberculosis, earache, asthma, etc. Well, everybody knows that stress is about the hormone 'cortisol' and the imbalances in the body. The holy basil leaves can assist the human body in restoring this balance.
Step 1: Take 12 basil leaves and chew them twice a day.
Step 2: Chew it slowly; you can get a burn in the mouth. In the course of time, the burn will subside.
How Does This Work?
These leaves are known for their anti-stress and powerful adaptogen properties. They also possess the ability to eliminate free radicals, which can be produced in multiple amounts during these stress episodes.
The basil herb leaves contain rich amount of orientin & vicenin (polyphenolic flavonoids). The main health beneficial oils in this herb are eugenol, linalool, terpineol, limonene and citral (all these compounds are well known for their anti-bacterial and anti-inflammatory properties). The inflammation will be reduced, and the bacteria and virus will be killed.
Basil Leaves Are Not Good, If:
You are pregnant, basil and its supplements should be avoided.
Basil is taken in oil form; it can prove carcinogenic in some individuals. In its natural form, basil is considered a natural herb.
2. Chiretta and Cloves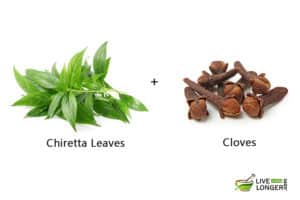 Chiretta: Chiretta is an annual herb, commonly known as the king of bitters. It has pale green flowers with a pinch of purple shade in them. The leaves are light green and bitter to taste. The medicine is richly known for its medicinal properties not just from recent times but also from times immemorial. It has been mentioned in the Chinese medicines and used in Ayurveda. It is recommended in case of panic attacks or convulsions, as it is believed to calm down the stress.
Cloves: Cloves are brown spices, which have been medicinally so precious that once upon a time they were traded for their weight in gold. They taste bitter and pungent and are widely used in Indian cuisine as a spice for flavor; even a few clove buds are enough. They add a spicy flavor to your food and they aid in digestion and fight infections at the same time. To try the remedy, follow the steps given below:
Step 1:  Take an equal amount of cloves and chiretta.
Step 2: Boil them in water for a few minutes and then strain it through a filter.
Step 3: Eat this leftover paste to relieve some stress
How Does This Work?
This concoction is one of the natural ways to relieve stress. Cloves have aphrodisiac and stimulant properties that help reduce stress. The smell of the cloves is so strong that even if you sniff a few of them, it can reduce drowsiness and irritability. It also effectively cures a headache, stimulating the mind, relieving mental tiredness, and stimulating the mind to get back its energy.
The Remedy Is Not Good, If:
You are pregnant.
You are consuming in high doses. It can cause nausea, vomiting, and palpitation.
You are suffering from gastric or duodenal ulcers. Avoid this herb. Also. It is better to take this herb once you consult a qualified practitioner.
-->