15. Wood Betony (Stachys officinalis)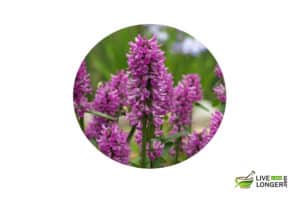 Wood Betony is a member of the mint family. It is widely grown in China, Europe, India, United States, and other parts of Asia. It blooms gorgeous purple flowers. The benefits of wood betony are many. It effectively treats nerve pain, diabetic problems, headache, stress, anxiety, migraines, low blood pressure, GI problems, etc. Too much of positivity in the body can also get you a headache or in a stressful situation because your body is packed with cortisol. However, this herb assists in bringing back the human body to normalcy.
Step 1: Take two teaspoons of the dried herb and one glass of water.
Step 2: Mix them both and boil for ten minutes.
Step 3: Steep the mixture and consume it slowly.
How Does This Work?
The main components are tannins, flavonoids, alkaloids, and saponins. Also, it contains betaine, harpagide, rosmaricnic acid, betulinic acid and chlorogenic acid. The acids in wood betony relax muscles in the body, stimulate the nervous system and bring about the calming effect. The blood circulation is increased in the entire body. Some of the important alkaloids to make a marks are trigonelline and stachydrine.
Wood Betony Is Not Good, If:
You have low blood pressure. The blood pressure might become very low.
You have to undergo surgery. Before two weeks of surgery, stop using this herb in all forms.
14. Slippery Elm (Ulmus fulva)
One of the best ways to reduce stress is with the help of Slippery Elm herb. The magical part of the slippery elm tree is the bark, which has been the favorite of Native Americans for centuries too. Enriched with vital nutrients like iron, calcium, manganese, magnesium, potassium, phosphorus, zinc, selenium, and vitamins (C, B1, B3, and B2), slippery elm gives a healthy boost to the nervous system. The bark of this plant assists in soothing and coating all the mucus membranes. If you are one of those, whose stomach is always stressed, then slippery elm does a great help.
Step 1: Mix one teaspoon of this herb with a three ounces of water.
Step 2: Add this mixture to a bowl of boiling water, stirring all the time.
Step 3: You can drink two to three cups daily.
Note: Do not add any additive to the mixture. 
How Does This Work?
It is packed with nutrients, such as iron, manganese, phosphorus, selenium, calcium, magnesium and essential vitamins such as Vitamins B1, B2, C and B3. It has all the essential components for the nervous system to get a boost. This process works well for those who often complain about "Butterflies in their stomach." The mucilage in the bark soothes and coats all the vital membranes such as the digestive tract.
Slippery Elm Is Not Good, If:
You are taking oral medication. The effectiveness of the medicine will reduce due to the mucilage lining of the tract and absorption will be minimal. You can prevent by taking slipper elm one hour after medication.
-->