13. Evening Primrose Oil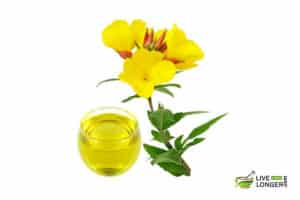 The natural oil of evening primrose is claimed to be one of the most astounding preventive discoveries after vitamin C. It has a natural pain-relieving compound called phenylalanine, which is increasingly being employed for treating chronic headaches. According to experts, this herb can treat ageing problems, acne, alcoholism, hyperactivity in kids, menopause symptoms, multiple sclerosis, heart disease, obesity, weight control, schizophrenia, and PMS. It also has many therapeutic and preventive properties. This herb is known for reducing symptoms of depression, elimination of long-term nervous tension, etc. Hence, to try this remedy, follow the steps given below:
Step 1: The herb is available in oil form or capsules.
Step 2: If you are using oil, you need to massage your head or body (whichever part is stressed) and leave for 30 minutes. Have a nice hot water bath after that. It relaxes the body.
Note: Seek the advice of your GP before use.
How Does This Work?
It contains a special type of omega six essential fatty acid (gamma-linoleic acid or GLA). Some of the other acids presents are oleic acid (p-coumaric acid, glutamine, beta-linoleic Acid), Amino acids (tyrosine, lysine, arginine, glycine and histamine) and Vitamins (Ascorbic acid). Since omega-6 acids are essential in the transmission of neurons, it is effective in reducing symptoms of stress. The Omega-6 assists in providing energy protects body tissues and regulates body temperature. Another compound present and used for treatment of chronic headaches is phenylalanine.
Evening Primrose Is Not Good, If:
You are suffering from epilepsy or seizure disorders. You should not take this herb.
You are taking medication for mental illness such as Thorazine ® (chlorpromazine), Mellaril ® (thioridazine) and Prolixin ® (fluphenazine).
12. Lady's Slipper
Scientifically known as Cypripedium pubescens, Lady's Slipper belongs to the family of Orchidaceae. It is an extremely rare orchid (perennial) and is native to North America (East). It has multiple stems covered by lance-shaped, broad leaves. The flower is golden-yellow color, which usually blooms during late summer. Sadly, it is on the verge of extension. As per the medical research, this herb can restore a human body to the normal working condition if it is suffering from exhaustion, migraines, stressed nervous system, etc. To try the remedy, here is what you need to do:
Step 1: Ground about five teaspoons of ground root stock. Take one pint of water.
Step 2: Steep the root in boiling water for one hour.
Step 3: Take one teaspoon at a time.
How Does This Work?
Lady's Slipper is useful for the treatment of muscle cramps, spasms and epilepsy. It is said to contain tannins, glucosides, resins (volatile oils).
Lady's Slipper Is Not Good, If:
You are pregnant. Stay on the safe side and avoid using this herb.
-->