7. Consume Oats During Breakfast
Oats are a good source of complex carbohydrates, which helps the brain to generate serotonin, (a chemical that makes a person feel happy and good). Serotonin not only exhibits antioxidant properties but also gives a very soothing feeling to overcome stress. According to various clinical studies, kids who consume a healthy oatmeal breakfast remain sharper all through the morning. Also, another soluble fiber in oatmeal, known as beta-glucan has been proven to encourage satiety scores. The best way is to use oats as a supplement in bread recipes or desserts. You can also have them for breakfast.
Step 1: Take 3 (three) cups of water and one cup of steel oats. (also a pinch of salt).
Step 2: Put the three in a bowl, and simmer for twenty minutes. Take care to stir the mixture.
Step 3: Allow it to cool down. Have the oatmeal.
How Does This Work?
Oats are high in fiber and low in cholesterol, but they can assist in calming off the nerves. The carbohydrates in oats promote the production of the feel-good hormone known as 'serotonin', which helps in soothing the 'excited' nerves. Also, oats also have other medicinal ingredients that perform the same function of the above mentioned hormone (silicon, vitamins A and B). The immune system is also revitalized due to the presence of Vitamins B1, B2, E, D, alkaloids, minerals and carotene.
Oats Are Not Good, If:
You have recently fixed dentures. It is better to avoid oats in the diet. If you have not chewed oats, they can block the intestine.
You are suffering from disorders of the digestive tract as the intestines, stomach and oesophagus. This could lead to more time for the food to be broken and indigestion can lead to blockages in the intestine.
Your body might suffer from iron deficiency. Oat bran can reduce the absorption of iron.
You are allergic to oats. You can suffer from gas and frequency of defecation.
6. Peppermint Leaves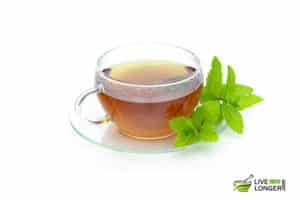 Peppermint has some amazing beauty and health benefits. Right from your hair tips to your toe ends, peppermint is highly beneficial. However, when it comes to stress-related problems, peppermint is truly a great herb. According to an article published in Organic Facts, these green leaves have amazing healing powers to help relieve stress and anxiety. The menthol content in this herb acts as a muscle relaxant. Hence, it is one of the best methods to relieve stress. Just follow the below steps and drink peppermint tea before going to sleep.
Step 1: Take a cup of boiling water and one tbsp of peppermint leaves.
Step 2: Add a drop of honey. Drink the mixture before going to bed.
Note: This activity should be the last before you go to bed.
How Does This Work?
Peppermint has menthol, methyl acetate, and menthone that gives relaxation to the muscles and helps in reduction of anxiety.
Peppermint Is Not Good, If:
You are suffering from diarrhea. You could suffer from anal burning.
You are diabetic. Check with your doctor before you use this remedy for stress.
You are taking medications such as cyclosporine (Neoral, Sandimmune).
-->