1. Yogurt (Curd), Aloe Vera Gel, & Rice Powder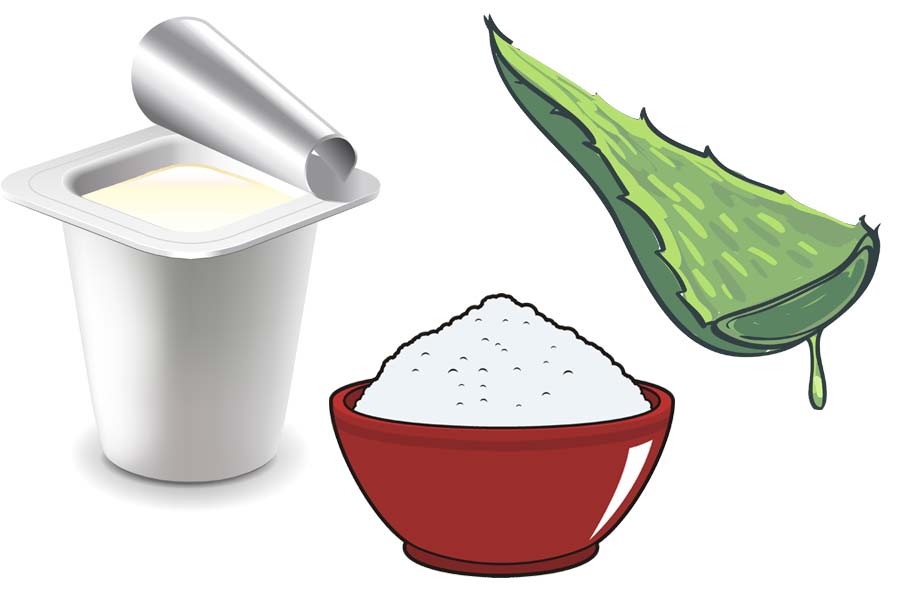 Take one cup of fresh yogurt (also known as curd).
2 tablespoons of finely powdered raw rice.
2 tablespoons of crushed Aloe Vera gel
A small bowl for mixing the two.
Whip the fresh yogurt until it forms a thick paste.
Add the rice powder and Aloe Vera gel and mix well to form a thick paste.
Allow the mixture to set for a while.
Apply the mixture gently on the damaged skin.
Repeat the process a couple of times during the day.
How Does This Work?
Yogurt is naturally acidic and is one of the safest homemade remedies for sunburn relief. Yogurt is also effective in fading out the dark tan caused by sunburn. At times, if the sunburn is very severe, the skin looks black and has an unhealthy pallor. Rice powder, on the other hand, is very effective in removing the dead skin, which if left untreated can lead to severe infections.
Aloe Vera is a wonder herb that has some amazing medicinal properties, especially for treating tender skin. It helps in soothing the skin affected by sunburn and helps contain the swelling and redness caused by the sunburn. It has some incredible properties that help rejuvenate the skin and makes it look fresh and toned.
The Remedy Is Not Good, If:
You are using yogurt that is not fresh. Stale yogurt can have microbes that can cause harm to the damaged skin.
You are using impure rice powder. Make sure it is clean and free of additives or dust.
Note:
Never use soap water to wash skin that has suffered sunburn, nor should you take a bubble bath. Soap can aggravate the condition and cause severe irritation. If you feel that soaking in water may offer some relief, soak that affected portion in clean, cool water and dab off the moisture rather than toweling it. Rubbing aggravates damaged skin and can cause pain.
Another foolproof method of avoiding nasty sunburns is to beat the heat by staying indoors. Especially for people who have tender, sensitive skin that can react to the slightest increase in temperature. At any point in time, if the discomfort persists, or the skin condition worsens, see a physician who will guide you on the proper course of action. Self-medication is good only up to an extent.

 

-->