Aloe Vera is like a little piece of nature but with mountainous benefits of healing and taking care of your body from head to toe. Aloe vera is good for your skin as it's loaded with bioactive compounds and vitamins that have the ability to heal repair and rejuvenate your skin from within a little time. It's also amazing to see how this humble plant can work with age groups from 8 to 80's and yield wonderful benefits.
You can grow Aloe vera from the ease of your home, your balconies or in your workplace/studios. You don't need to put time and effort for maintaining the plant but the benefits you get out of aloe vera for your skin and body is no lesser than any premium skincare brands and products.
You can find numerous varieties of Aloe Vera plant family. But the one that is suitable for and used in skincare is Aloe barbadensis or if you see in product label it'll be as "a.barbadensis". Please make sure you have this A.barbadensis plant and not any other variety.
Aloe Vera Benefits For Skin
The benefits of aloe vera for skin is so vast. From being a simple moisturizer to that of having anti-aging properties, aloe vera is sure a wonder skin ingredient.
Nourishes Your Skin
Aloe vera is a good humectant; it hydrates your skin from within and gives you healthy looking supple skin. It is a natural anti-inflammatory and anti-bacterial agent that clears your skin from oil and impurities. Aloe vera is a good astringent too; it cleans your pores, keeps it tight and healthy.  If you have aloe vera plant at home then you don't need to go for spas. All you need is little aloe vera gel from the plant for your skin and all skin problems will be treated. It offers an amazing pimple remedy too.
The Benefit Of Aloe Vera On Face Overnight
It's even more. Before you go to bed, thoroughly cleanse your face and apply a thin – medium layer of aloe vera gel, leave it overnight and wash off thoroughly in the morning. Sometimes it can make your skin dry so always use a thin layer of aloe vera gel for the face if it's directly from the plant. Do this frequently and you'll see a visible difference. You will get even skin tone, improved skin texture, minimized pores, well-hydrated skin, reduced pigmentations / dark spots/dullness and well-nourished healthy skin.
Excellent After-Shave
Here's the good news for Guys. If your girlfriend is using aloe vera you can try it too. It's an excellent aftershave due to its cooling properties. Aloe vera gel soothes your irritated throbbing skin aftershave. Apply generously you want and later you can wash it off. Aloe vera gel will immediately cool your face and relieves you from sensitivity and irritation.
Skin Rejuvenation Properties
The Natural Aloe Vera is loaded with skin-friendly vitamins like A, C, F, B which helps in boosting the collagen production and reducing aging-related issues. Pure aloe vera helps reduce melanin production. It deeply nourishes the skin and promotes new skin cells. If you've any post-surgical scars, apply pure aloe vera gel for some time and you'll see a visible difference of how the skin is regenerating itself into healthy skin.
Good For Irritated/Itchy Skin
The cooling and soothing nature of aloe vera is perfect for treating and healing irritated skin. If you have irritation/itchiness on your face or anywhere on your skin due to pollution, dust, dryness, and travel, you can either apply the aloe vera gel from the plant or use store-bought aloe vera gel over the affected area. Upon continuous application, you'll get good results. Itchiness/Irritated skin will now be as good as normal healthy skin. Sometimes people might experience skin dryness when using aloe vera gel directly from the plant which will cause even more irritation and itchiness to your skin. In that case, stop using it. A store-bought pure organic aloe vera gel is best. If there's no problem then you can cut, clean and take the aloe vera gel directly from the plant and use it for your skin.
Good for Sun-Damaged Skin
The cooling nature and soothing properties of Aloe Vera will heal your sun-damaged skin in no time. If you're exposed in the sun for a long time then at the end of the day a simple application of aloe vera gel to your face will solve the problem. It helps by immediately cooling & settling your sun-exposed skin and calms it from getting any eruptions due to the heat exposure. If you have sun-tans then use aloe vera frequently or on a daily basis to get good skin results. You have pure organic aloe-vera powder (Sun-Dried and Ground to Powder) which is a wonderfully hydrating mask for sun-damaged and sensitive skin. You can also use aloe vera powder in your face masks/packs or skin DIY's and apply them to your face, wait till it dries and wash off. Use frequently and you'll wonder where your sunburn, sun-tan or sun-damaged skin ran away.
Very Good Moisturizer for all Skin Types
The light and airy/skin-breathable nature of aloe vera gel make it a perfect everyday moisturizer. Aloe vera hydrates your skin wonderfully. If you have sensitive skin then aloe vera gel is a good ingredient to be included in your skincare either as a moisturizer or as leave-it-on to protect your skin. You can use aloe vera gel as a moisturizer for oily skin too as it will not clog the pores or feel heavy on the skin. If you have dry to very dry skin, then apart from using it as a moisturizer, you can mix aloe vera gel to your daily foundation and apply them to your face for extra hydration. You can even find aloe vera face cream similar to gel type. Apply aloe vera gel soon after a warm/hot shower either morning or night. The heat would have cleared and opened the pores so apply the aloe vera gel to get double skin healthy benefits.
You May Also Like
10 Health Benefits Of Aloe vera
Good for Acne/Oily Prone Skin
Aloe vera is good for treating acne. It keeps your pores healthy and free from excess oil/sebum. The cooling nature of aloe vera gel is good for irritated acne-prone/redness-prone skin. It will calm and soothe your skin by bringing down the painful bump you have due to acne. It is anti-inflammatory and anti-bacterial which brings down acne-causing germs and bacteria. Aloe vera gel helps in reducing dark spots, dullness, and pigmentation due to acne and heals the post-acne scars effectively upon continuous use. Aloe vera gel can bring down the zits without irritation. It clears your skin by removing pesky spots, small acne bump, dark skin patches, heat boils, allergy pimples and rashes.
Good For Your Hair And Scalp
Aloe vera promotes hair growth and repairs damaged hair. In traditional/herbal treatments and remedies, no hair care product goes without having aloe vera in it. Aloe vera treats hair fall, frizzy hair, dandruff, itchy/dry scalp, and split-ends and gives a nourished hair. Aloe vera works by repairing the hair damage from the roots by promoting new hair follicles and strengthens the already existing hair follicles so that they don't break due to harsh chemicals in shampoos. Aloe vera and coconut oil is a wonderful hair-growth combo. You can use aloe vera gel for your hair as a leave-in conditioner which protects your hair. You can find aloe vera shampoo bars, shampoos, hair serums; hair oils, etc. but use them only if they are 100% genuine organic aloe vera from certified organic brands.
Perfect For Skincare DIY's
All you need is a good aloe vera gel and you can prepare skin brightening face masks by yourself. Mix any of your favorite essential oil with aloe vera gel and apply it as a face mask. Wash it off after it dries. If you love using aloe vera gel for hair as a leave-on conditioner, then mix any fragrant aromatic essential oil with it so that your hair is protected as well as smelling wonderful.  If you want your best perfumes to stay a little longer, then apply a little aloe vera gel (on wrist or neck or where you will usually spray your perfume) and before it dries spritz your favorite scent/perfume. It'll stay a little longer for you. You can apply aloe vera gel for the whole length of hair to detangle after the shower. Keep the aloe vera gel as a base and sure you can come up with wonderful skincare ideas.
How To Extract Aloe Vera Gel From The Plant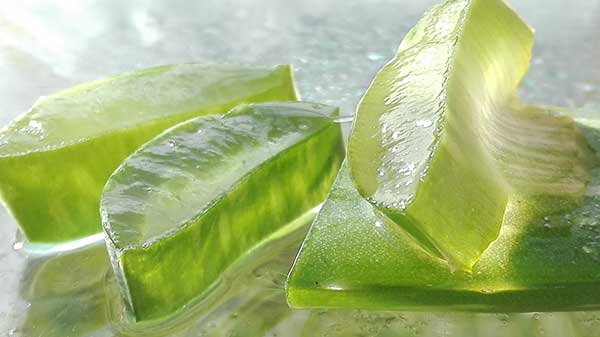 You will be aware as to how an aloe vera plant looks like. The pure aloe vera gel is inside the green pointy thorny part. To extract the gel:
Carefully cut a small part of aloe vera i.e. the lengthy green part. If you want more then you can cut the green leaf part to its whole length from the plant.
Once you have taken, place it flat or vertical for some time and let the green-yellowy liquid come out of the leaf completely.
Once it's out, take the leaf and wash it thoroughly.
Keep upside down so that it'll be easy to start peeling the thorny sides with the knife. The top-end will be pointy so sometimes you might not get a proper hold to remove the thorny side. If you need an only a small amount of gel then you can always start from the top.
Once you removed the thorny part from both sides cut the lengthy leaf into two pieces so it'll be easy.
Take any piece and cut it in half. Slowly scoop out the gel you see and voila! You have the pure aloe vera gel for you.
Organic Aloe Vera Gel
If you have aloe vera at home then you won't have any problem in getting pure fresh aloe vera gel. But for those who don't have it, a store-bought aloe vera gel is the possible alternate. Sometimes the gooey sticky smelly nature of aloe vera will make people run away and for those too a good aloe vera gel is the best replacement. At the same time, please don't compromise on its quality because you can find tons of aloe vera gels for your skin that says they are the best in the market which might confuse you. When you get aloe vera gel for your skin which is of 100% purity and quality then the benefits you get will be the same as natural plant extracted aloe vera gel. You need to pick aloe vera gel that's worth the money you put.
How To Pick A Good Aloe Vera Gel For Skin
Read the label. See the % of aloe vera gel and % of preservatives. The more the gel % the better is.
Choose aloe vera gels without chemical preservatives, additives, chemical processing, perfume or scented ones or synthetic ones.
We have to understand one point, guys! It takes at least a little amount of outside ingredients like preservatives to make natural 'plant-taken'aloe-vera gel to become stable, to be safe from bacteria and germs and go easy on use and shelf-life. But those preservatives should be organic, Natural plant-based or plant-derived.
TIP: Xanthum Gum, Guar Gum, GeoGard ECTare best natural preservatives suitable for skincare.
See to it that you get your Aloe Vera gel from a certified organic skincare brand or you can find one from those who do small batches of skincare products from their farm produce.
Cold stabilization and cold-pressed methods are the best way to process natural aloe vera gel that is picked directly from the plant. Read the label and see how the gel is prepared.
If the aloe vera gel is of green color, smells wonderful or whatever turn your back and run away. You know how a pure aloe vera gel from the original plant is right! So unless they have some additives & preservatives or chemical processing, we don't see how we can get organic pure aloe vera gel in green color.
Hope you now got an answer for your query is aloe vera good for your skin. So how do you use aloe vera as a gel or cream? Do you have this medicinal plant at home? Let us know