Day 2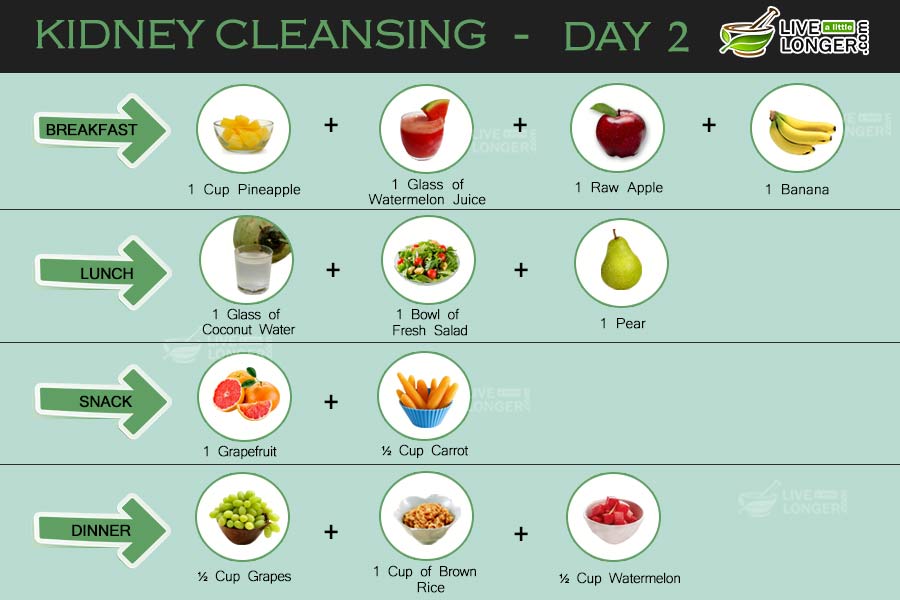 For Breakfast
Option 1: Have 1 glass of kale juice + 1 cup carrot & green beans + 1 fruit
Option 2: Have 1 cup pineapple + 1 glass of watermelon juice + 1 raw apple + 1 banana
For Lunch
Option 1:
Have cherry herbal tea. You can take this even after your 7-day is complete. This tea promises better kidney health. To make this, follow the instructions given below:
Ingredients Required
Hydrangea root (dried) – ½ cup
Gravel root (dried) – ½ cup
Marshmallow root (dried) – ½ cup
Concentrate of black cherries – 2 bottles (each of 8-ounce)
Fresh parsley stems – 4 bunches
Powdered Vitamin B2 (optional)
Preparation Method
Prepare ½ the tea & ½ the parsley water, sufficient for 3 weeks.
For tea, soak dried herbs (1/4 cup of each one) in ten cups of water for four hours or overnight. Boil the mixture and then simmer for 20 minutes. Next, add the concentrate of black cherries and boil once more. Strain them into 2 jars.
For parsley water, you need to soak 2 bunches of fresh parsley into water for about 2 minutes. Drain them and add 2 pints of fresh water and again boil for a minute. Have them strained into 2 jars.
Now, freeze 1 tea jar and 1 parsley water jar while refrigerate the other 2 jars.
Drink during your breakfast.
After you had this cup of herbal tea, have ½ cup carrots and 1 fruit after a 10 minutes gap.
Make sure to drink plenty of fluids throughout the day.
Option 2: Have 1 glass of coconut water + 1 bowl of fresh salad + 1 pear.
For Dinner
Option 1: Have ½ cup grapes + ½ cup watermelon + ½ cup brown rice
Option 2: Have 1 glass of freshly-made lemon juice + 1 orange + ½ cup steamed asparagus
When You Are Hungry (In-Between Meals), Have This Snack
Option 1: Have 1 grapefruit + ½ cup carrot
Option 2: Have 1 cup green tea