Your internal organs function even if you are asleep. They work 24×7, no matter what! Now talking about kidneys in particular, they are one of the most important parts of your body. They produce hormones, clean excess sodium & water, and filter all the toxins from your bloodstream.
Drinking impure water, consuming unhealthy diet, using cigarettes and alcohol are few reasons why your body builds up toxins. These noxious substances further affect the way your kidney, liver, colon, intestine and other neighboring organs functions.
Though there are many methods for kidney cleansing, we recommend you the natural way, as it is free from side effects and after effects. Before, we tell you about the 7-day diet plan for cleaning your kidneys, there are few important things for you to know first.
According to foxnews,
a kidney worm can survive inside the human body for 5 years. So, never take these parasites lightly. They are the root cause for all health problems.
Why Should You Cleanse Your Kidneys?
Everything you eat and drink, can easily pave way for some unwanted guests to build a cozy home inside you. These guests are none other than "parasites". These disgusting creatures need to be cleared. And we have the right diet plan to have them flushed from your body.
A healthy kidney is very essential for an individual. It's the main organ that works by detoxifying the body, removes toxins and helps in proper organ function. Eating unhealthy foods will lead to unwanted toxins, processed sugars, unhealthy fats and other excess material to get deposited in the body and becomes very hard for the kidney to detoxify and process it. That's why the kidney reduces its function and causes body-troubles.
Eating healthy organic foods, local-produce, healthy vegetables and fresh fruits will help the kidney function well enough and it becomes easy for the kidney to detoxify and remove unwanted materials out of our body.
Make sure that the vegetables and fruits you intake is completely free form preservatives, hormones/additives or genetically modified. If you are a Non-vegetarian, make sure the meat, eggs, diary, fish are all from healthy local-produce and are completely free from any antibiotics injections, growth hormones, etc.
Always wash your foods thoroughly before you cook. Add plenty of fruits, vegetables, water, herbs in your daily-diet instead of more meat, processed foods. Reducing the animal-proteins will make your kidney's work easier because they are very hard to reduce by the kidney. During the process, the animal-protein produces a waste product called uric acid which is very harmful for kidney. So for a good kidney, it should be able to remove waste without any extra burden.
Juice/water fast or dry fast for a day will be very effective in body-healing and body-detoxification effectively. Alkaline foods will be very good instead of acidic foods. Clean healthy diet will make kidney function well, lowers blood-pressure and promotes healthy body pH Value.
7 Reasons To Do A Complete Kidney Detox
You are experiencing bloating and obesity
You have skin problems like rashes, acne and eczema
You often feel tired and sluggish
You have kidney pain after eating some foods
You had or have kidney stones
You have frequent/infrequent UTI or bladder problems
You have hormonal imbalance
The 7-Day Diet Plan For Kidney Cleansing
Day 1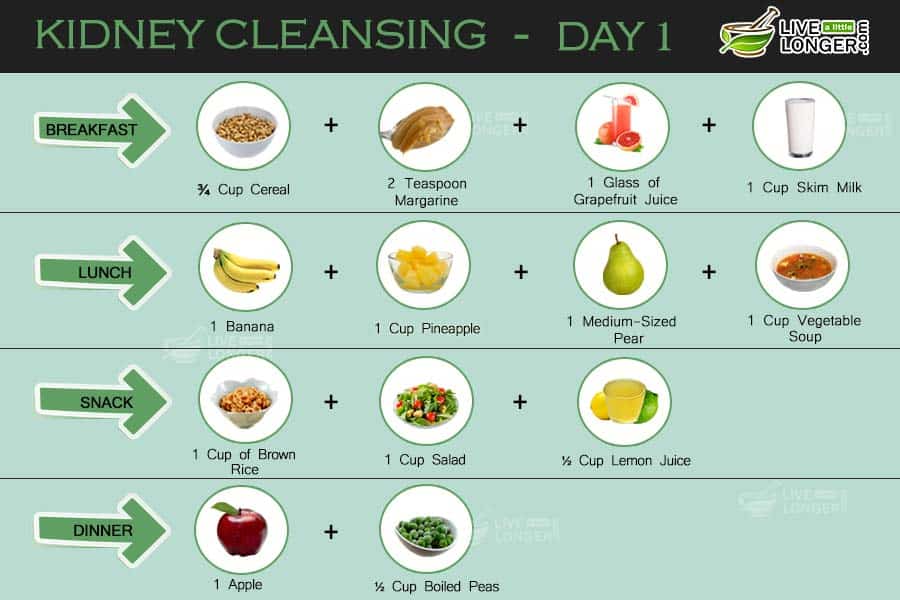 For Breakfast
Option 1: Have ¾ cup cereal + 1 glass of grapefruit juice + 2 teaspoon margarine + 1 cup skim milk
Option 2: 1 glass of cranberry juice + 1 apple + ½ cup boiled carrot + ½ cup salad (carrots, beans, peas, lettuce)
For Lunch
Option 1: Have 1 banana + 1 cup pineapple + 1 medium-sized pear + 1 cup vegetable soup
Option 2: Have 1 glass of fresh lemon juice + 1hadful of cilantro + 1 cup of kale and carrots
For Dinner
Option 1: Have 1 glass of coriander juice + 1 cup steamed asparagus with some brown rice
Option 2: Have 1 cup of brown rice + 1 cup salad + ½ cup lemon juice
When You Are Hungry (In-Between Meals), Have This Snack
Option 1: Have 1 apple + ½ cup boiled peas
Option 2: Have 1 glass of pomegranate juice + 1 small banana

Day 2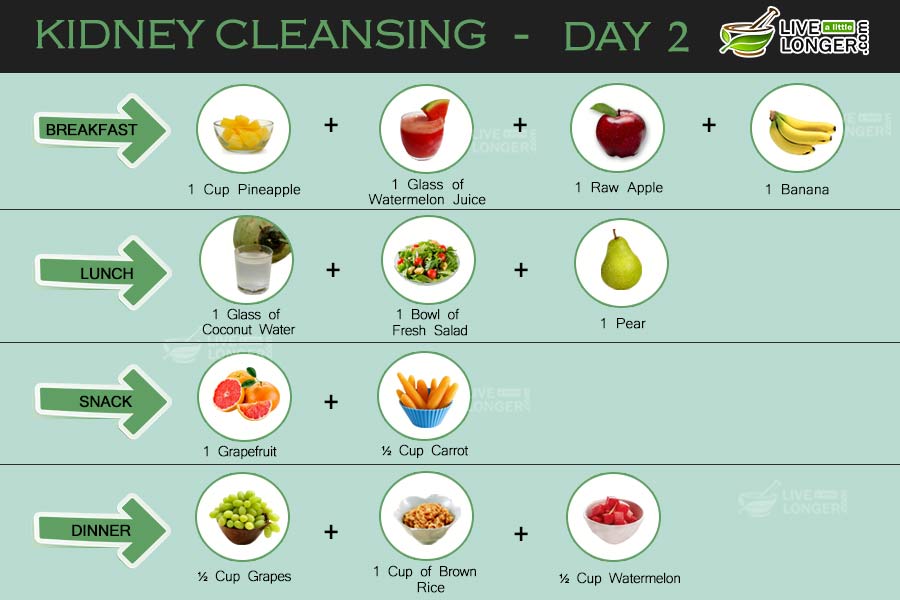 For Breakfast
Option 1: Have 1 glass of kale juice + 1 cup carrot & green beans + 1 fruit
Option 2: Have 1 cup pineapple + 1 glass of watermelon juice + 1 raw apple + 1 banana
For Lunch
Option 1:
Have cherry herbal tea. You can take this even after your 7-day is complete. This tea promises better kidney health. To make this, follow the instructions given below:
Ingredients Required
Hydrangea root (dried) – ½ cup
Gravel root (dried) – ½ cup
Marshmallow root (dried) – ½ cup
Concentrate of black cherries – 2 bottles (each of 8-ounce)
Fresh parsley stems – 4 bunches
Powdered Vitamin B2 (optional)
Preparation Method
Prepare ½ the tea & ½ the parsley water, sufficient for 3 weeks.
For tea, soak dried herbs (1/4 cup of each one) in ten cups of water for four hours or overnight. Boil the mixture and then simmer for 20 minutes. Next, add the concentrate of black cherries and boil once more. Strain them into 2 jars.
For parsley water, you need to soak 2 bunches of fresh parsley into water for about 2 minutes. Drain them and add 2 pints of fresh water and again boil for a minute. Have them strained into 2 jars.
Now, freeze 1 tea jar and 1 parsley water jar while refrigerate the other 2 jars.
Drink during your breakfast.
After you had this cup of herbal tea, have ½ cup carrots and 1 fruit after a 10 minutes gap.
Make sure to drink plenty of fluids throughout the day.
Option 2: Have 1 glass of coconut water + 1 bowl of fresh salad + 1 pear.
For Dinner
Option 1: Have ½ cup grapes + ½ cup watermelon + ½ cup brown rice
Option 2: Have 1 glass of freshly-made lemon juice + 1 orange + ½ cup steamed asparagus
When You Are Hungry (In-Between Meals), Have This Snack
Option 1: Have 1 grapefruit + ½ cup carrot
Option 2: Have 1 cup green tea
Day 3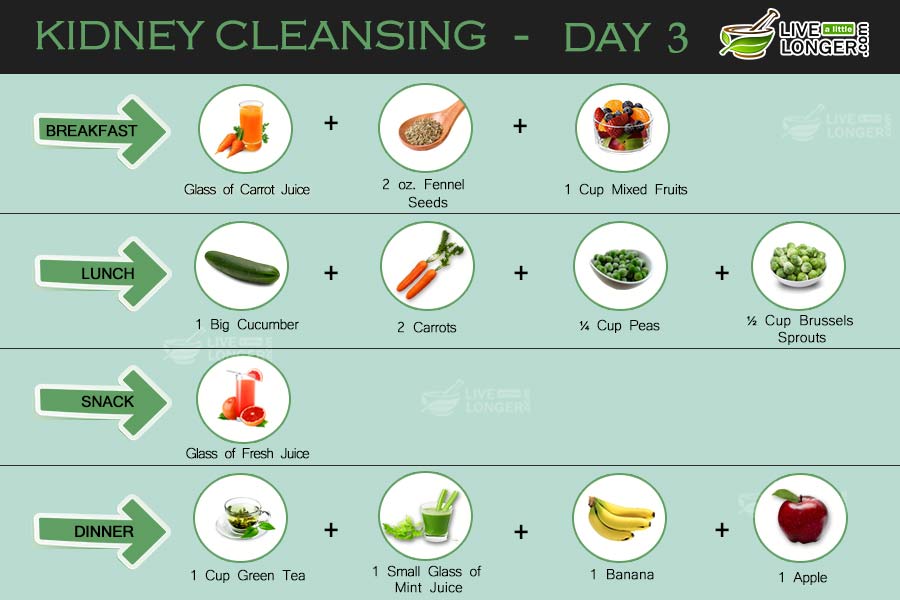 For Breakfast
Option 1:
Celery seeds are well-admired for kidney disorders. It helps your body's acid-alkaline level and at the same time, cleanses the surplus uric acid. But, avoid drinking this tea if you are planning for pregnancy or already pregnant.
Have 1 cup celery seed tea early morning. To make this, follow the instructions below:
Step 1: Take 1 tablespoon celery seeds (cut or ground)
Step 2: Add boiling water with it (1 pint)
Step 3: Steep it and then allow it to cool
Step 4: Strain and drink it.
You can even drink it for 3 times a day.
After drinking this tea, have a fruit + 1 cup of vegetable soup.
Option 2: Have 1 glass of fresh carrot juice + 2 oz. fennel seeds + 1 cup mixed fruits.
Make sure to drink 10 glasses of water throughout the day.
For Lunch
Option 1: Have 1 kiwi + 1 green apple + 1 glass of coriander juice + ½ cup carrots
Option 2: Have 1 big cucumber + 2 carrots + ¼ cup peas + ½ cup Brussels sprouts
For Dinner
Option 1: Have 1 cup musk melon + 1 avocado + 1 teaspoon sesame seeds + 1 teaspoon ginger
Option 2: Have 1 cup green tea + 1 small glass of mint juice + 1 banana + 1 apple
When You Are Hungry (In-Between Meals), Have This Snack
Option 1: Have a glass of fresh juice
Option 2: Eat a fruit
Day 4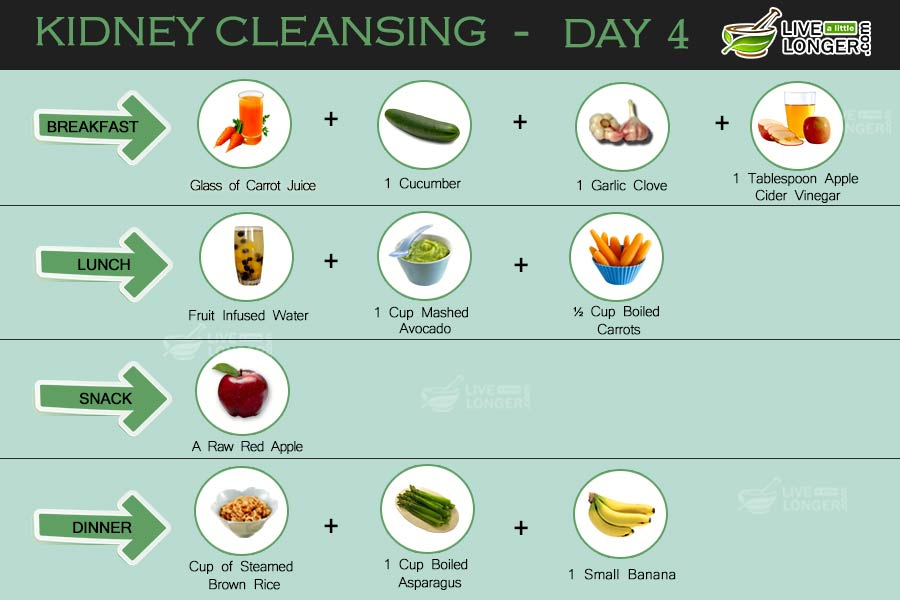 For Breakfast
Option 1: Have 1 glass of carrot juice + 1 cucumber + 1 garlic clove + 1 tablespoon apple cider vinegar
Option 2: Have 1 cucumber + 1 glass lemon juice + 1 pear + 1 green apple + 1 teaspoon ginger + 1 cup pineapple
For Lunch
Option 1: Have 1 glass of fruit infused water + 1 cup mashed avocado + ½ cup boiled carrots
Option 2: Have ½ cup quinoa + 1 glass raw vegetable juice + ½ cup grilled peppers
For Dinner
Option 1: Have 1 cup steamed brown rice + 1 cup boiled asparagus + 1 small banana
Option 2: Have 3 kale leaves + 1 teaspoon cinnamon + 1 cup coconut milk + ½ cup pineapple
When You Are Hungry (In-Between Meals), Have This Snack
Option 1: Eat a raw red apple
Option 2: Have a cup of boiled carrots and green beans
Day 5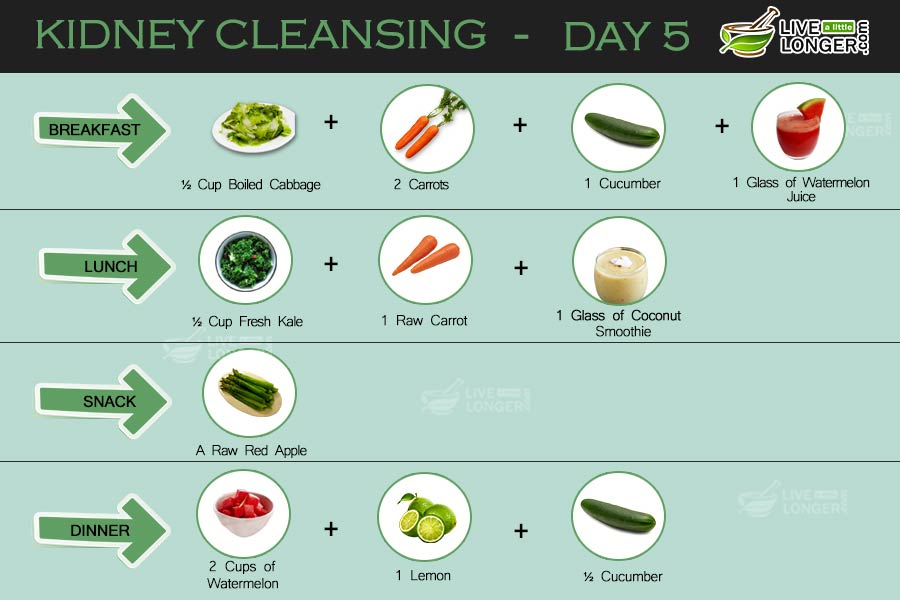 For Breakfast
Option 1: Have 1 cup radish + 1 rib celery + 1 cup of boiled purple cabbage + 1 raw fruit
Option 2: Have ½ cup boiled cabbage + 2 carrots + 1 cucumber + 1 glass of watermelon juice
For Lunch
Option 1: Have ½ cup fresh kale + 1 raw carrot + 1 glass of coconut smoothie
Option 2: Have 1 glass of carrot juice + ½ cup peas + 1 teaspoon ginger + 1 garlic clove + few boiled spinach
For Dinner
Option 1: Have 2 cups of watermelon + 1 lemon or lime (peeled) + ½ cucumber
Option 2: Have 2 big carrots + ¼ cup peas + ½ beetroot
When You Are Hungry (In-Between Meals), Have This Snack
Option 1: Have a cup of fresh radish
Option 2: Have a cup of boiled asparagus
Day 6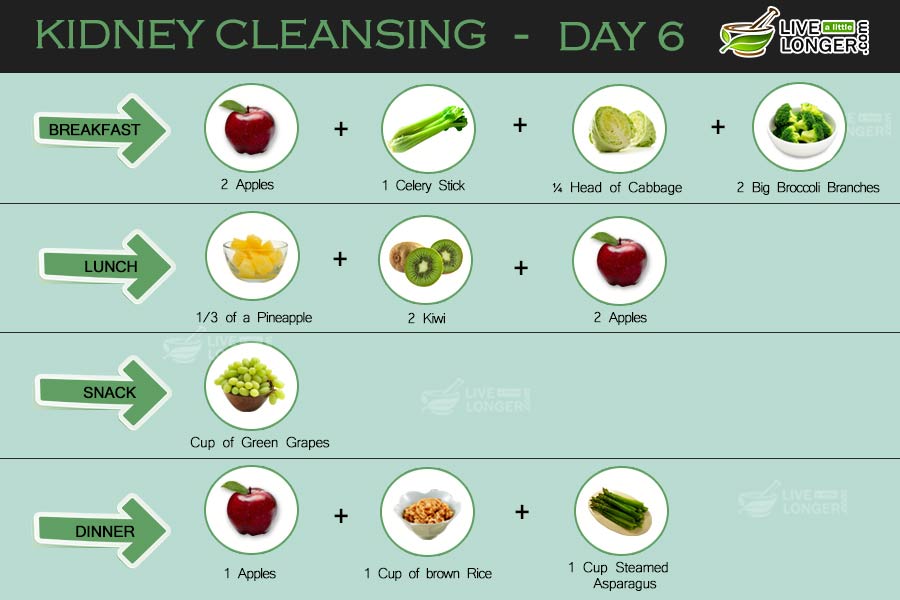 For Breakfast
Option 1: Have 1 bowl of fresh salad + 1 cup pineapple + 1 banana + 1 carrot
Option 2: Have 2 apples + 1 celery stick + ¼ head of cabbage + 2 big broccoli branches
For Lunch
Option 1: Have 1/3 of a pineapple + 2 kiwi + 2 apples + 1 banana + some grapes
Option 2: Have some parsley + ½ bunch chard + 1 glass coriander & mint juice with a dash of lemon juice
For Dinner
Option 1: Have 1 apple + 1 cup of brown rice + 1 cup steamed asparagus
Option 2: Have 1 cup of brown rice + 1 cup of boiled spirulina + 1 cup boiled carrots
When You Are Hungry (In-Between Meals), Have This Snack
Option 1: Have a cup of green grapes
Option 2: Have a glass of fresh fruit juice
Day 7
For Breakfast
Option 1: Have 1 cup dandelion tea + 1 glass of carrot juice + 1 cup quinoa + 1 fruit
Option 2: Have 1 glass of cranberry juice + 1 tablespoon celery seeds + 1 cup Brussels sprouts
For Lunch
Option 1: Have a glass of Aloe Vera juice + 1 pomegranate + ½ cup peas + 1 small pear
Option 2: Have 1 apple + 1 teaspoon fennel seeds + 2 plums + 1 glass of lemon juice
For Dinner
Option 1: Have 1 cup brown rice + 1 teaspoon flax seeds + 1 cup pineapple
Option 2: Have a glass of wheat-grass juice + 1 cup papaya + 1 cup brown rice
When You Are Hungry (In-Between Meals), Have This Snack
Option 1: Have 1 carrot
Option 2: Have a glass of watermelon juice