Day 3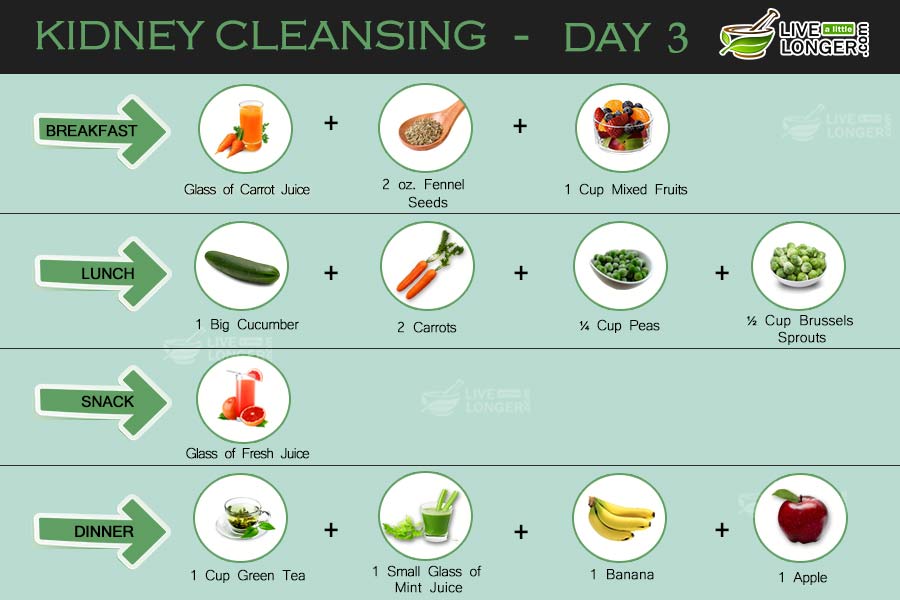 For Breakfast
Option 1:
Celery seeds are well-admired for kidney disorders. It helps your body's acid-alkaline level and at the same time, cleanses the surplus uric acid. But, avoid drinking this tea if you are planning for pregnancy or already pregnant.
Have 1 cup celery seed tea early morning. To make this, follow the instructions below:
Step 1: Take 1 tablespoon celery seeds (cut or ground)
Step 2: Add boiling water with it (1 pint)
Step 3: Steep it and then allow it to cool
Step 4: Strain and drink it.
You can even drink it for 3 times a day.
After drinking this tea, have a fruit + 1 cup of vegetable soup.
Option 2: Have 1 glass of fresh carrot juice + 2 oz. fennel seeds + 1 cup mixed fruits.
Make sure to drink 10 glasses of water throughout the day.
For Lunch
Option 1: Have 1 kiwi + 1 green apple + 1 glass of coriander juice + ½ cup carrots
Option 2: Have 1 big cucumber + 2 carrots + ¼ cup peas + ½ cup Brussels sprouts
For Dinner
Option 1: Have 1 cup musk melon + 1 avocado + 1 teaspoon sesame seeds + 1 teaspoon ginger
Option 2: Have 1 cup green tea + 1 small glass of mint juice + 1 banana + 1 apple
When You Are Hungry (In-Between Meals), Have This Snack
Option 1: Have a glass of fresh juice
Option 2: Eat a fruit