Ultrasound machines are predominant piece of medical technology that's helping people. It's a remarkable area where innovations and improvements are constantly going on. Moving a step further from normal stationery ultrasound machines we have Portable ultrasound machines. It comes handy for different medical purposes including cardiology, maternal health, child health and so on. The need for portable ultrasound machines is on the rise and it is becoming a necessity for many small healthcare facilities and even for personal uses. Cost of portable ultrasound machine and their portability are important factors that route for their high preference among health care facilities. Let's take a good look into cost, portability and other factors of ultrasound machines.
The Need For Handheld Portable Ultrasound Machines
Portable ultrasound machines are priced far less than standard big ultrasound machines. Moreover, with depending upon different configurations, settings and advancements the price of portable ultrasound machines varies too but still they are priced less than standard issues. Among the portable ultrasounds, there comes advanced handheld ultrasound machines that are similar to holding and using your smartphones. These advancements only put the lime light on how important the handheld ultrasound machines are becoming in places where advanced medical facilities are yet to be set in full swing. Not only that, these Handheld Ultrasound machines are even used by doctors to evaluate multiple conditions and symptoms including pain, inflammation, muscle movements, infections, examining internal organs etc.
You May Also Like
How Does An Ultrasonic Cleaner Work?
Important Cost Factors Of Portable Ultrasound Machines
The cost of portable ultrasound machines varies according to different health conditions. We have portable ultrasounds exclusively designed for cardiac conditions, breast cancer conditions, pediatric, Neonatal Ultrasounds, OB/Gynecology, Vascular and other branches of medicine and treatments.
The cost of portable ultrasound devices depends upon the brands that manufacture and give portable ultrasounds.
The Refurbished Portable Ultrasounds from respected providers can also be used and the price can be quotable to meet the expense relevance. They are significantly priced lower compared with new ones but still the quality will be maintained intact if it's from a respected refurbish sellers.
Depending on configurations and advanced settings in your handheld ultrasound devices, the cost varies and peaks higher.
The purpose of the clinical usage affects the cost of portable ultrasound machines. Basic multipurpose ultrasound machines and their requirements will be common when it comes to price range. But when you need portable ultrasounds for specialized monitoring or any exclusive medical procedures like for ex: transesophageal echocardiogram, improved elastography, high powered cardiovascular imaging etc. the cost factors will vary.
Consider factors like machine cost, the service & maintenance terms/contracts/periods, accessories involved, related equipment's, replacement parts (if any ) or it needs any specific extra fittings to go with. Sometimes training can also incur some expenses. In case of In-depth training needed or if you're upgrading the machine, then we need more time than the usual free lessons. All the above factors will affect the price on the ultrasounds.
With that note, we like to discuss with you some of the very best portable handheld ultrasound machines available and their price ranges in detail. Do take a look!
Best Pocket-Sized Handheld Ultrasound Systems & Their Cost
1.VScan Extend™ Handheld Ultrasound Systems by GE Healthcare
The VScan Extend™ ranges of Ultrasound systems are best in class portable handheld ultrasound machines that you can count on. It's designed to handle and help in the areas like cardiology, urology, women's health, emergency medicine and critical care. It works like a complete scan care right in your pocket with interfaces like your smartphone.  The pricing of this pocket-sized ultrasound systems range from affordable cost of $2995 (starting). Even with wonderful advancements, these portable efficient ultrasounds don't burn a hole in your pockets. Built with user inputs, the VScan Extend is a top-class more powerful handheld ultrasound system and with their advanced new apps, they give you confident diagnoses and improve productivity.
GE Healthcare offers three VScan Extend™ product ranges. They are:
a.The VScan Extend™ R2 with Dual Probe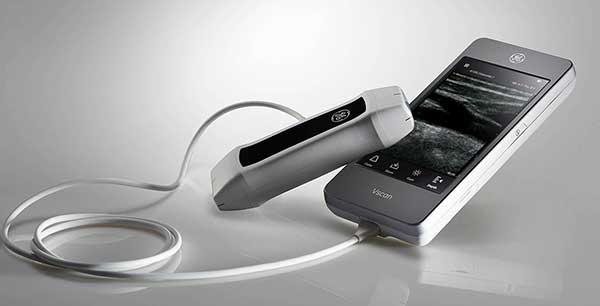 VScan Extend™ R2 Dual Probe Pocket-Sized Handheld ultrasound system comes with both linear and sector transducers in a single probe. It comes with access to new apps designed to help you diagnose accurately and effectively. R2 covers critical applications like lung assessments, abdominal exams, and cardiac related with more accuracy.
The cost of VScan Extend™ R2 with DualProbePocket-Sized Handheld ultrasound is $4995.00.Inclusive of all charges, the package comes with
1 VScan Extend™ Dual Probe with standard components
An additional Rechargeable Battery
1 External Battery Charger
1-Hour Session of Remote clinical application training.
The price varies with additional configurations, advancements and facilities.
The cost of VScan Extend™ R2 with Dual Probe + POCUS Focus Class is $5543.00.
Inclusive of all charges, the package contains:
1 VScan Extend™ R2 Dual Probe with standard components
An Additional Rechargeable Battery
1 External Battery Charger
1-Hour session of Remote Clinical Applications training
Subscription to the Point of Care Ultrasound Focus Class – an Online Clinical training course tailored for primary & point-of-care physicians.
The cost of VScan Extend™ R2 with Dual Probe + SONOSIM is $6095.00.
Inclusive of all charges, the package contains:
1 VScan Extend™ R2 Dual Probe with standard components
An Additional Rechargeable Battery
1 External Battery Charger
1-Hour session of Remote Clinical Applications training
The SONOSIM 365 comes with a SonoSim Probe, a SonoSim Drive, five SonoSim Modules, and 1 year warranty of SonoSim care.
b.The VScan Extend™ R2 with Sector Probe
VScan Extend™ R2 with Sector Probe is designed to make accurate focus assessments and accelerate treatment decisions at the point of care. The VScan Extend™ R2 Sector transducer looks into examination of liver, gallbladder, obstetrics and urology.
The cost of VScan Extend™ R2 Sector Probe Pocket-Sized Handheld Ultrasound system is $2995.00.
Inclusive of all charges, the package includes:
1 VScan Extend™ R2 Sector Probe with standard components
Additional Rechargeable battery
1 external battery charger
1 hour session of remote clinical applications training.
c.The VScan Extend™ R2 with Dual Probe DEMO System.
VScan Extend™ R2 with Dual Probe DEMO system is a refurbished portable ultrasound that is widely bought. It comes with same warranty as new ones but at lower price. Dual Probe DEMO system device is being used previously for demonstrations so there is no need for quality doubts.
The price range and exact cost of R2 Dual Probe DEMO refurbished handheld ultrasound is $3996.00 which is approx. $1000 less than new R2 Dual Probe. It includes all the components that come with the new R2 handheld ultrasound system with same 1 year warranty.
The entire R2 Dual Probe DEMO handheld ultrasound system has all the features like their new counterparts but with slashed price.
The cost of handheld VScan Extend™ R2 with Dual Probe + POCUS Focus Class is $4434.00 which is approx. $1000 less than new R2 Dual Probe + POCUS Focus. The cost of VScan Extend™ R2 with Dual Probe + SONOSIM is $4896.00 which is approx. $400 less than their new counterpart. Though they are refurbished, the features and package contents still are same with no compromise in quality.
When it comes to cost of pocket sized handheld ultrasound systems, in addition to the unit cost, the cost factors might come around an extra of approx. $500 – $1000 extra due to different factors like delivery, installation, depending upon retailers, demo and such. Always, expect your price range in this point instead of just focusing on the unit price alone.
2.Philips Lumify Portable Handheld Ultrasound Machine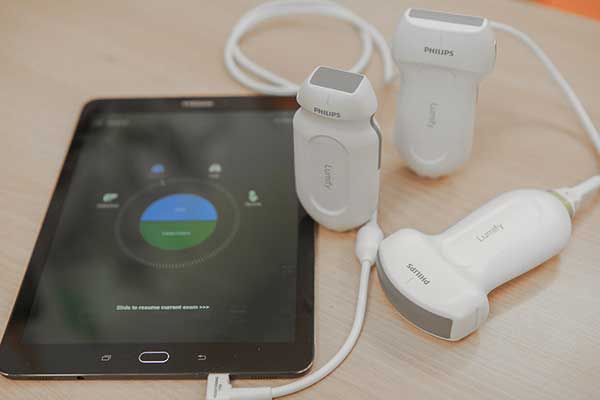 The Lumify by Philips is a state-of-art portable advanced handheld ultrasound machine integrated with high end apps to support clinical assessments and diagnostics. The Philips portable ultrasound app brings high end diagnostics capabilities with the touch of your smartphone. With Lumify, all you need is a Lumify Transducer and the App download. Plug-in the transducer and all are set. The Robust Lumify App is available for download for all compatible android devices through Google play store.
How Lumify Works?
Download the Lumify App from Google play store.
Connect the Lumify Transducer – it can be connected to your smartphone through simple USB connection.
Start your Scan
Lumify Portable Ultrasound Transducer brings you accurate diagnostics and helps make fast informed decisions. The App updates will keep you stay current with new developments made. The Data Security and encryption of Lumify App is compatible and secure with latest developments. Big advantage of Lumify Portable Ultrasound system is that you can pay as monthly subscriptions which will be easy for you.
ThePricing of Philips Lumify Handheld Ultrasound Systems comes for App subscription and Transducer. Lumify portable ultrasound Transducer cost varies with different frequencies and for clinical applications.
Lumify Subscription options & Pricing comes with so much convenience like:
For 6 Months- $1200/6 mos., Premium Warranty – $450/6 mos.
For 12 Months – $2280/12 mos., Premium Warranty – $900/12 mos.
For 18 Months – $3060/18 mos., Premium Warranty – $1350/18 mos.
For 24 Months – $3360/24 mos., premium Warranty – $1800/24 mos.
Lumify Portable Ultrasound Transducer comes in three variants based on their working frequency, scan depth, imaging features and applications. The three Lumify variants are:
S4-1 Broadband Sector Array Transducer – Abdomen, Cardiac, FAST, Lung, OB/GYN
L12-4 Linear Array Transducer – Lung, MSK, Soft Tissue, Superficial, Vascular
C5-2 Curved Array transducer – Abdomen, Gallbladder, Lung, OB/GYN
With respect to your use, clinical application you can easily pick the right Lumify portable ultrasound transducer. The pricing also differs while the subscription option will help you.
You can go for Lumify system bundle which has customizable transducers, cables, Reacts tele – ultrasound capability for 6 months' time, Samsung 8" tablet and power cord, custom tablet case, custom carrying case with 5 year warranty.
You have Lumify Rugged System – Turnkey Solution which includes components like transducers, quick-release cables, Samsung galaxy tab S2 8", Ultrasound Gel Bottle, rugged tablet & carry case, user manual, Lumify carry bag and other extras.
Philips Lumify handheld portable ultrasound systems are one of the best devices available with affordable cost, multiple benefits and ease of use.
Philips, GE Healthcare offers best-in-class portable ultrasound systems among other premium clinical equipment brands. The Butterfly iQ is another handheld portable ultrasound system gaining the market space with their cheapest and accessible price. Choosing a good handheld ultrasound should ease your work and not cause further trouble which is why picking from best brands like GE or Philips can be beneficial.
Final Thoughts on Pocket-Sized Handheld Ultrasound Systems
Pocket sized ultrasounds are gaining grounds on multiple clinical applications for their support and improved diagnostics with the ease of use and mobility. Apart from unit price, there are different factors that affect the cost of ultrasound systems. Installation, demo classes, associated accessories while extras like ultrasound gel, lotions, and pads will affect the cost.  But with advancements in portable ultrasound systems, just a handheld tab is all it takes to do the work. Portable ultrasounds are better in terms of mobility, cost, people reach, in daily activities than standard big sized ultrasounds.