A banana is one of the ideal foods to sustain your healthy lifestyle. It is a common, healthy, natural and an inexpensive fruit to incorporate in our day-to-day lives. But have you ever tried wondering how many calories in a banana? If you aren't aware of its nutritional facts then read this article further to know about it in detail.
How Many Calories In A Banana?
Read to know the exact value count.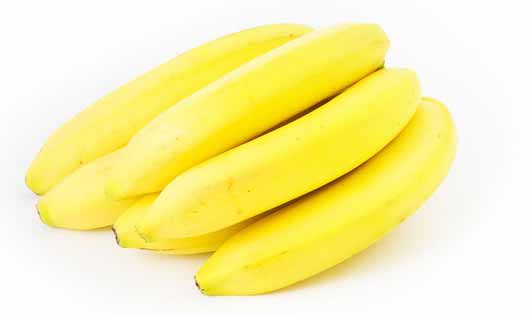 So, how many calories in a banana? Well, this entirely depends on the serving size consumed. The amount of calories found in a banana is listed in the below table.
TYPE

QUANTITY

AMOUNT OF CALORIES

1 Normal Raw Banana

100 grams

89 calories

1small-sized Raw Banana

(less than 6 inches long)

81 grams

72 calories

1 medium-sized Raw Banana

(6 to 7 inches long)

101 grams

90 calories

1 medium-sized Raw Banana

(7 to 8 inches long)

118 grams

105 calories

One NLEA banana serving

126 grams

112 calories

1 big-sized Raw banana

(8 to 79 inches long)

136 grams

121 calories

1-cup of Raw Banana

150 grams

133 calories

1 extra-large raw banana

(9- inches or even longer)

152 grams

135 calories

1-cup but mashed

225 grams

200 calories
Bananas are one of the most edible fruits produced by different kinds of big "Herbaceous Flowering Plants". This particular varies in size, outer skin colors and firmness. However, the common thing about this fruit is that it's curved, elongated with a soft flesh inside.
A banana is enriched with starch & covered with a yellow, maroon, purple, red, green & even brown when it's ripe. These fruits are seen growing in clusters & hanging down from the plant's top. It is a great source of
Soluble fiber
Vitamin B6
Vitamin C
Potassium
Manganese
Along with the other veggies and fruits, consuming bananas is frequently associated with the risk reduction of harmful "Colorectal Cancer" & "Breast Cancer". So, to maintain a healthy and active lifestyle, eat one fresh banana every day. Since that you have learnt how many calories in a banana, you might also like to know the other nutrition information right? Just look at the table below.
Nutritional Information Of Banana Per 100 Grams

Energy

89 kcal

Sugars

12.23-grams

Carbohydrates

22.84-grams

Dietary fiber

2.6-grams

Fat

0.33-gram

Protein

1.09-grams

Vitamin B1

0.031-mg (3%)

Vitamin B2

0.073-mg (6%)

Vitamin B3

0.665-mg (4%)

Vitamin B5

0.334-mg (7%)

Vitamin B6

0.4-mg (31%)

Vitamin C

8.7-mg (10%)

Iron

0.26-mg (2%)

Manganese

0.27-mg (13%)

Potassium

358-mg (8%)

Zinc

0.15-mg (2%)

Sodium

1-mg (0%)
Do Bananas Have Too Many Calories To Be Healthy ?
For those trying a low-carb diet, a banana packed with 105 calories might seem much, but the amount of carbohydrates (27 Gms.) and natural sugar (14 Gms.) are very essential to our body. Bananas have little excess calorie than other fruits but having it as a part of your healthy daily-diet will give you incredible benefits. Bananas are excellent diet-food that goes well as smoothies, post work-out snack or just take one for your daily dose of natural potassium.
If you are too conscious about your calorie, try half-a-banana per day for your daily meal serving. You can either split it with your friends or freeze it for the next day smoothie or you can put them in your banana-oats bread loaf.
Don't mind the 105 calories, banana's pack plenty of healthy nutrients and satiates the unhealthy sugar cravings of our body. You don't have to take multiple bananas, but make sure you take at-least one full or half a day on daily basis.