Not all love to have tanned skin. Though western population is most fond for a tanned look, people living on the eastern side (Korea, China, India etc…) don't really favor this appearance. In fact, they consider it unattractive and unaesthetic. Of course, sunshine is a great time to enjoy but these are not those good golden days – free from ultraviolet rays and pollution. UV rays increase melanin production in the body and thus, giving a sun-tanned skin. Once your skin is tanned, even you know that it is hard to bring it back the way you wanted. However, there are few home remedies to remove your tan. Before we list them to you, know a few things.
Also Read: How To Lighten Brown Spots On Skin?
What Effects Can Sun Tan Have On Your Skin?
Excess exposure to UV rays can cause some harmful skin problems like:
Pimples
Skin burn
Wrinkles
Acne
Fine lines
Hyper-pigmentation
Premature skin aging
Dark spots
Skin cancer (if the case is extreme)
10 Home Remedies Of Tanned Skin
Rather than spending a whole lot of money on those cosmetic products, prefer doing these simple remedies for detanning instead. Not only will it save you a whole lot of money but also save your skin from harsh chemicals.
1. Gram Flour + Turmeric + Lemon + Curd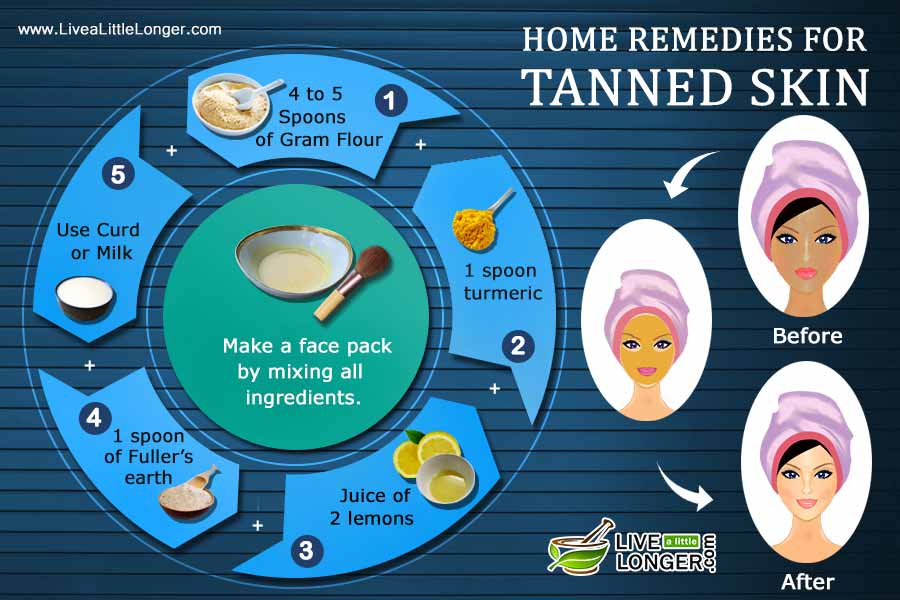 Since this grandma remedy works like a magic, we thought of writing this first on our list of detanning tips. Gram flour is great for treating suntan. It removes all the dead cells and ensures that your skin is young and bright. To try this pack, follow the steps given below:
Take 4 to 5 tablespoons of gram flour or more (if you are using it for the entire body) in a large bowl.
Add 1-teaspoon turmeric.
Add juice of 2 lemons.
Add 1 teaspoon of fuller's earth (multani mitti).
Add either curd or milk in a consistency that the mixture becomes thick (but not watery).
Once the mixture is prepared, rub on the entire body. Concentrate more on the sun-kissed parts. Leave it for 30 minutes to one hour. Have a bath. Doing this remedy on a regular basis will not only help you get rid of tan but also make sure that your skin is bright and clear.
2. Cucumber Juice + Lime Juice + Rose Water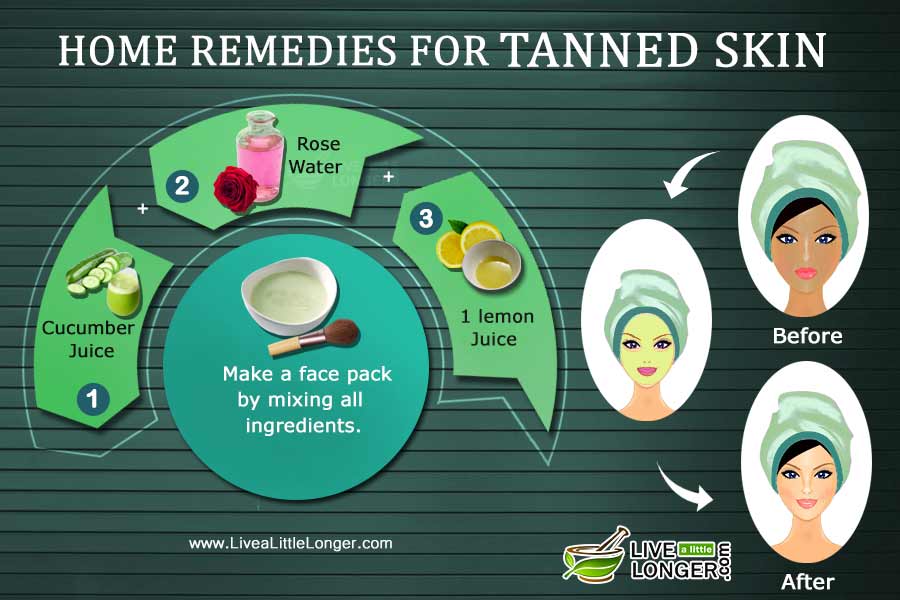 Both lime and cucumber are well known for their skin brightening properties. Rose water on the other hand gives a cooling effect. To try this remedy, follow the steps given below:
Mix cucumber juice and lime juice in equal proportions in a container.
Add few drops of rose water into the mixture.
Blend them well.
Dip a cotton pad into the prepared mixture and rub on the tanned regions.
Leave it for 10 – 15 minutes.
Wash off with cold water.
This mixture is proven very effective on extremely harsh sunburns and suntans.
Also Read: Top 10 Foods For Glowing Skin
3. Papaya + Honey Pack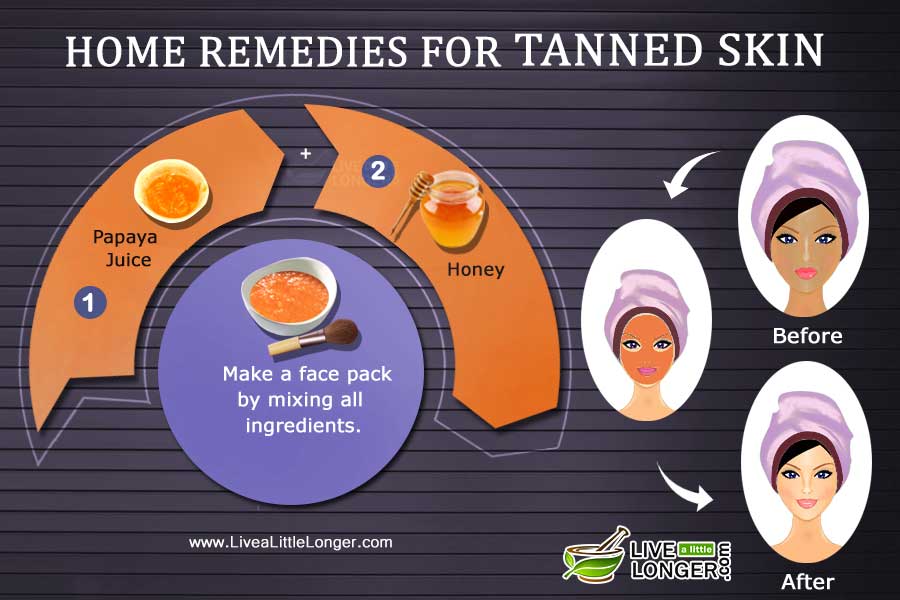 When it comes to homemade face packs or organic beauty kits, papaya is never missed. It helps make your skin look light and radiant. On the other hand, honey helps in making the skin supple and softer. Together, these two ingredients can work on your tanned skin like a wonder. Follow the steps listed below to try this remedy:
Take ½ cup of ripe papaya and mash it.
Add one tablespoon of honey.
Mix them together properly and apply on your face.
Allow the applied pack to sit there for 20 minutes.
Wash off with warm water for best results.
4. Almonds + Curd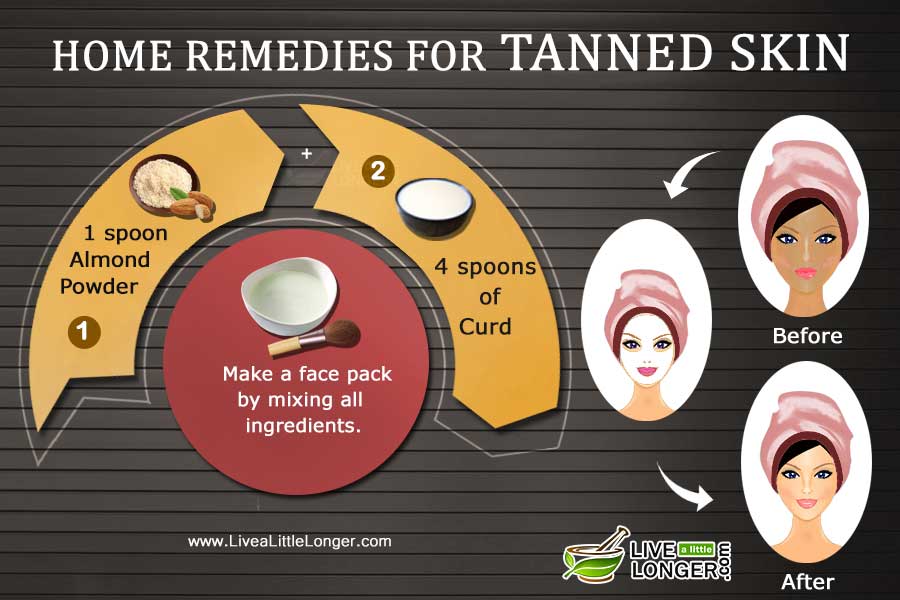 Almonds help in skin whitening and removes scars at the same time. They are enriched with vitamin E, which is one of the main reasons why they act as a natural anti aging agent. Curd on the other hand keeps your skin fresh and removes dead cells. Hence, a combo of these two can help you remove tan. To make a pack out of these two, follow the steps listed below:
Take 4 tablespoons of curd.
Mix 1 tablespoon almond powder (or grind few almonds in a mixer) into it.
Apply the mixture on your skin.
Leave for 20 minutes.
Wash off with warm water.
5. Potato + Almond Oil + Raw Milk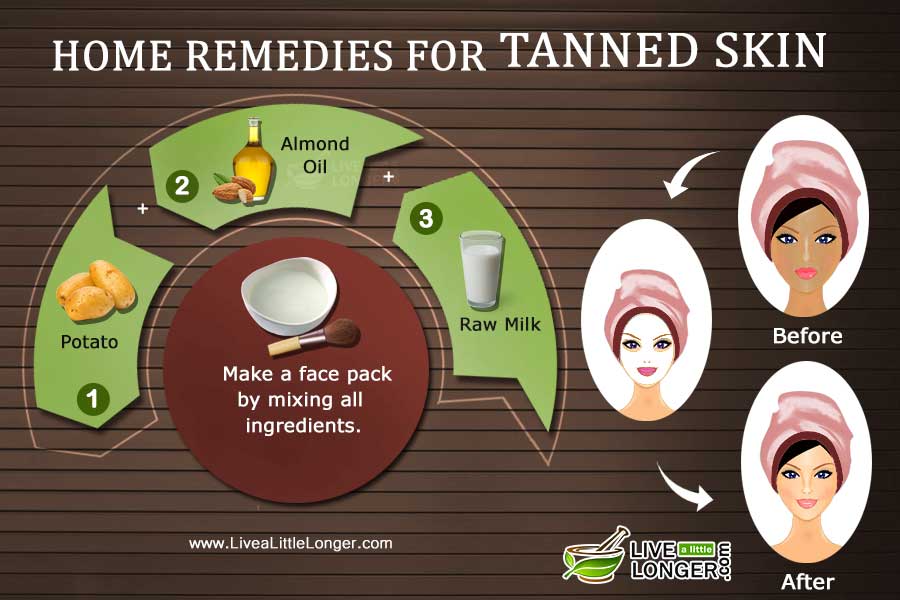 Potato maybe your favorite vegetable but it can do great wonders on skin too. Enriched with vitamin B-complex, C and other minerals like zinc, magnesium, potassium and phosphorous, potatoes can help reduce pigmentation, tan, blemishes, dark spots, pimples and acne. Milk and almond oil helps in skin nourishment. Hence, if a pack is made out of these three, it is sure to remove your tan. To try this remedy, follow the instructions given below:
Boil a potato along with its skin.
Once it is boiled, peel of its skin and mash it nicely.
Then, add 1 teaspoon of almond oil (or olive oil) into it.
Next, add 2 teaspoons of raw milk.
Blend them together and make it into a smooth paste.
Apply on your face and leave it for 15 minutes.
Rinse with warm water.
6. Papaya + Pineapple Pack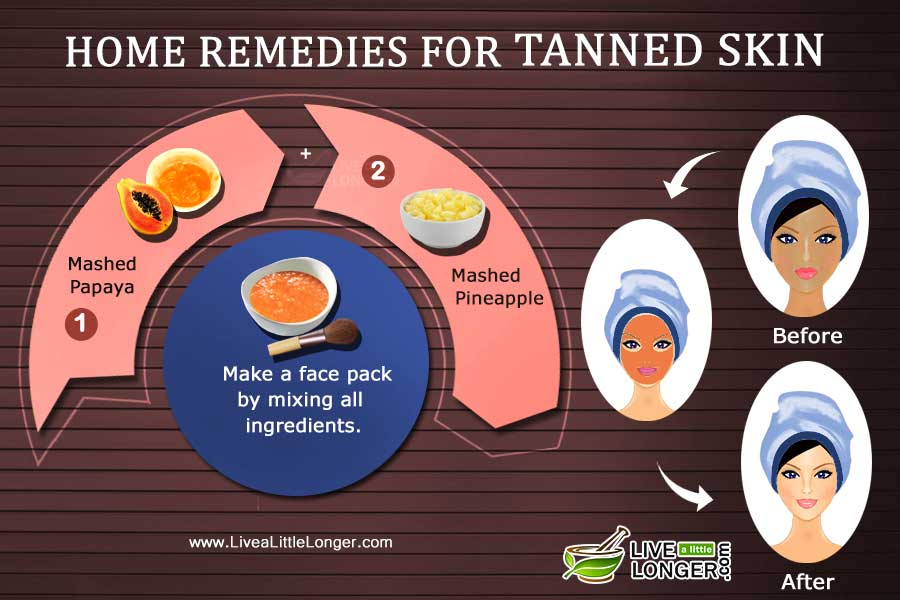 Pineapple, a bright yellow, tropical fruit is one of the best fruits for your skin. Since pineapples are fortified with amino acids and vitamin C, it enhances collagen synthesis; thus, making your skin firm and flexible. Hence, a blend of pineapple and papaya works great for a tanned forehead. To try this tip, follow the steps given below:
Cut few pieces of ripe pineapple and papaya.
Mash them nicely in a mixer.
Apply this paste on your tanned forehead.
Allow it to be there for 10 minutes.
Wash off with cold water.
7. Orange + Milk + Lemon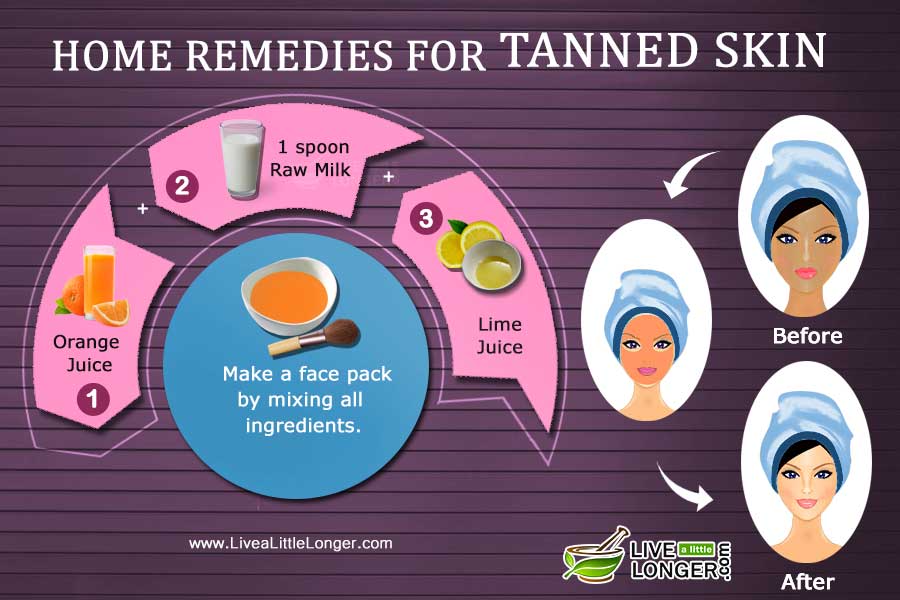 The citrus fruits lemon and orange are enriched with vitamin C to lighten your skin tone and lessen tanning. Milk on the other hand, ensures that your skin is moisturized and supple. To make a face pack out of these three, follow the steps written below:
Take 1 tablespoon of raw milk.
Mix it with 1 teaspoon orange juice and 1 teaspoon lemon juice.
Use cotton to apply the mixture on your tanned parts.
Leave it for a while.
Wash off with cold water.
Note: Test a small part of your skin to see if lemon juice is irritating your skin.
8. Glycerin + Sugar + Lemon
Yet another great remedy to remove tan from your skin is by using glycerin, sugar and lemon. All these three ingredients are well admired for a healthy skin. Glycerin moisturizes your skin, lemon acts as a bleaching agent and sugar works like a scrub. Prepare this pack by using the steps given below:
Take 1 tablespoon fresh lemon juice in a bowl.
Add 1 tablespoon sugar into it.
Next, add ½ teaspoon glycerin and mix them well.
Apply the pack like a scrub. Gently massage in upward direction.
Leave it for 15 minutes.
Wash off with normal water.
9. Potato + Carrot + Turmeric + Olive Oil
Since carrots contain vitamin A and beta-carotene, they help a lot in skin rejuvenation. Potato has natural skin lightening properties. So, no wonder they make an amazing pack for tan removal. To try this remedy, follow the steps listed below:
Take 1 potato and 1 carrot (both of small size).
Boil them until they are soft.
Allow them to cool.
Chop them into small pieces.
Add a pinch of turmeric.
Add ½ teaspoon olive oil.
Mix everything to form a thin paste.
Apply this pack and leave for 10 to 15 minutes.
Wash off with water
10. Lime Juice + Honey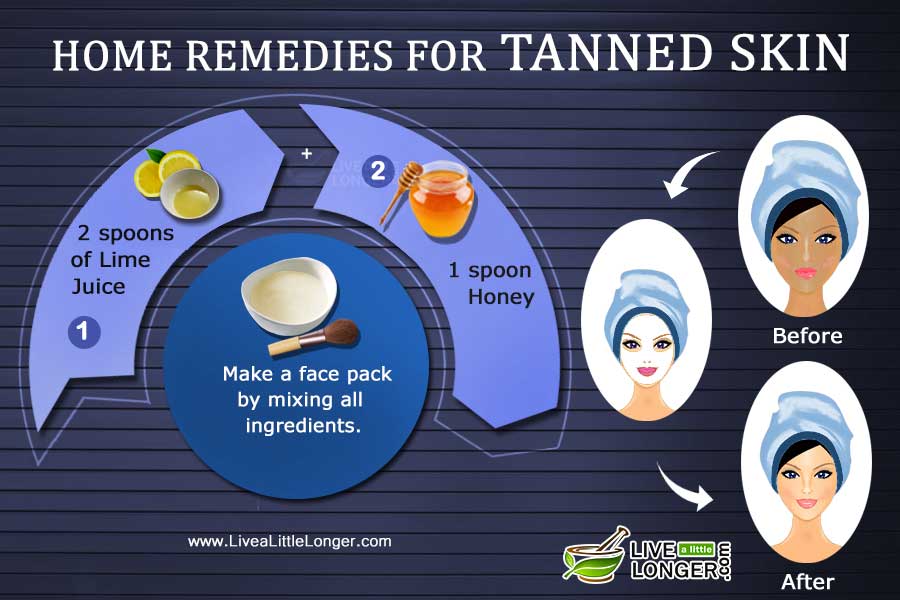 Honey is known for its antibacterial and anti-inflammatory properties. It has been long used by our ancestors for various purposes. But it still serves as a great remedy for your skin. To make a pack, do this:
Take 2 teaspoon fresh lime juice.
Add 1 teaspoon honey into it.
Apply on the tanned skin regions.
Leave it for 15 minutes.
Wash off with cold water.
Some Other Remedies That Work On Tan Skin
11.Yogurt & Tomato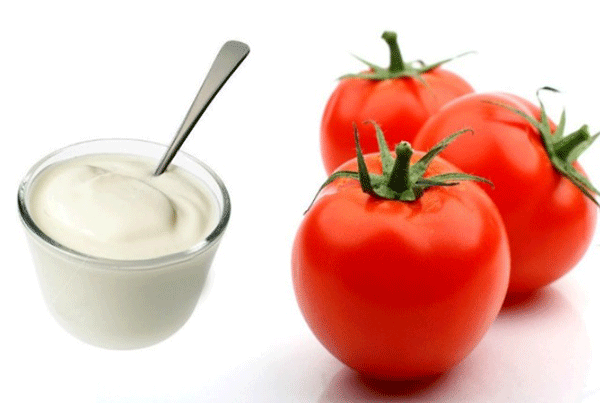 Tomato is an effective natural tan-remover. It removes dark spots, pigmentation and when mixed with yogurt & lime-juice, it becomes an effective tan-remover. Tomato juice removes darkness while yogurt helps in providing moisture. Mix a tbsp. of tomato juice and yogurt, mix them well and apply. Keep if for half-an-hour and rinse off with cold water.
12.Strawberry & Milk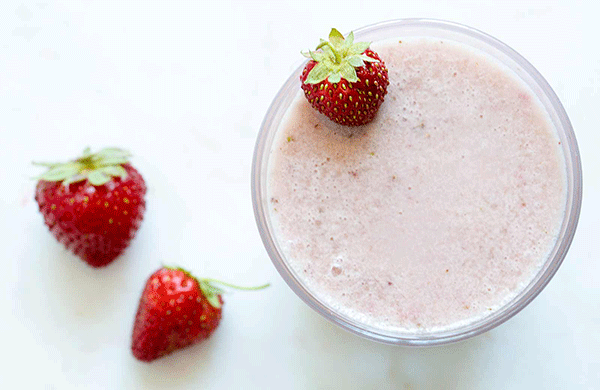 Strawberries are rich in skin-friendly antioxidants and brightening properties. The milk cream is a very good skin conditioner/moisturizer. Mash few strawberries together with 2tbsp. of milk cream, apply this sumptuous pack on the tanned-skin and wash off after half-an-hour or one.
13. Oatmeal & Buttermilk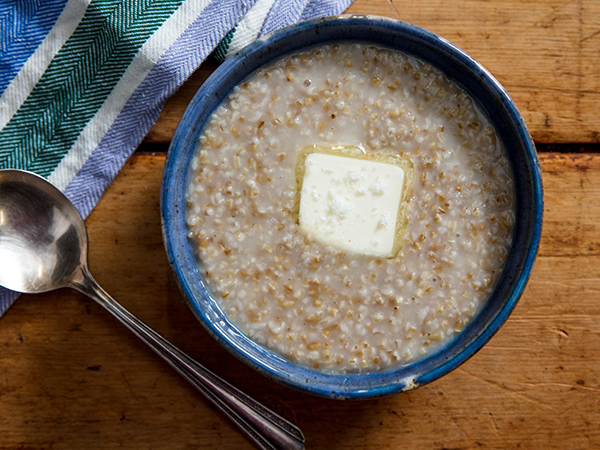 The Oatmeal is a natural De-Tanner & Exfoliate while the Buttermilk is rich in good probiotics that clean impurities from the skin effectively. Mix 3 tbsp. of buttermilk with 2 tbsp. of oatmeal, let it soak for few seconds, mix them well, apply over the tanned area and wash it off.