Day 3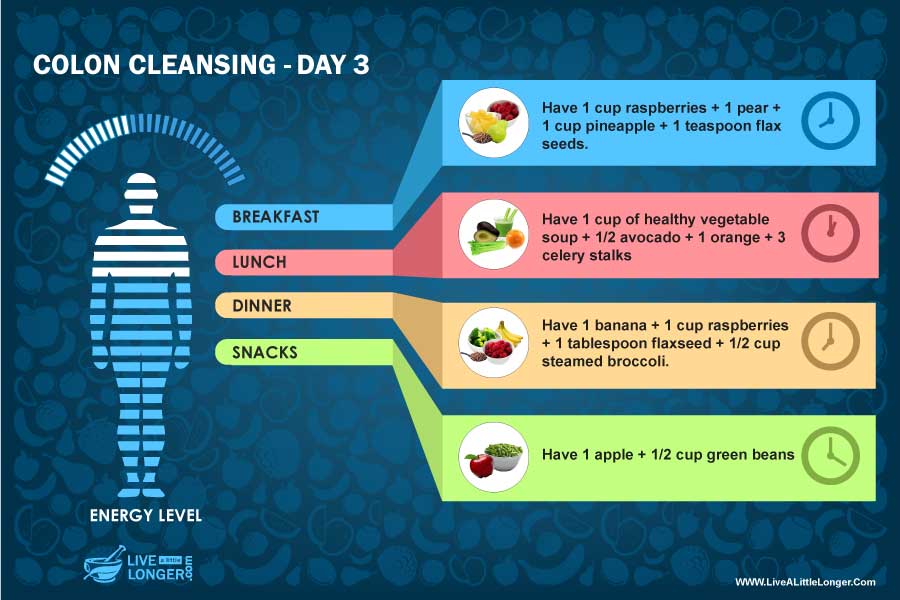 For Breakfast
Option 1:
Start your third day of your diet with a healthy morning smoothie. To do this, follow the steps given below:
Step 1: Prepare a glass of fresh lemon juice.
Step 2: Grate ginger root (about 2 inches) and 2 garlic cloves. Mix these two into the prepared lemon juice. Ginger enhances blood circulation while garlic helps in detoxification.
Step 3: Add 2 tablespoons of flaxseed oil (cold pressed).
Step 4: Add some cayenne pepper. It purge s all the toxins out.
Step 5: Blend everything in a mixer until it becomes a smoothie.
Step 6: Pour it in a glass, mix well and drink it.
Eat a fresh fruit, either an avocado or an apple.
Option 2: Have 1 cup raspberries + 1 pear + 1 cup pineapple + 1 teaspoon flax seeds
Make sure to drink plenty of natural fluids throughout the day.
For Lunch
Option 1: Have a spinach based salad. Spinach is known to have an anti-bacterial compound that helps in fighting off the bad bacteria lining your colon and intestine + 1 cup pineapple + 1/2 cup grilled peppers + 1/2 cup quinoa.
Option 2: Have 1 cup of healthy vegetable soup + 1/2 avocado + 1 orange + 3 celery stalks
For Dinner
Option 1:
Aloe Vera is great Natural colon cleanse. Its medicinal properties not only improve your overall colon health but also treat other issues like skin infections, constipation, diarrhea, headaches and gastric pain. So, for dinner, make sure to drink this juice:
Step 1: Cut an Aloe Vera leaf and take out its gel.
Step 2: Add some lemon juice into it.
Step 3: Put the mixture into a blender and blend it until it turns it to a smoothie.
Step 4: Drink the juice.
After 30 minutes, have a plate of green salad or hot vegetable soup.
Option 2: Have 1 banana + 1 cup raspberries + 1 tablespoon flaxseed + 1/2 cup steamed broccoli.
Whenever You Are Hungry (In-between meals), Have This Snack:
Option 1: Have 1 cup herbal tea + 1/2 cup steamed peas
Option 2: Have 1 apple + 1/2 cup green beans