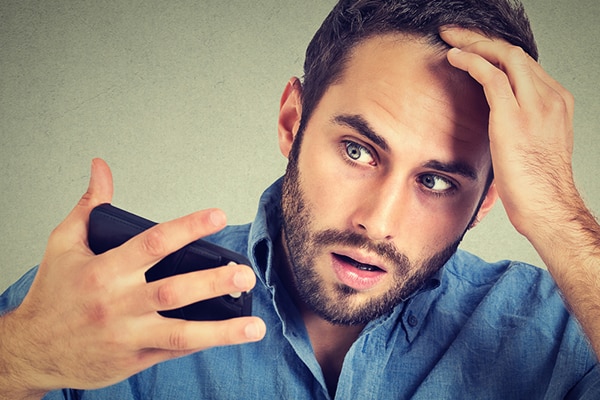 Every man after a particular age faces some hair disorders. With so many hair problems experienced by men, male pattern baldness is reported to be the most common. It is otherwise known as androgenic alopecia and is one of the usual hair thinning problems in adult men. The hair loss in this condition occurs in any of the three forms:
Hair loss at the sides (or temples)
Hair loss at the forehead (or front)
Hair loss at the top of the head (or crown)
Note: If alopecia is not treated in the beginning, it can worsen over time.
An estimated half of the adult men (age: 40+) in the world suffers from this condition.so many hair problems experienced by men, however, this can also occur at an early stage (within the 40s). In such cases, the hair loss turns severe, as they grow older. In fact, men at such stages might lose about 70 percent of their hair in due course.
HAIR FACT
Losing 50 – 100 hairs in a day is normal. But the baldness problem arises when the lost hairs aren't replaced by the new ones. Eventually, this starts to show up, and by the time you realize this, you would have already lost a lot of hair. However, if this problem has just begun, treating it in its earlier stage is wise so that it is not too late.
Also, note that losing sizeable amounts of hair could be a sign of an underlying health problem. Seek medical help if you doubt it to be something else.
Cause: A major cause of male pattern baldness is the secretion of a hormone known as DHT (Dihydrotestosterone). The higher the DHT generated by the body, more is the hair loss. The best way to treat your male pattern hair loss and prevent baldness is by using natural remedies.
So, what can you do about your male pattern baldness? Are there proper solutions? Well, yes. Before we list the tips to you, understand that every individual's hair loss problem is different, and so are the methods to treat. Be advised that some hair loss remedies like Taxotere may result in side effects.
Based on the severity of hair loss, we have listed 10 treatments under 3 categories. Pick the one suiting your needs:
If your hair loss has just begun, then go for – Home Remedies.
If you have tried many remedies but has failed, then go for – Western Medicine (approved).
If most of your head is bald, then go for – Permanent or Quick Hair Fixes (artificial).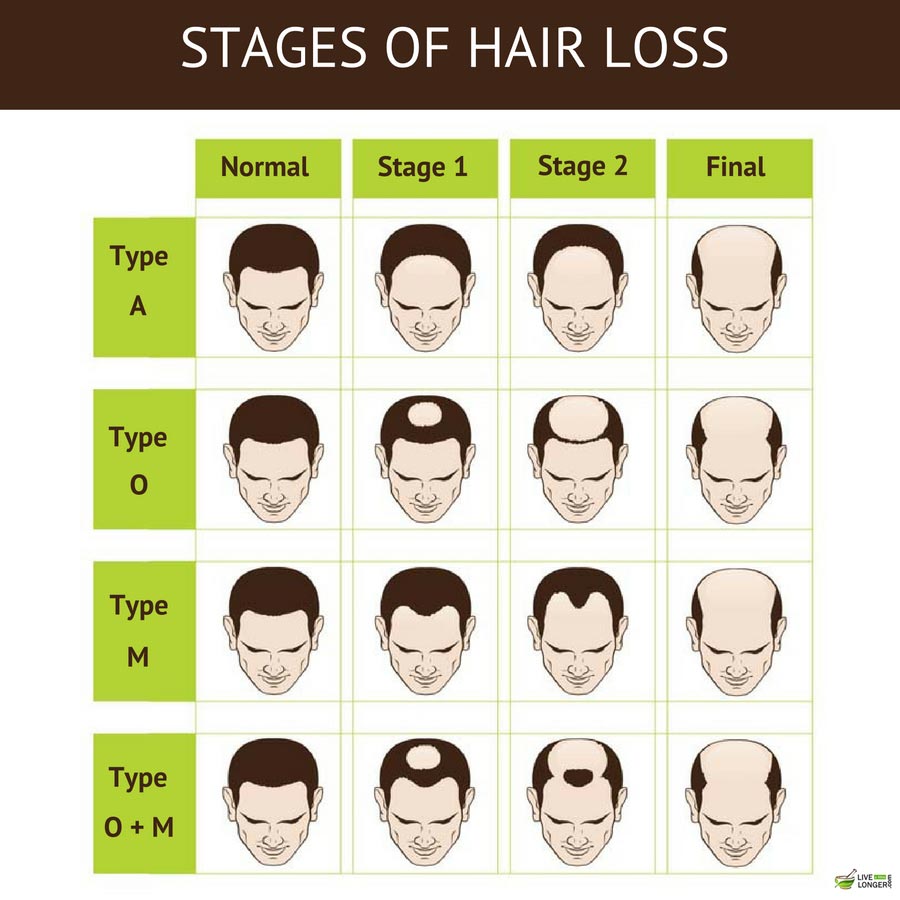 Method 1: Home Remedies For Male Pattern Baldness
If the hair fall is recent, then remedies can assist you to fix the issue. These remedies help in preventing the DHT secretion and promote hair growth.
1. Use Protein Pack Made From Soya Beans, Shikakai & Gram Flour
Soak 1 cup of soya beans in water for 1 – 2 hours.
Grind the paste and add 1 tablespoon of gram flour to it.
Mix well and add 2 teaspoons of shikkakai powder.
Apply the paste on your scalp. Massage and leave for 1 hour.
Wash off with a mild shampoo.
2. Massage With Cinnamon Powder & Olive Oil
Mix 2 teaspoons of cinnamon powder with 1 cup of olive oil.
Apply this oil mixture on the scalp and massage.
Leave for an hour and wash off with a mild shampoo.
3. Apply The Mixture Made Of Mustard Oil & Henna Leaves
Take a few teaspoons of mustard oil.
Heat both the boils and add fresh henna leaves to it (cleaned & dry).
Once the mixture cools, strain the oil and use it with a carrier oil (coconut oil).
Apply on the hair and scalp 2-3 times a week for best results.
Alternatively, boil 3 – 4 teaspoons of mustard seeds in 1 liter of water. Use this water to rinse your hair. Doing this for a long time can control the male pattern baldness.
4. Consume Saw Palmetto Orally
Saw palmetto works the best for the treatment of hair loss or baldness when taken orally because it works from within. The external application also works but is not as effective as oral consumption. The effects might be slow or might not have any effect at all. Saw palmetto can be consumed in two ways:
Eat the fruit or
Have it in its encapsulated form
Ideal Dosage: 150 – 300 mg per day
Besides consuming it, you can apply saw palmetto oil on the scalp directly. However, it takes time. So use it regularly. The reason it works is its lipophilic properties whose active ingredients are easily absorbed by the skin.
For desired results, apply the saw palmetto oil on alternate nights. Gently massage the scalp for 15 minutes. This is sufficient to give the scalp proper hydration and nourishment. It strengthens the roots and prevents hair loss.
5. Herbs: Nettle Roots & Pygeum
Nettle roots' extract is something that is extensively used in popular hair fall treatments. It is conjectured to inhibit the DHT production effectively. It works the best when combined with the herb pygeum.  They can be orally consumed as supplements or applied topically.
However, nettle roots may have some side effects, which include:
Topical Application Can Cause: Irritation in the scalp after being applied and Scalp allergies.
Oral Consumption Can Cause: Stomach upset, Urination difficulties, Edema, Burning, and Bloating. Patients suffering from kidney and heart problems should avoid nettle roots.
Note: Talk to your doctor before using this remedy.
Click here to learn how to use nettle for hair
6. Pumpkin Seed Oil
Pumpkin seed oil and male pattern baldness are often associated with each other. According to a study done at the Republic of Korea's Pusan National University, the medical scientists tested the effects of pumpkin seed oil in 76 patients (all male) who had androgenic alopecia (or male pattern hair loss) in moderate levels.
During the phototrichographic examination, people who used pumpkin seed oil had significant hair counts. This was about 30-40% increase in hair counts than participants who used placebo for their hair loss. The placebo effect had only 5-10% increase in hair count. The researchers claimed the pumpkin seed oil to be safe except that there was a stomach upset (mild) during the trials.
Pumpkin seed oil is enriched with zinc, essential fatty acids, and iron. Also, it blocks the DTH naturally. However, proper clinical tests are still required to understand its effectiveness to treat baldness and to check its potency to obstruct DTH.
Method 2: Approved Medicines For Baldness
If the above remedies fail or you no longer see positive results after applying natural therapies and hair loss seems to be increasing, then it is time to meet a dermatologist.
PLEASE READ

Minoxidil (Rogaine) & Propecia (Finasteride) are the only two medicines that have been clinically tested and FDA-approved for the treatment of male pattern baldness. Though these are the two most common medications prescribed by most dermatologists, they can have side effects. Hence, we advise you to take them only after consulting your doctor.
7. Minoxidil (Rogaine)
Minoxidil is one of the best topical treatments for hair loss or baldness in men. It comes in lotion form and is usually applied two times a day on the affected parts. It stimulates the hair follicles and claims to help you in growing new hairs. Most dermatologists will advise their patients never to use more than 25 drops per day, as this medicine induces multiple side effects like skin dryness and scalp itchiness. However, many people continue to use Minoxidil because they find this highly effective and fast. The results begin to show up within 12 weeks of regular use.
8. Propecia (Finasteride)
Propecia and Proscar are the popular brands of the drug named Finasteride. A pharmaceutical company called Merck first discovered this medicine. They used it to treat inflamed prostate glands. Gradually, they observed that this drug also promoted hair growth. In 1997, the FDA (Federation of Food & Drugs) approved this for treating male pattern baldness. The drug is reported to stop the production of DTH and decrease the rate of hair loss in men. In fact, this is considered more effective and better than Rogaine.
Also Read: 10 Everyday Habits That Can Ruin Perfect Hair
Method 3: Artificial Hair Solutions
If you have almost become bald, then it is time to have your hair fixed permanently. At least, this would save you from embarrassment. There are two ways you could do this:
9. Hair Transplants
In spite of being expensive, hair transplants have become a lot common in these days. The answer is simple – people want the results to be quick. Also, with fast-paced and hectic lifestyle, we hardly find time to nurture ourselves. So, if remedies and drugs have failed, the final option is to have a hair transplant done.
Hair transplantation is an expensive surgical process where the healthy hair follicles (or the donor site) from a particular body part is moved to the balding parts (or the recipient site). The patient is given local anesthesia, which lasts for about 6 hours.
10. Hair Wigs & Hats
Wigs might not be as expensive as hair transplantation but can give you a temporary fix. They are the best way to conceal your baldness. Now, choosing a wig can be equally tricky. They come in two types:
Human hair wigs
Synthetic wigs
Synthetic wigs are cheaper when compared to human hair wigs. They are easier to style and maintain because the polymers in them help hold the shape better. On the contrary, human hair wigs can be tedious to maintain. You need to learn special skills to make it look realistic.
Even hats are a great way to hide your baldness from others.
Hair loss is a natural cycle of a human's life. With right treatments, they can be fixed back. It is up to you when you do it and what method you choose for yourself. What other treatments you feel could help treat hair loss in men? Tell us in comments.