No one loves to visit a doctor but no matter how fit and healthy a person is, he or she is bound to experience any of these most common diseases. In a world where health problems are growing day after day, this list of common microbial ailments and viral infections has been reported to remain consistent in the past few decades. The rates at which they affect the global population today is already high but it is anticipated to increase even more in the upcoming years.
Shockingly, some of these health conditions are so common that about 83% of the hospitals in the world make a huge income from their affected patients. It is worth noting these 100 common diseases and the way they can be prevented as well as treated at home with effective remedies.
100 Most Common Diseases &Their Treatments
The diseases given below are very common, but if left untreated, they can have severe implications. So, it is vital to treat them naturally and as early as possible. The list is arranged in the reverse chronological order with the most common diseases in the first few pages followed by the fatal (yet common) ones in the last.
100. Common Cold
Fact: On an average, an adult experiences 2 – 3 episodes of cold per year whereas a child may have 6 – 10. Cold is one of the leading causes for the most number of doctor visits. Survey reports claim that cold is so common worldwide that every year it causes an estimated 123+ million lost days from school and 116+ million lost days from work. Overall, there is a $92+ billion productivity loss and the discomfort it causes can make a person miserable. So, there are valid reasons why treating common cold should be on the top of your to-do list.
Remedy 1:
Step 1: Grind ½ teaspoon of pepper, 1 teaspoon of cumin seeds, ½ teaspoon of dried ginger, and fresh neem leaves (select tender ones) in a mixer-blender.
Step 2: Dry the ground mixture in the shade. Once dry, consume them two times a day to get rid of common cold.
Remedy 2:
Step 1: Boil 6 – 7 tablespoons of ginger (freshly grated) in 3 cups of water for 10 – 15 minutes. Add a pinch of cinnamon powder if you want.
Step 2: Strain the liquid and allow it to cool down a bit. Before drinking, add a few drops of honey and lemon juice for flavor. Drink twice a day to get rid of cold.
Click here for complete remedies for cold
99. Cough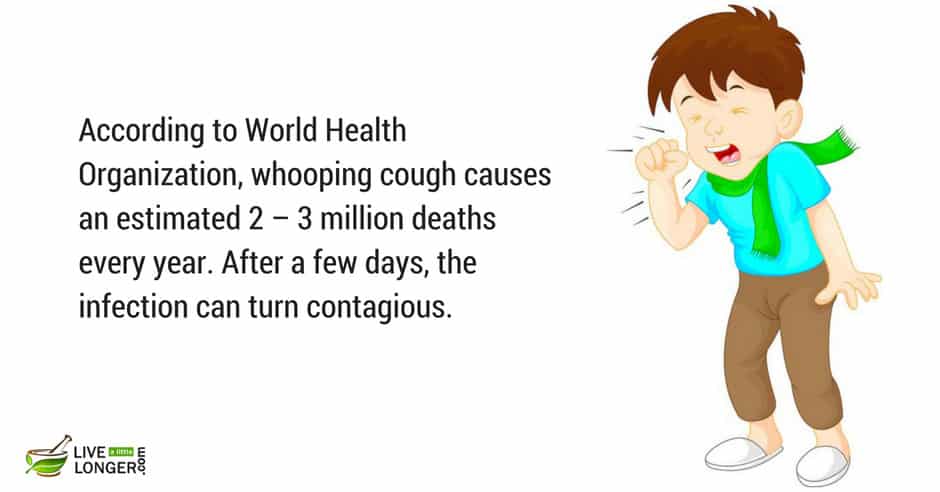 Fact: If cough seems simple to you, then think again because according to World Health Organization, whooping cough causes an estimated 2 – 3 million deaths every year. After the incubation phase of 5 – 20 days, the cough infection turns very contagious. It spreads via bacteria-infected saliva droplets. So, each time the patient sneezes or coughs, others around him or her inhale and can get infected. Prolonged bouts of coughing in babies can be deadly — if it exceeds the 3-week duration, it can cause breathing problems, pneumonia, brain damage, seizures, and even death.
Remedy 1:
Step 1: Boil 1 cup of fresh basil leaves in 2 cups of water for 10 minutes. Wait until the quantity boils down to 1 cup.
Step 2: Filter the mixture and add a few drops of honey. Drink it warm.
Remedy 2:
Step 1: Boil some fresh fenugreek leaves with 6 – 8 raisins and ½ teaspoon of cumin seeds with 2 cups of water for 10 minutes.
Step 2: Wait until the quantity boils down to one cup. Strain and drink when it is warm.
Click here for complete remedies for cough
98. Fever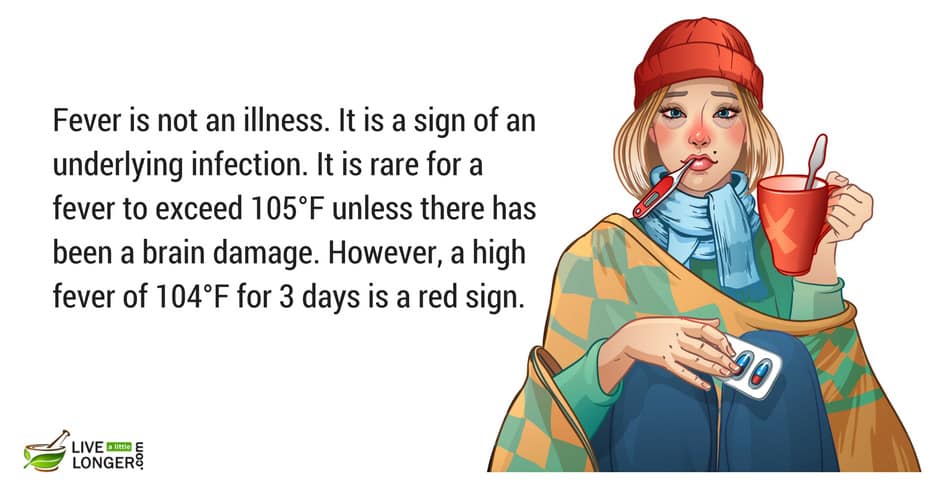 Fact: Fever is not a disease. It is the natural way for the body to protect against infections. Fever is not dangerous, but if left untreated, it can lead to something severe. It is often mistaken and associated with hyperthermia (an illness where the body temperatures rise seriously high). But fever is a completely different condition. However, if the person suffers from a fever of 104°F for 3 days or it doesn't subside after trying  home remedies, consult a doctor immediately.
Remedy 1:
Step 1: Chop 1 – 2 garlic clove and boil in a cup of water for 10 minutes.
Step 2: Strain the mixture and sip when it is warm.
Step 3: Drink the mixture two times a day and you'll feel better.
Remedy 2:
Step 1: Crush a few peppermint leaves and boil in a cup of water for 10 minutes.
Step 2: Strain the liquid and add a few drops of honey and a pinch of black pepper powder. Drink the mixture when it is warm. Follow this remedy 2 to 3 times a day for  relief from fever.
Click here for complete remedies for fever
97. Headache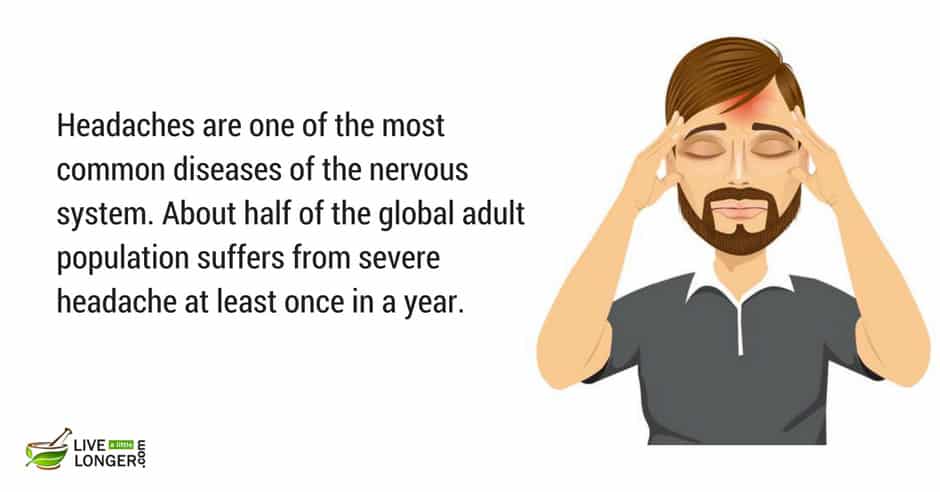 Fact: Headaches are one of the most common diseases of the nervous system. At some point or the other, we all suffer from a headache. Though headaches are classified into many types, the most common headache people tend to suffer is associated with stress.
Globally, about 5% of 7-year-old kids and 75% of 15-year-old teens suffer from frequent headaches. If adults are included, the percentage is higher. A headache that occasionally occurs due to stress is not dangerous but if it is recurring, it could be a sign of a migraine.
Remedy 1:
Step 1: Take fresh betel leaves and grind them with a few drops of water to make a smooth paste.
Step 2: Apply the betel leaves the paste on your forehead and temples to relieve a headache.
Remedy 2:
Step 1: Crush some dry cloves and tie them in a handkerchief.
Step 2: Whenever you have a headache, smell the aroma of the crushed cloves to feel better instantly.
Click here for complete remedies for headache
96. Stomach Pain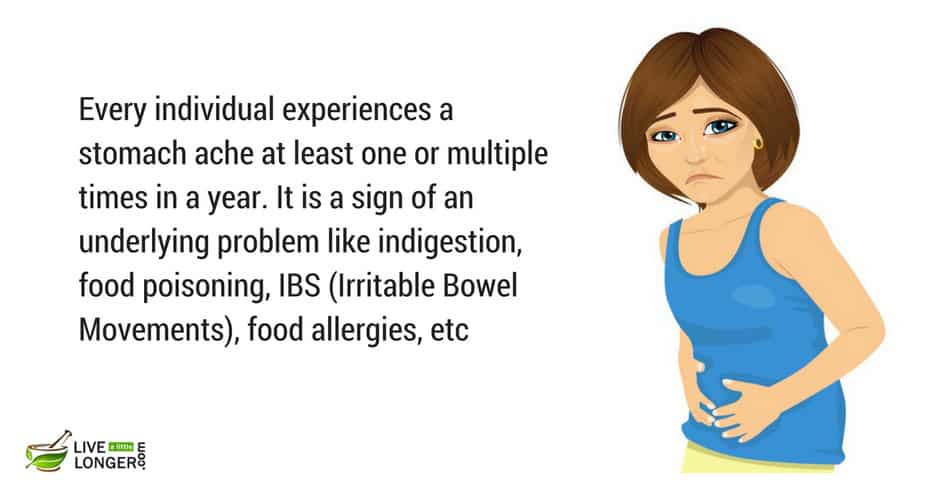 Fact: Stomachache or stomach pain is yet another common health problem that one experiences at least once or multiple times in a year. It prevents the person from enjoying a good meal and the pain can be unbearable at times.
Pain in the stomach is always an indication of an underlying problem like indigestion, food poisoning, IBS (Irritable Bowel Syndrome), food allergies, stomach flu, injuries, etc. However, the most common reason is due to either indigestion or food poisoning. Recurring Stomachaches need to be checked with a doctor.
Remedy 1:
Step 1: Squeeze 2 lemons to extract the juice. Mix it with a glass of water.
Step 2: Crush a piece of ginger and add it to the water. Add a pinch of black salt.
Step 3: Stir the mixture well and drink to overcome the stomach pain (it works if it is due to indigestion).
Remedy 2:
Step 1: Take a few tender or newly growing mango leaves. Wash them properly and dry them.
Step 2: Once dry, grind the leaves into powder form. Consume 1 teaspoon of this powder with honey.
Click here for complete remedies for stomach ache

-->