Coconut oil is edible oil extracted from the matured coconuts harvested from coconut palms. There are many health benefits of coconut oil.  It has numerous uses from ailing diseases like Alzheimer, Arthritis, and Blood pressure to boosting the brain's memory and functioning power to hair growth. Coconut oil is beneficial for every part of the body, and hence, it is widely used by people, especially in India. Now, even people outside India have started to realize its significance and are slowly started to use the coconut oil for hair.
One of the biggest misconceptions I see in the health world is that unrefined automatically equals better. This isn't always the case, especially with coconut oil.
10 Health Benefits Of Coconut Oil For Hair Growth
Coconut oil is commonly used as cooking oil because it is healthier than any other oil. It is also used as lubricant oil and diesel engine fuel in several industries. The proteins and minerals found in coconut oil make it highly suitable, especially for hair. The various advantages of coconut oil for hair are:
1. Conditioning And Moisture Retention
Hair conditioners can be easily made at home using coconut oil and also highly effective, does not have any side effects. It prevents the loss of proteins from hair which retains the moisture in the hair. Coconut oil safe for use for children as well and can be used as a leave-in conditioner. It is also very effective for dry hair and prevents breakage of hair due to detangling or combing.
One can just apply oil to the hair keeping it overnight and wash it the next day; it will have the same effect and nourish the hair.
2. Promotes Healthier Hair Growth
Coconut oil has been used in India since ancient times for grooming hair. Various remedies using the oil, herbs and some other ingredients can be prepared to reduce hair loss. The coconut oil can be used to make the scalp healthier and providing with all such nutrients and minerals to keep the hair roots strong.
Applying a mixture of coconut oil & lime water reduces hair loss, just like the combination of gooseberries and coconut oil. Hence, coconut oil improves the scalp, as well as lead to a healthy hair growth. These are health benefits of coconut oil
3. Treats Dandruff And Split Ends
The various fatty acids contained in the coconut oil serves as a good anti- dandruff agent, much better than other chemical oriented anti- dandruff shampoos. Regular usage of coconut oil can help in getting rid of dandruff forever.
Coconut oil also helps in tending to split ends with a long term benefit. Usually, it is advised to cut off the split ends. But even after cutting, the hair is prone to get split ends again due to dryness, pollution, and various other reasons. Hence, coconut oil is best for treating split ends.
4. Tames Frizzy Hair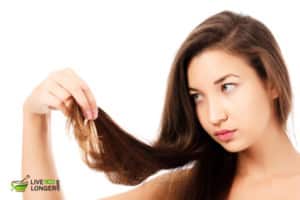 Frizzy hair can be problematic for maintenance and styling. It can also lead to dryness and be prone to weak roots, therefore losing moisture from the scalp and hair as well. Coconut oil may come here for rescue as coconut oil is very effective in taming frizzy hair.
Taking a tiny amount of oil, depending on the hair, warming it in the palm and applying it from roots to tips can work wonders for the hair. They not only tame the frizzy hair but also make it convenient for styling and blow drying the hair.
5. Protects From The Sun
Hair, like the skin, can be easily damaged from the sun's excessive UV rays. It makes the hair dry and brittle, weakening the roots and scalp. It soaks up all the moisture of the hair and may deprive the hair of its necessary proteins and minerals. Moreover, it makes the scalp all sweaty which makes it more prone dandruff.
Hence, coconut oil can be used to retain the moisture of the hair. It can be used as a leave in conditioner and can also be utilized as an effective sunscreen for children and adults alike.
6. Detangles
Detangling hair can be a painful and tedious task, leading to greater breakage of hair. Excessive detangling can also make the hair frizzy and make them weak and prone to further hair problems like excessive hair loss, lower hair growth, split ends, etc.
Coconut oil improves the texture of hair by penetrating the hair shaft. Then, it surrounds the hair & makes it easy to detangle the knots in the hair even after washing. It improves the tangled and damaged hair.
7. Lice Prevention & Treatment
Infestation of lice can be a major problem, especially in children's hair. It can lead to excessive tangling and knotting of hair and becomes even more painful to detangle. Also, lice suck up the moisture and the proteins and minerals from the scalp. Hence, treatment of lice is very important as it threatens the hair growth for future as well.
Coconut oil once again comes to the rescue as it helps in removing lice from the head and causes no side effects. Since coconut oil penetrates into the hair shaft and the scalp; it helps repel lice and can prevent eggs from forming in the scalp.
8. Base For Hair Coloring
If coconut oil is used as a base for hair coloring, it reduces the harmful effect of chemical hair colors if used. Moreover, it ensures longer retention of the hair color. Therefore, coconut oil is widely used as the base of hair color. Along with longer retention, it also improves the quality of hair and prevents damaging of hair.
The two basic items necessary to sustain life are sunshine and coconut milk.
9. Prevent Hair Damage
Coconut oil is prominently used to reduce hair damage as it improves the overall quality of hair. The weak and brittle hair, which causes hair damage and other reasons like excessive exposure to the sun, pollution and other such reasons causing hair damage, can be prevented with the help of coconut oil.
10. Cooling Properties
Coconut oil along with its sweet fragrance has a cooling effect on the scalp. A massage with coconut oil reduces all the stress and cools the head. Especially on facing the excessive heat where the scalp becomes very hot, coconut oil is best to cure that. It also helps in reducing severe scalp sweating.
Now that you know the various benefits of the coconut oil for hair, you can use them regularly to get a beautiful mane.