7. White Vinegar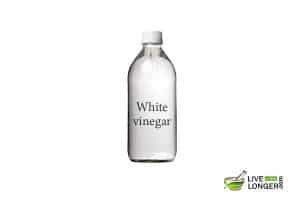 Whether it is treating an ailment or cleaning the house, vinegar is always handy. Vinegar has different varieties; however, the most common ones that are being used are apple cider vinegar and white vinegar. However, when it comes to corn on foot or toe, white vinegar is highly helpful. It is prepared from wine that is fermented. It helps in killing all the fungus from the feet or toes. No matter what type of foot problem you have – toenail fungus, warts, athlete's foot, or corns, just soak your feet in a mixture of white vinegar and water for about 20 to 30 minutes to heal it. To try the remedy, follow the steps given below:
Step 1: Take a cotton swab and dip it in white vinegar.
Step 2: Directly place the cotton on the corn. Use a tape to secure.
Step 3: After the duration of four hours, you can take off the duct tape and cotton.
Step 4: Repeat the procedure for a few weeks on a daily basis.
Alternate Method: You can also try this option of mixing white vinegar with onion. Mix vinegar with slices of white onion in a bowl. Give duration of half-a-day. The onion pieces should be applied on the corn affected area. You can cover the pieces with bandage tape. If the corn is very hard, keep repeating the process until the corn becomes soft to be filed with a pumice stone. 
How Does This Work?
Vinegar is acidic and this nature assists in softening the hard, dry skin of the calluses and corns. You also get other benefits – antifungal and antibacterial properties of vinegar decreases the chances of infection. Give ample time for the area to dry up so that the filing process can be done with a pumice stone. 
White Vinegar Is Not Good, If:
You have sensitive skin. In the case of topical application, you can mix with honey.
6. Banana Peel
Banana peel is one of the most effective treatments for healing different skin complaints like corns, acne, psoriasis, and warts. Since the peel of banana is enriched with salicylic acid, lutein (it is an antioxidant), and potassium, it helps in curing the problem much faster. Susceptibility to skin problems like warts and corns are often associated with a deficiency in potassium. Hence, the banana peel can be highly effective. But try using the peel of a healthy, green banana instead of a yellow, ripe one. To apply the remedy, follow the steps given below:
Step 1: Take a green banana instead of a ripe one.
Step 2: Peel off the skin and dig the inside white out.
Step 3: You can tape the whites over the affected part, and for a secure hold, you can use Elastoplasts.
Note: The symptoms may reduce depending on the body condition. 
Alternate Method: You can add two drops of tea tree oil to the whites and then apply on the corns.
How Does This Work?
The peel contains high quantities of salicylic acid, potassium and the antioxidant (lutein). Kindly note, you can be prone to corns due to lack of potassium. Another benefit of eating banana – it contains tryptophan, the neurotransmitter that can give relaxation and compounds to enhance the mood. You can then wash off the area with antibacterial soap and water. 
Banana Peel Is Not Good, If:
You have a latex allergy. You can get symptoms such as itchy skin, dermatitis, crusty skin lesions, etc.
-->