13. Mixture: Psyllium Husk + Plain Yogurt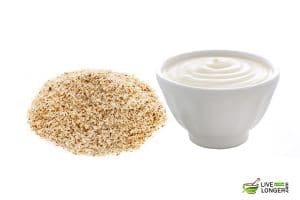 According to Ayurveda, these two ingredients can do amazing wonders in treating diarrhea. Due to its bulking and lubricating properties, people often take psyllium for managing with diarrhea and constipation.
According to this study, psyllium is proven effective in reducing abdominal discomforts and increasing the stool frequency. Since diarrhea is accompanied with watery and loose stools, you need to consume low fiber foods to treat it. Besides diarrhea, it can regulate sugar levels naturally in diabetic patients. While it is good to stay away from dairy foods during diarrhea, according to Dr. Kirby, yogurt is an exception in this case. Kefir or yogurt (fermented milk) is rich in natural probiotics, which helps in restoring the good bacteria. To try this remedy, all you have to do is to follow the steps given below:
Step 1: Take one teaspoon of Psyllium husk and 1 cup of plain, fresh yogurt.
Step 2: Mix them together in a small bowl.
Step 3: Consume this mixture before going to bed.
How Does This Work?
Psyllium is a seed that is native to Southern East Asia. The husk of this seed is fortified with viscous soluble fibers. It has 30% insoluble fibers and 70% soluble fibers. Due to its soluble fibers, it not only helps relieve diarrhea but also constipation. Also, it assists in the treatment of hemorrhoids, IBS (Irritable Bowel Syndrome) and other intestinal disorders. During those diarrhea bouts, consuming psyllium slows down the severity and frequency of the condition. Moreover, it absorbs excess liquid from the intestines and adds some bulk to your stool. Viscous soluble fibers help soak water and form a smooth gel once it is exposed to water. Now, this acts as a digestive lubricant in maintaining proper bowel movements and treating constipation.
On the other hand, yogurt is rich in natural probiotics, which helps in restoring the healthy microbes in your gut. Probiotics are none other than live bacteria, which help in contributing to your overall health by restraining the development of bad bacteria in the intestines. It aids digestion and supports the immune system. Yogurt has many kinds of probiotic bacteria; however, the most common ones are bifidobacterium and lactobacillus. In the case of diarrhea, the probiotic, which is effective in the treatment, is called Lactobacillus rhamnosus GG. Hence, look for yogurt brands that have this type.
This Remedy Is Not Good, If:
You have breathing problems.
You have constipation.
You have difficulties in swallowing.
You have skin rashes.
You have immune disorders.
You are suffering from gastrointestinal problems.
You have low blood sugar level and low blood pressure.
You are suffering from a stomach upset.
You are suffering from vomiting and nausea.
-->