Day 7
Your body would have felt much lighter in weight by this day and now you can start the way to day-to-day activity.
This is the last day of the detoxification process and kudos! You have completed six days at a stretch. All you need is 18 hours more so that you can reach the scheduled mark.
1. Breakfast
Option 1
You can make a fruit salad with apples, peaches and  blue berries. As supplements, you can also have three almonds and three tablespoons of cleaned flax seeds.
Option 2
Since you are already feeling elated and happy, double your pleasure in having a fruit salad in two bowls. The fruits can consist of mango, sapota, pomegranate, raisins, jackfruit (if seasonal), blueberries and apricots.
Option 3
You can have a raw apple with papaya.
2. Lunch
Option 1
You can make a salad of potatoes, carrots, papaya, beetroot, collards with cucumber.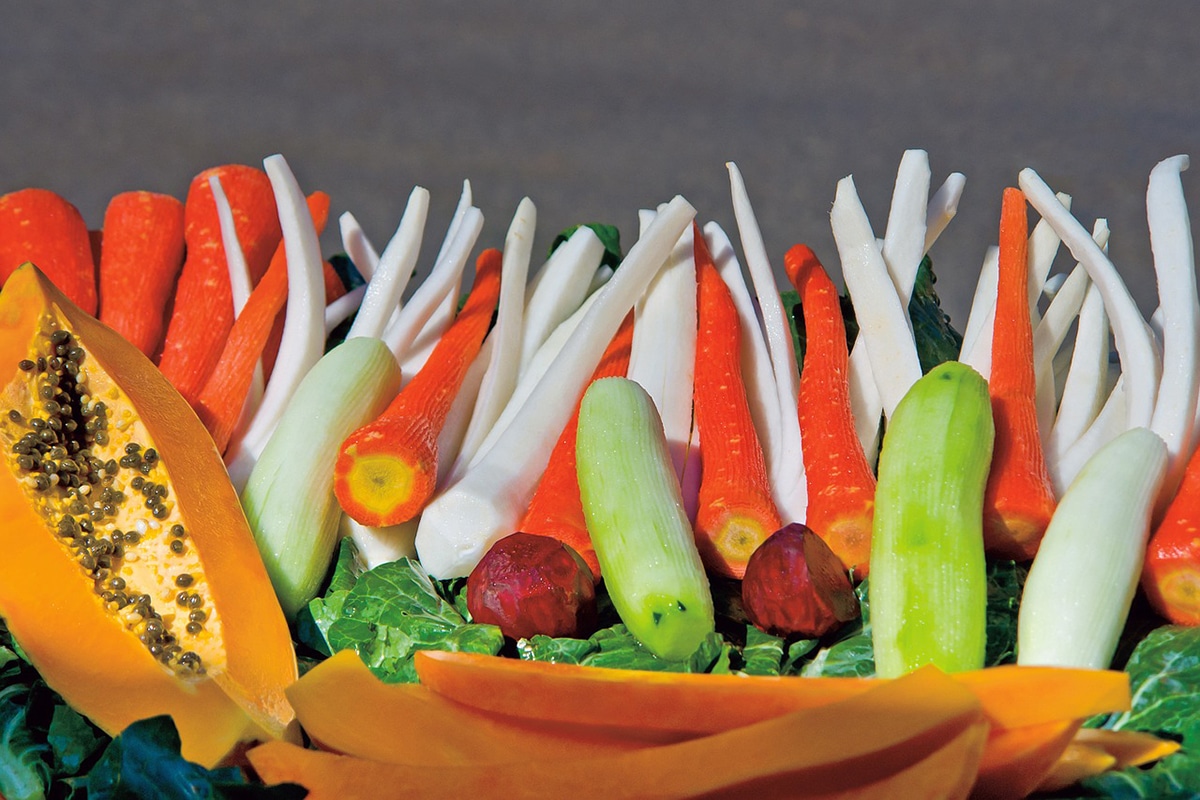 Option 2
Though you are feeling light and full of positive feelings, it is advisable to have a diet once again made of fruits and vegetables. The mixture might be a surprise, but life has its own share of surprises as you know. For a change, you can have grated carrots mixed with grapes, guava, pears, jackfruit, raisins, pieces of onion and garlic.
Option 3
A fruit salad made of papaya , papaya seeds, guava seeds, pomegranate and flax seeds can do the trick of satisfying your hunger when intestine cleansing.
3. Dinner
Since this is the last phase, emphasis is given to herbs as well as every ingredient which can give a peaceful sleep.
Option 1
You can make a salad of boiled coriander leaves, onions, grated pumpkin, tomatoes, celery, cauliflower and curry leaves. For availing maximum benefits, you can also include a separate salad of onions, garlic for promoting immunity and digestion.
Option 2
To have a raw power packed dinner, you can have two bowls of fruit salads consisting of apricots, coconut milk, dates, grapes, pineapple and watermelon.
Option 3
You can have a salad consisting of only greens such as spinach, asparagus, broccoli, kale, green peas etc. You can also have steamed peanuts.
So we come to the last phase of intestinal cleanse. After a successful completion of the 7-day cleanse, a kind request to not rush and gulp down hard food such as meat recipes with bones. On the first day after the program have a breakfast consisting of food which can be easily digested. Remember, your body would have adapted well to only the raw food with digestive enzymes and it was totally devoid of oily food and a tap-at-the-tongue spicy food. It is true that getting back to old food is a relief, but kindly go through the changes gradually.