4. Crape Jasmine Leaves & Sesame oil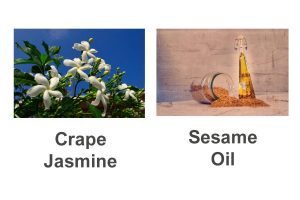 Crape Jasmine (Scientific Name: Tabernaemontana Coronaria) is an evergreen shrub, which widely grows in tropical climates for about 2 meters. Though the plant is used in the treatment of various eye diseases, it is one of the best home remedies for mosquito bites too.
Sesame oil, on the other hand, has multiple benefits on the skin as well. It has a nutty flavor and is enriched with many vital nutrients. Besides being used in hamburgers and cooking, they are one of the core ingredients used in different cosmetic products. For natural mosquito bite relief, prepare the following mixture:
Step 1: Prepare fresh juice made from crape jasmine leaves.
Step 2: Pour this juice in a vessel and boil it.
Step 3: In boiling stage, add few drops of sesame oil. Allow it to boil for few more minutes.
Step 4: Filter the mixture.
Step 5: Apply on the itchy skin.
How Does The Remedy Work?
Both crape jasmine and sesame oil are well known to cure various skin problems. Crape jasmine has components like natural alkaloids, terpenoids, affinine, and affinisine whereas sesame oil has natural proteins, linoleic acid, vitamin E, vitamin B1 and other antibacterial as well as anti-inflammatory properties to heal insect bites.
The Remedy Is Not Good, If:
You are already suffering from skin problems or allergies.
You are consuming it.
3. Marigold Flower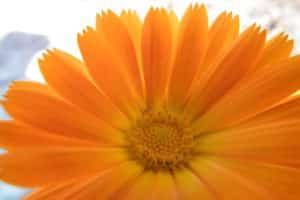 Marigold or commonly known as Calendula is used since centuries to treat various skin problems. Traditionally, it is used for treating snakebites, cramps, cough, blepharitis, conjunctivitis, gastritis, eczema, warts, sunburns, and minor injuries like sprains & wounds. Marigold is a rich source of flavonoids, which act as natural antioxidants in the body. They protect the body cells from oxidation. The flower is often listed as one of the best natural treatment for mosquito bites. Use marigold flower in the following way:
Step 1: Crush some fresh flowers and rub it on the bite.
Or
Step 2: Steep one teaspoon of its petals in a cup of hot water for 5 minutes. Strain the mixture and allow it to warm. Give a hot compress using a cloth. The wound will heal.
How Does The Remedy Work?
Since marigold is mildly analgesic, antiseptic, anti-inflammatory, and vulnerary, it assists in suppressing the wound naturally.
Marigold Is Not Good, If:
You have a headache. The smell is so strong that some individuals who have a migraine might experience pain in the head.
You are eating the flower. It is only for external application.
You are allergic to ragweed and associated plants.
-->