7. Papaya
Papaya is native to Southern America. It has a thick buttery flesh with a sweet taste. Also monikered as the Fruit of Angels, papaya has a lot of benefits when it comes to health.
It is enriched with essential nutrients and antioxidants to treat various ailments. The enzymes in papaya eliminate the traces of flaky and dry skin and ensure that it is well hydrated. So, no wonder why big beauty brands use papaya as one of the core ingredients in their products. Now, to treat your pimple problem with the help of papaya, here is what you need to do:
Step 1: Rinse your face with warm water and then pat dry.
Step 2: Take a fresh papaya, slice a piece, and then mash the slices well.
Step 3: Apply the paste and let it remain in the face for twenty minutes.
Step 4: Continue this process until you see a difference.
How Does This Work?
The enzyme called papain removes the dead cells of the skin as well as inflammation. The Vitamin A in papaya assists in the breakage of inactive proteins and removes dead skin cells.
Papaya Is Not Good, If:
You are allergic to latex. You can suffer from skin reactions.
6. Tea Tree Oil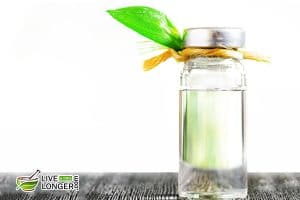 The use of tea tree oil can bring a wry smile once again if you are suffering from pimples. It solves the skin infection and kills any harmful pathogens hiding in the pores. Have you ever wondered why most beauty experts recommend natural tea tree oil for pimples? We will tell you. It contains a compound called terpinen-4-ol, which exhibits antimicrobial activities. Hence, when applied to the infected skin region, it destroys all the bacteria. Its antifungal and antiseptic properties make sure that the pimples don't appear further. So, try a remedy using natural tea tree oil, follow the steps written below:
Step 1: Buy tea tree oil that is 100% natural.
Step 2: First, clean your face with warm water and pat dry.
Step 3: Dilute the oil with water.
Step 4: Pour a few drops of this solution on the cotton ball.
Step 5: Apply it on the face.
Step 6: Leave it overnight
Step 7: Wash off with water in the morning.
How Does This Work?
The medicinal component is terpinen-4-ol responsible for its antimicrobial activity. Since it is an oil, it can penetrate the skin deeply, disinfect the entire area, and prevent further outbreaks of pimples.
Tea Tree Oil Is Not Good, If:
You are allergic to tea tree oil.
You are consuming it. The oil is for external use only.