80. High Blood Pressure (Hypertension)
Fact: World Health Organization reports that an estimated 7.7 million people die every year due to raised blood pressure. Hypertension or high blood pressure has been directly linked with fatal diseases like diabetes, kidney disorders and heart attacks.
Remedy 1:
Step 1: Take some fresh moringa (drumstick) leaves and extract its juice. Dry and then powder it. Alternatively, you can buy moringa powder.
Step 2: Take two grams of moringa powder and mix it with a few drops of honey. Consume this twice a day to keep the blood pressure under control.
Remedy 2:
Step 1: Take a cup of homemade, fresh, plain yogurt.
Step 2: Soak 2 teaspoons of fenugreek seeds in it. Leave it overnight.
Step 3: Apply the mixture on your head the next day. Leave for 30 minutes and shampoo.
Click here for complete remedies for high blood pressure
79. Low Blood Pressure (Hypotension)
Fact: Blood pressure does not stay constant all the time. It changes. It lowers when you are asleep and increases when you get up. It also rises when you are nervous, active, or excited. But your body corrects itself to ensure that there is enough oxygen and blood flow in the kidneys, brain, and other important organs. Though hypotension is classified into different types, the majority of them happen when the body fails to bring back the blood pressure to normal. Perhaps, it is not rapid enough to perform this function.
Remedy 1:
Step 1: Whenever you experience a low blood pressure, grind 2 pieces of garlic with a glass of milk.
Step 2: Drink the mixture to bring the blood pressure to normal.
Remedy 2:
Step 1: Add Sesbania grandiflora leaves in your daily diet.
Step 2: These herbal leaves are known to help overcome hypotension.
Click here for complete remedies for low blood pressure
78. Type I Diabetes
Fact: According to IDF (International Diabetes Federation), 415 million people suffer from type I diabetes every year. Among them, 542,000 are kids. What's more shocking is that, in every 6 seconds, one person in the world with diabetes dies, accounting it to 5 million deaths every single year.
Researchers have estimated that by 2040, the graph will increase to 642 million. Type 1 Diabetes is a serious autoimmune disorder where an individual's pancreas stops generating insulin. Its onset is never related to lifestyle or diet. Sadly, nothing can be done to prevent type 1 diabetes at present.
Remedy 1:
Step 1: Take 5 grams of organic sesame seeds. Soak them in 1 cup of water for at least 3 hours. Once the color of the seeds changes to white, grind them and mix it with a glass of buttermilk.
Step 2: Drink the mixture every day to increase the insulin levels in the blood.
Remedy 2:
Step 1: Take 1 – 2 fresh bitter gourds and eliminate the seeds. Prepare a glass of fresh bitter gourd juice.
Step 2: Drink every morning for at least 2 months for best results.
Click here for complete remedies for diabetes
77. Type II Diabetes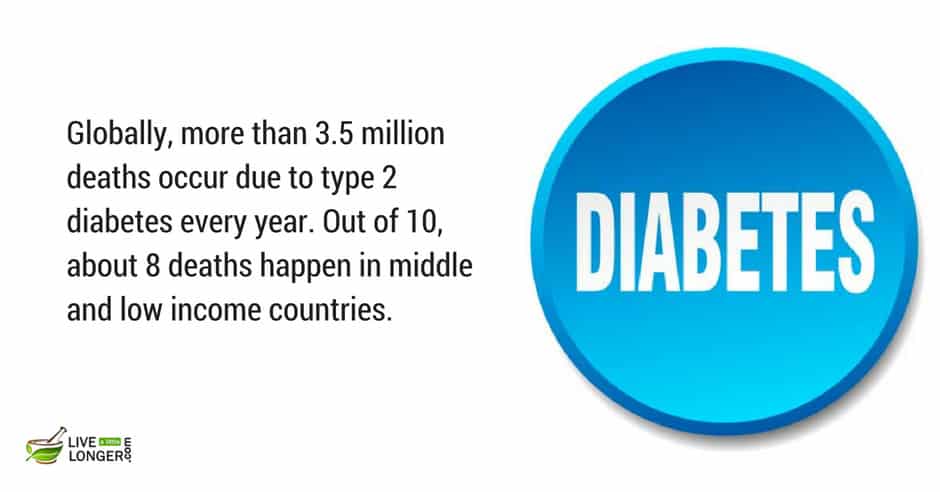 Fact: Type II Diabetes is one of the most common diseases the universe suffers from. Globally, more than 3.5 million deaths occur due to type 2 diabetes every year. Out of 10, about 8 deaths happen in middle and low income countries. Sadly, 50% of the diabetes cases go undiagnosed in developing nations. WHO has anticipated that the overall deaths attributed to diabetes will increase drastically by the year 2030. However, type 2 diabetes can be prevented.
Remedy 1:
Step 1: Include natural foods like fenugreek, okra, peas, sage, and broccoli in your diet.
Step 2: The nutrients in these foods have been reported to fix type 2 diabetes.
Remedy 2:
Step 1: Mix 1 teaspoon of bay leaves (finely ground), 1 teaspoon of turmeric, and 1 tablespoon of fresh aloe vera gel together.
Step 2: Add a little water and stir well. Drink the mixture two times a day before lunch & dinner.
76. Raised Cholesterol
Fact: Increased cholesterol is a deadly yet one of the most common diseases. It is directly associated with heart attacks. Globally, 1/3rd of the ischaemic heart diseases are attributed to increased cholesterol levels. Every year, an estimated 2.6 million people die due to cholesterol. The percentage is anticipated to increase more in the upcoming years. Abnormal cholesterol levels are primarily due to unhealthy eating patterns.
Remedy 1:
Step 1: Drink a glass of freshly made orange juice every day.
Step 2: The natural fiber and vitamin C in oranges help clear the blocked blood vessels. It increases the good cholesterol while decreasing the bad.
Remedy 2:
Step 1: Boil 2 teaspoons of coriander seeds' powder in 2 cups of water.
Step 2: Once the quantity evaporates into 1 cup, filter it, and drink when it is warm.
-->